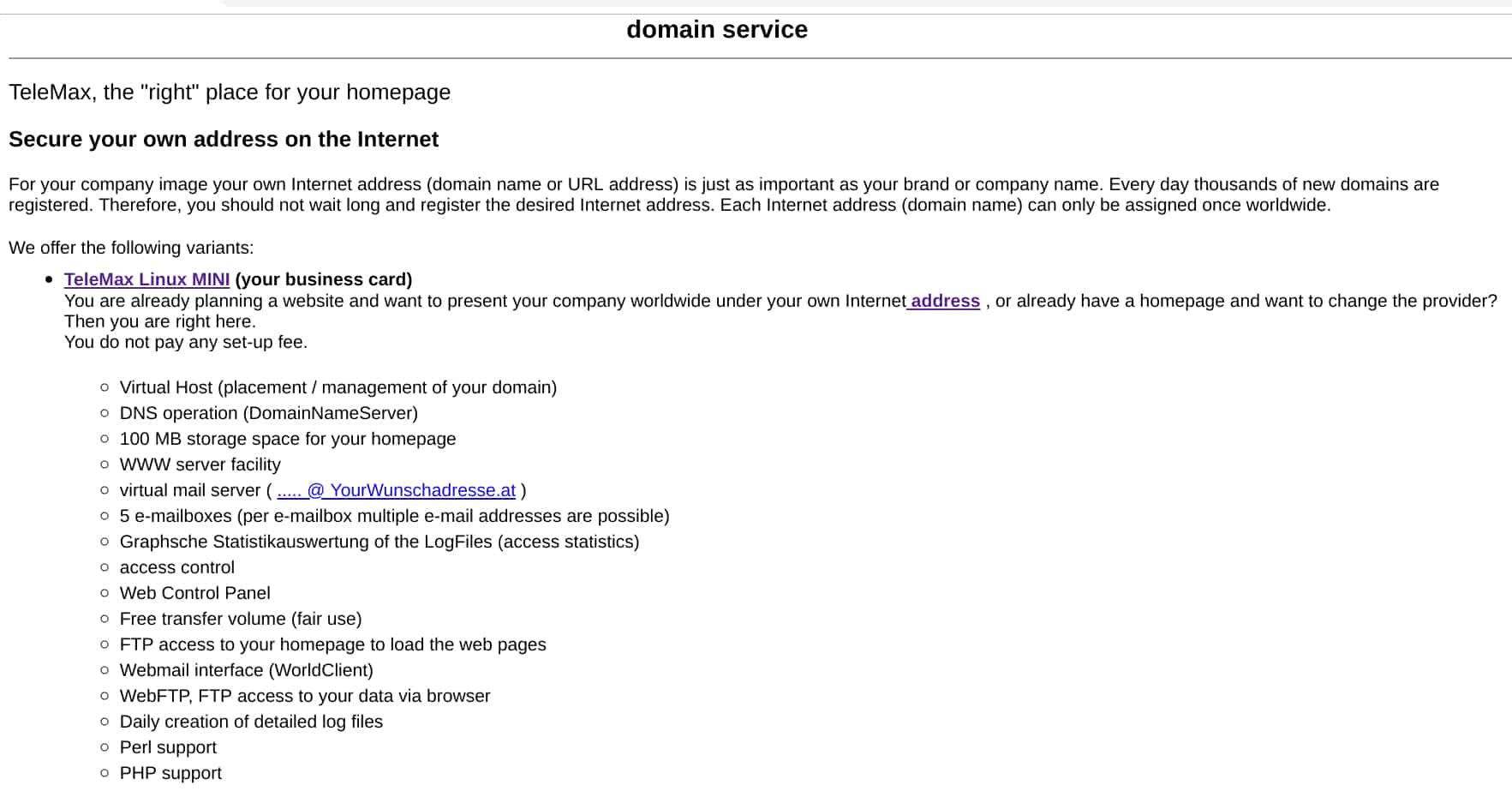 Austrian internet service provider TeleMax doesn't exactly entice you in. Its website looks very dated, its technologies look equally dated, and – if you're wondering just how dated – I can tell you that its most recent published price list is from 2004. But its website is not actually down, and emails are not automatically bouncing back as unreceived, so there's a slim chance that TeleMax might still be providing its retro hosting services.
Let's look at what this company does — or used to do — in the hosting space.
Features and Ease of Use
TeleMax Internet Service offers two Linux hosting packages (Linux MINI and Linux START) and three Windows hosting packages (Windows MINI, Windows START, and Windows STANDARD).
The Linux plans have the features you would expect of such plans, including Perl, PHP 3 and 4, phpMyAdmin, and MySQL databases. The Windows plans come with the corresponding Microsoft technologies such as ASP and Microsoft Access database support.
If you know your stuff, you'll know that these are much older technologies than the more contemporary ASP.NET and SQL Server, so it does make me wonder if TeleMax has moved with the times… or is still in operation at all.
Looking for something more modern, like SSD storage and SSL certificates? I think you've come to the wrong place.
Pricing and Support
TeleMax Internet Service publishes its prices as "valid from 01.07.2004," which makes them as old as the vendor's supported technologies. If those prices are still valid, then they're not at all competitive in today's cutthroat hosting world.
Hosting plans come (or came) with a minimum one-year commitment, a one-month termination notice period, and annual payments made in advance.
Ordering a particular package involves filling out a non-secure (not HTTPS) online form, although, to be fair, no money changes hands at this point. Given my reservations about this vendor, it's anyone's guess if you'll ever get what you ordered.
You can contact this company through telephone, fax (if you remember what that is), or email, or so they say. I decided to try the email route, and surprisingly, it didn't bounce back with an immediate error. However, I won't hold my breath waiting for any subsequent reply.
The TeleMax website has a very sparse FAQ page. When I clicked another link labeled "PC-Support" (because it might lead to support), a .exe file started to download, which, of course, I didn't dare run! It's another indication that this company is still living (if at all) in the distant internet past.