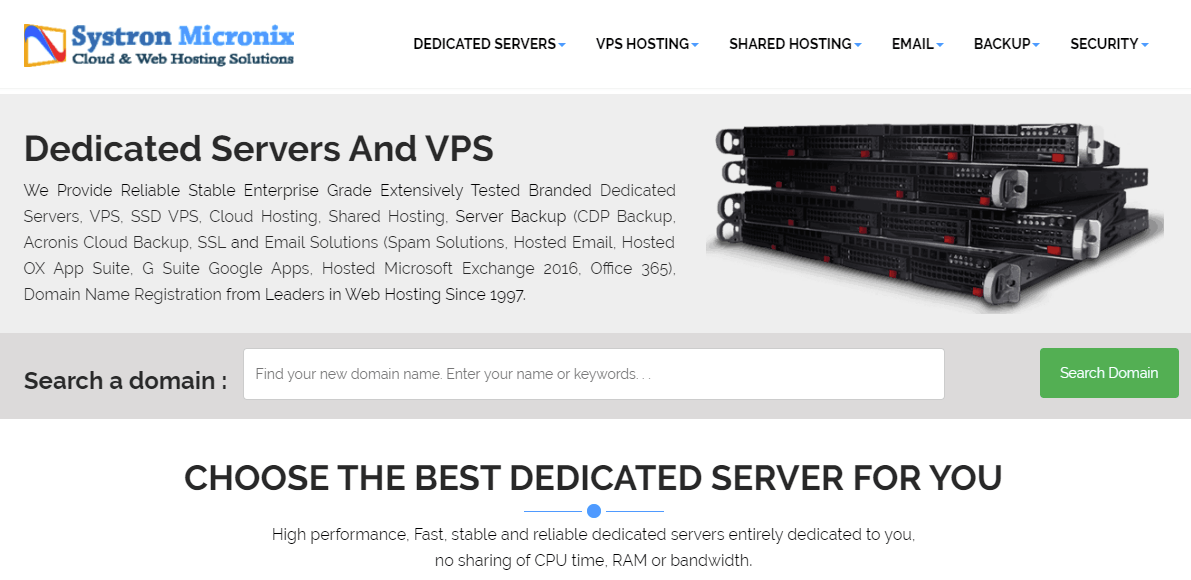 Systron Micronix is a hosting company with a data center in St. Louis, Missouri in the United States. It also has servers in France, Germany, Singapore, India, United Arab Emirates, Netherlands, the United Kingdom, France, Luxembourg, Brazil, and Canada. Systron Micronix offers shared hosting, Virtual Private Servers (VPS), and dedicated servers, among other related services. This company has been in business since 1997 and its website is available in English only.
Features and Ease of Use
Systron Micronix offers five shared hosting categories: Linux, Windows, cPanel, Java, and WordPress. Depending on the applications and programming languages that you want to use, you can choose whichever plan is relevant. Here are some of the features that it offers on shared hosting:
99.9% uptime
Up to 50GB storage
Daily automatic backups on WordPress hosting
Between one to 25 domains
Up to 50GB bandwidth
Like many other web hosting companies, Systron Micronix offers email accounts with hosting. However, it comes with a limit per mailbox. Many nice providers allow customers to set the limit as long as it's within the total storage capacity, but here, it's quite limited with a plan allowing just 100MB per mailbox which is very little.
Systron Micronix offers two different control panels across the categories. For example, Linux and Windows hosting customers get the Plesk control panel, while the cPanel customers obviously get cPanel. Both control systems are relatively easy to use compared to most other control panels in the market.
If you're looking to host a WordPress website, it's wise to take any of the WordPress plans, unless you don't care for the extra WordPress-specific optimizations that come with them. If you do take them, you'll enjoy enhanced performance and security. Plus, this is the only category where the provider mentions automatic backups.
For those in need of VPS, Systron Micronix offers a number of options as well, including Parallels Virtuozzo, Windows, and Linux, each of which has their own perks. There's also dedicated servers with plans that offer storage of up to 4TB with software RAID and a 550 Gbit/sec network backbone.
Pricing and Support
Systron Micronix offers some low priced plans and some that are a bit expensive for the features on offer. For example, the base cPanel plan is cheap, but the other cPanel plans go higher, and then other categories are even more expensive. If that doesn't bother you, you'll be happy to know that it allows month-to-month payments, so you don't have to commit to one year when hosting with Systron Micronix.
Be aware, though, that the advertised prices on the website only apply for one year; when you get to the store/checkout, you'll see slightly higher prices for shorter terms. Nevertheless, it offers a money-back guarantee for some services. Shared hosting is covered by a 30-day money-back guarantee, while the dedicated server has only seven days.
Customer support is supposedly provided through live chat but from my experience, despite waiting for more than two hours, no one replied. There are email addresses, phone numbers, a fax number, and ticketing options. There's also a knowledge base section with some tutorials.