SuperHost's goal is to provide fast and reliable hosting for their Polish customers.
They want to be a viable alternative to their countrymen having to go offshore for quality hosting solutions. As such, they always try to provide excellent value for money by utilizing quality hardware in their wholly-owned and operated Polish data center as well as the best software they can acquire for their customers. They offer basic shared hosting, reseller hosting, VPS hosting, and dedicated server hosting at extremely affordable rates.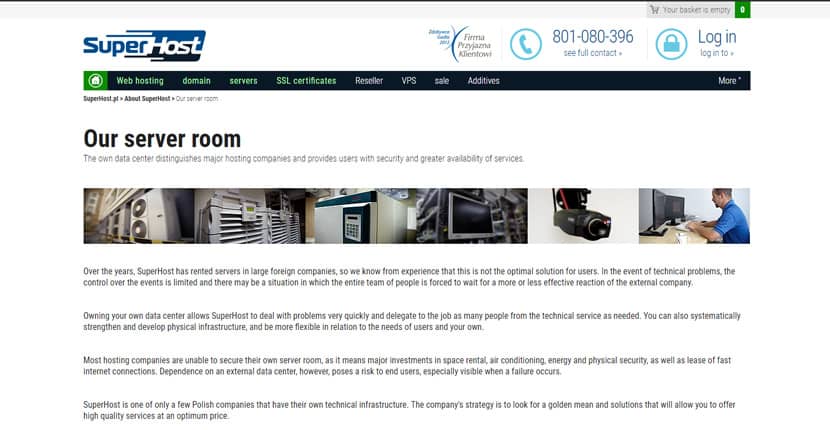 Features and Ease of Use
While not the most comprehensive service, SuperHost does provide a solid base for your hosting solution:
Multiple .pl domains free with certain plans
Unlimited data transfer
Daily backups kept for up to 60 days
Optional RAID controllers
MySQL databases
Website migration service
Unfortunately, they don't offer any SSL certificates, so you'll need to purchase these elsewhere and add them to your domain yourself.
The biggest strength when it comes to SuperHost's service is that they give you the ability to customize your hosting and the software you get to embellish your website building experience:
Hosting Add-Ons: You can customize your hosting solution with a range of add-ons from more databases to computing resource upgrades to priority support.
Coupons: The "Horn of Plenty" gift packaged with their shared hosting plans gives you free Google AdWords, a Kaspersky Lab security free trial, and even Wilogo discounts to kick off the design of your website.
Website Creator: You can add a website builder to your hosting package for a beginner-friendly drag-and-drop tool complete with templates.
It's great that you get to customize your hosting solutions so that you pay for and get the exact features you need. But here's the thing: the signup process can get a little tricky, especially when you're trying to figure out what's free and what's not. The good news is, they hook you up with a generous amount of MySQL databases. And get this, you can install pretty much any CMS or website building tool on your hosting. That's fantastic for all you folks who don't want to spend a fortune on website development. How cool is that?
Pricing and Support
SuperHost claims that their plans are more expensive because they are of a higher quality. However, they're still a very affordable option, particularly if you pay for a year up front. If you look at the storage limits, freebies, and discounts included, they become a very appealing option indeed. They also offer a 30-day money back guarantee with their shared hosting plans.
One of the best things about SuperHost, however, is that they're one of the few hosting providers in Poland that own and operate their own data center. This is important because engaging a web host that doesn't have their own data center generally means gaps and lags in tech support: in the event of any breakdowns or outages, you have to wait for your web hosting provider to contact their external data center management team, who may or may not care about providing the most efficient service. SuperHost's data center affords their customer base 99.9% availability and a Polish IP address, which means faster website loading speeds and better SEO rankings locally as well.
The support by SuperHost is hit and miss. They do provide both phone and ticket support, but not live chat support. Technical support is only provided in Polish. They also only guarantee that you'll get a response within either 12 or four hours for their shared web hosting (depending on which tier hosting you've chosen), which isn't great. Support is limited to swift replies within office hours, with no guarantee of responses outside of office hours. You can, however, buy a priority support package to get quicker response times.