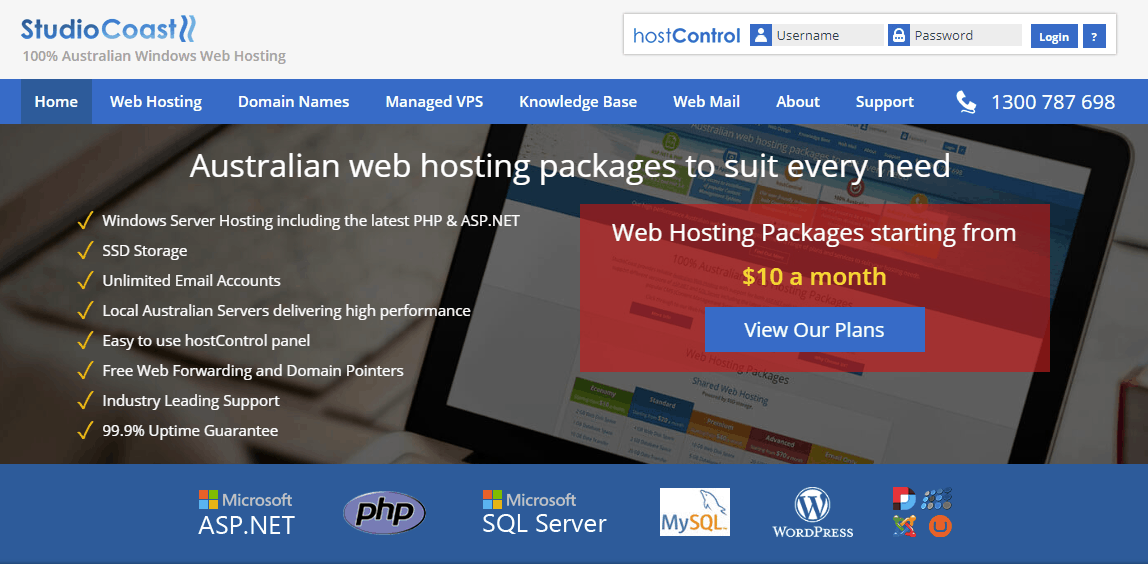 Founded in 2002, StudioCoast is a web hosting company based in Australia. It offers web hosting, domain names, and virtual private servers through its servers that are located in Brisbane, Australia. Its website is available in English only.
Features and Ease of Use
If you're looking for Linux hosting solutions, you'll have to look elsewhere because StudioCoast isn't among the numerous companies that offer Linux shared hosting. It offers Windows hosting with these features:
99.9% Uptime
Automatic backups every week
Anywhere from 5GB to 50GB SSD
Up to 300GB bandwidth
Up to 10 domains
There's one feature of StudioCoast that puts it above many other web hosting companies – its backups. It offers backups in three levels to ensure that your data is available regardless.
First, there's the online backup stored in its main servers. Then, you get the offsite backups as well in another location. And finally, the offline backups. The offline backups are for disaster recovery purposes. In addition, each server and backup device utilizes RAID to protect against hardware failure.
The company supports a plethora of ASP.NET versions from 2.0 to the latest. Through the control panel, you can switch versions. It also supports Classic ASP, PHP, SQL, and MySQL.
StudioCoast provides a control panel called hostControl. It's simple and intuitive; all of the settings are clear and in sections so that anyone will know where to go once they access it. Aside from having the general hosting management tools, the control panel also features a one-click installation of top CMSes, including DotNetNuke, Umbraco, and WordPress.
Pricing and Support
StudioCoast does not offer a free trial or free version, but you can pay for monthly hosting and see how it goes before committing to their longer subscription durations of three months or one year.
Keep in mind that you will be paying more than you would on many other great web hosting companies offering Linux, but for Windows hosting, the prices are great.
There's also a 30-day money-back guarantee. Furthermore, there's an SLA on uptime. For uptime below 99.9%, you're entitled to a 20% refund. For 99.5% and below, it's 50%, and for 99% and below, it's 100%.
You can get customer support through email and the knowledge base. There's also a phone number that works from Monday to Friday from 9:00 AM to 5:30 PM.