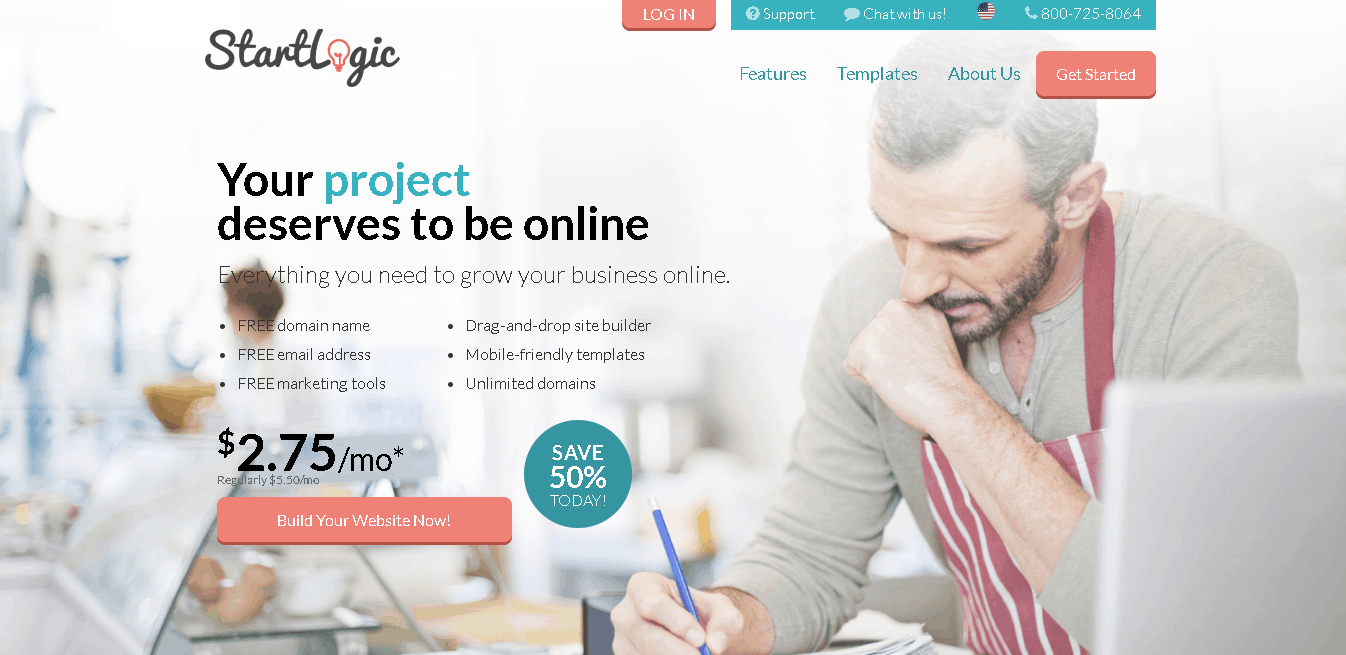 To compare the best web hosts, we hosted the same WordPress website on each one and tested performance, customer service, and value for money.
Check out the results here.
American web hosting provider StartLogic focuses on getting small businesses online at an affordable price. It offers just one hosting plan that includes a website builder plus support for WordPress and e-commerce.
StartLogic currently serves over 50,000 customers from two data centers near Boston, Massachusetts. Its website is in English.
Features and Ease of Use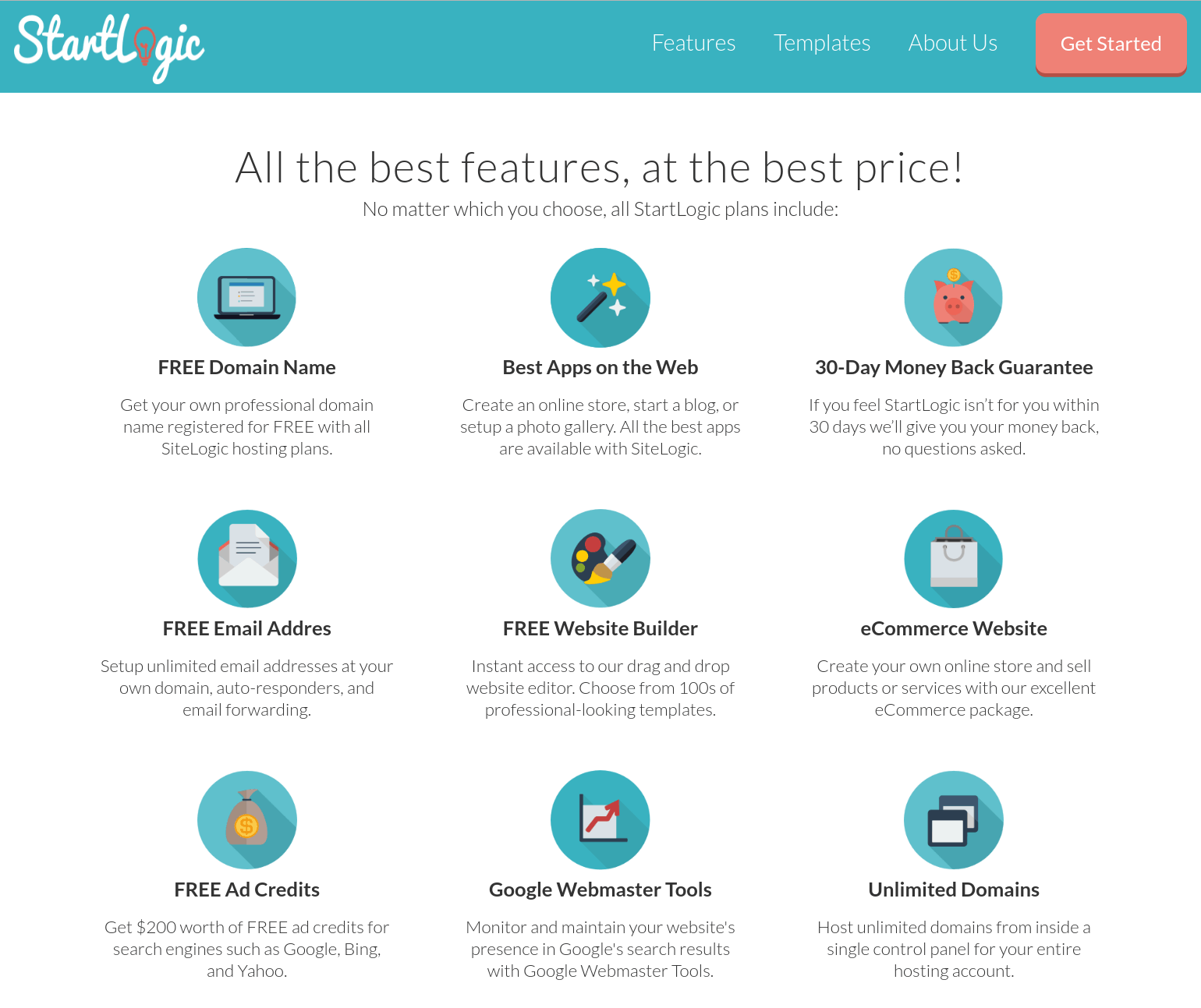 StartLogic's single web hosting plan provides unmetered bandwidth and unlimited storage, domains, and MySQL databases. The plan includes access to a free website builder as well as the ability to install software such as WordPress and e-commerce tools. Web hosting also features a free domain and the following:
Unlimited storage
Unmetered bandwidth
Free domain with hosting
Free Let's Encrypt SSL
30-day money-back guarantee
Free website builder
Free advertising credits
Free online store integration
24/7 customer support
The StartLogic control panel includes integration with the Mojo Marketplace that provides one-click installations of software applications plus themes for WordPress and other CMS platforms.
You also get a free website builder (courtesy of WebsiteBuilder.com) that features drag-and-drop functionality and includes hundreds of templates along with image galleries, social media integration, and e-commerce.
The two Boston data centers feature 24/7 security and run on N+1 power. Servers are split into different function pools for faster loading times and fewer service interruptions. Machines are clustered to allow for seamless takeover in the event of a system failure.
Pricing and Support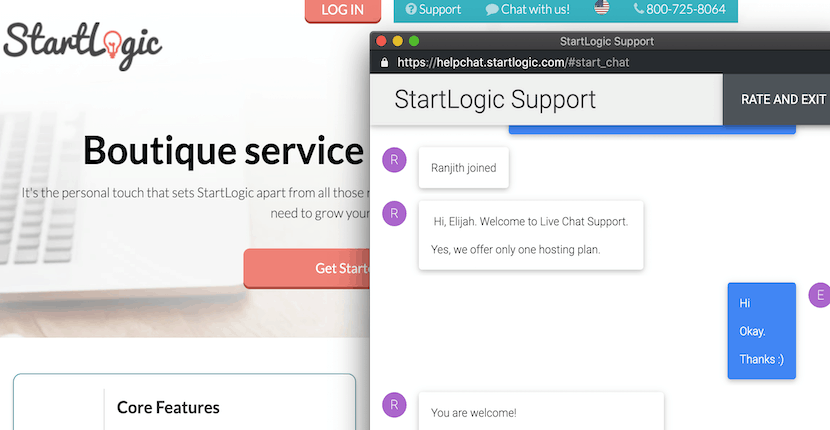 StartLogic's website hosting is reasonably priced, especially when you consider the unlimited storage and bandwidth, and the free domain. For around the cost of a cappuccino per month (in the first year), it is cheaper than the average unlimited hosting plan. Although the price doubles after the first year, it is still competitive among top North American providers.
Hosting can be bought monthly, annually, biennially, or triennially, with a 30% discount for a two-year term and a 45% discount for a three-year commitment. Paying monthly will cost you nearly three times as much (pro rata) and paying yearly.
You needn't worry too much about making a major commitment, because the 30-day money-back guarantee (if you pay by credit card) should get you out if you change your mind within the first month. Any refund excludes add-on services such as domain registration.
Other add-ons available at the checkout include website security, website data backups, and WordPress optimization.
You can contact the 24/7 customer support team by telephone, live chat, or online contact form. I got hold of someone immediately via the live chat channel
For self-support, StartLogic provides a pretty comprehensive knowledge base.
How much does StartLogic cost?StartLogic offers plans from $5 to $9. The price depends on which type of hosting plan you choose. You can see the updated pricing table (updated weekly) below.
Which StartLogic plan should I get?My recommendation is to start with a cheaper plan. You can always upgrade later on. StartLogic can help you with the migration to a more expensive plan. The increase in visitors many times takes longer than expected and you shouldn't pay a lot of money until the need arises. Of course, your needs may vary, and you can consult with a hosting expert from StartLogic here.
How good is StartLogic's customer support?StartLogic is not ranked as one of our top web hosts. But that can also be a result of StartLogic being a small, under the radar, hosting provider. There are advantages to a small hosting company – as a customer, you are more important to them. You can also check out our comparison of the most popular web hosting services here.