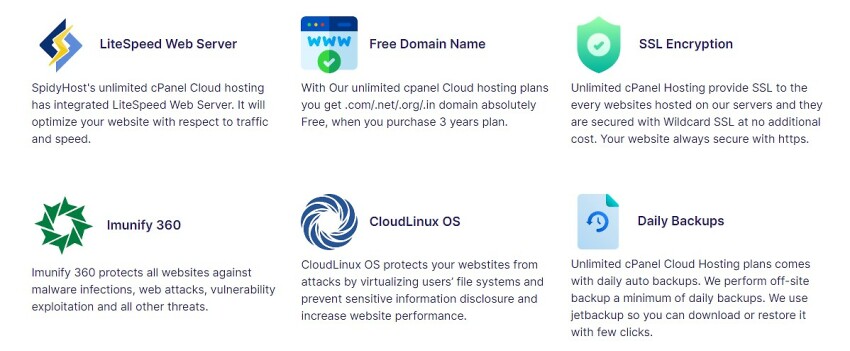 To compare the best web hosts, we hosted the same WordPress website on each one and tested performance, customer service, and value for money. Check out the results here.
Founded in June 2016, SpidyHost is an India-based company that provides web hosting services, servers, and domain registration. It has more than 300 customers with 200+ registered domains. It serves customers through servers that are located in Germany, France, and the United Kingdom, and its website is in English only.
Features and Ease of Use
SpidyHost offers shared Linux hosting for simple websites, and Cloud Linux and Windows hosting for higher-level websites. Customers on any of these plans will enjoy these features and resources:
99.9% uptime guarantee
Free SSL certificate
Free .in domain on some plans
Weekly automatic backups
Two or unlimited add-on domains
Unlimited disk space
With its load balancing cloud platform, your website will be able to withstand traffic spikes, by spreading your traffic across different servers to ensure that there's no negative impact on your website's performance. This feature also helps you not get affected by a traffic spike from another user on your server.
Another performance accelerating feature is Solid States Disks, which process data faster and are more reliable. Plus, it has caching servers to store content closer to your website visitors. Once static content is cached using Edge caching, every subsequent user gets served content directly and faster from the caching server.
SpidyHost uses CloudFlare's DDoS protection to mitigate attacks, filter/block malicious traffic, and protect your data. Its capacity is 15X bigger than the largest DDoS ever recorded.
Developers can program with PHP and Python, and the vendor also supports Ruby on Rails and CGI. Have no fear, though, beginners are not left behind. There's a one-click installer that supports more than 300 scripts, including WordPress and Drupal. It also has website builders the likes of RvSiteBuilder and Zyro SiteBuilder. All you have to do is pick a theme, drag-and-drop modules in your page, and publish.
Pricing and Support
There are three plans on each shared hosting category offered at low-cost prices. The low prices are a plus and there's the addition of a free SSL certificate and a .in domain, on some plans as well.
You can pay with PayUMoney, Paypal, or your credit/debit card and subscription periods start from one month. Short subscription plans are helpful in order to mitigate your risk. If the service doesn't meet your need, you don't lose out too much.
If you do choose to pay for 12 months at a time and end up dissatisfied, you can get a refund if you contact the company within 30 days after your initial payment. You won't get 100% of your money back, because transaction fees and taxes (that were inclusive and not mentioned at checkout) will be deducted, but you will get a significant percentage refunded.
I had a few questions, so turned to the knowledge base to seek answers. Unfortunately, I only found solutions on updating my nameservers, so I had to contact customer support. I did that through email and received a response not long after.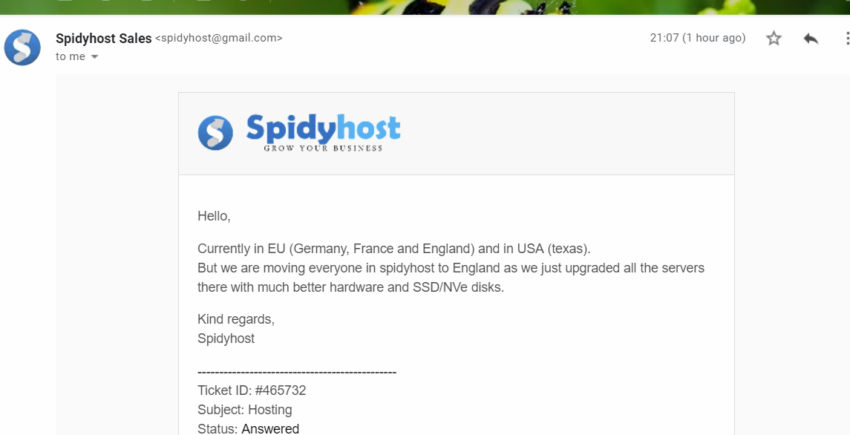 The company provides support through phone, ticketing system, and live chat, but these channels are not available 24/7. Support is available from Monday to Saturday, between 10:00 AM and 5:00 PM GMT +5:30.
How much does SpidyHost cost?
SpidyHost offers plans from $1 to $4. The price depends on which type of hosting plan you choose. You can see the updated pricing table (updated weekly) below.

Which SpidyHost plan should I get?
My recommendation is to start with a cheaper plan. You can always upgrade later on. SpidyHost can help you with the migration to a more expensive plan. The increase in visitors many times takes longer than expected and you shouldn't pay a lot of money until the need arises. Of course, your needs may vary, and you can consult with a hosting expert from SpidyHost here.

How good is SpidyHost's customer support?
SpidyHost is not ranked as one of our top web hosts. But that can also be a result of SpidyHost being a small, under the radar, hosting provider. There are advantages to a small hosting company – as a customer, you are more important to them. You can also check out our comparison of the most popular web hosting services here.