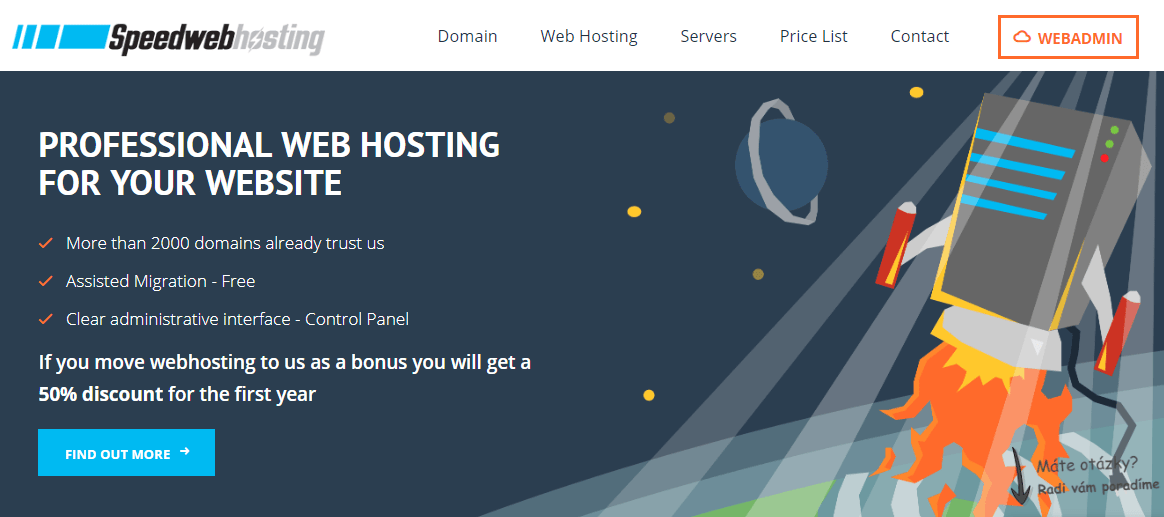 To compare the best web hosts, we hosted the same WordPress website on each one and tested performance, customer service, and value for money.
Check out the results here.
Speedweb sro was set up by managing director Martin Mráz, who had previously spent five years as a web developer. He describes his motivation like this; "I decided to expand my offer of services to include web hosting. My main goal is to provide quality and stable services at reasonable prices."
According to the copyright notice on its Slovak-language website, Speedweb was set up in 2012.
Features and Ease of Use
Speedweb offers three standard hosting packages. The free web hosting could be good if you're looking to test the services with just one website. There's not much difference with the Mini web hosting package which provides 1 GB of storage space and lets you host one small personal or corporate website. For maximum performance, you should choose the Maxi web hosting that is designed to meet the resource needs of more demanding websites, including WordPress, Joomla, or any CMS-becked website. You can also tailor this to your specific requirements.
All three packages provide a simple administrative interface (control panel) to manage your websites. Some of the supported features are:
Domains/subdomains
Unlimited email accounts
Unlimited MySQL databases
Unlimited monthly data transfer
Webmail with antispam protection
FTP accounts
CMS support
The fast SSD hosting runs on the Nginx server that is optimized for speed and security.
Speedweb performs backups of your data on remote servers every 24 hours. These backups are conducted daily and retained for a few days, allowing you to restore your data through the control panel if any unforeseen issues arise.
Shared web hosting has its share of problems. You can run out of storage or not get the right configurations or the level of performance. This is where a VPS or dedicated server comes in. Servers are deployed within 24 hours and are monitored continuously. Since Speedweb is an official Microsoft reseller, you can get Windows Server for a reasonable monthly fee.
Good speeds and server response times are the cornerstones of any decent hosting service, so I set out to test Speedweb's own website. Over the course of my one-week test period, I recorded 100% uptime and average server response time of 826ms: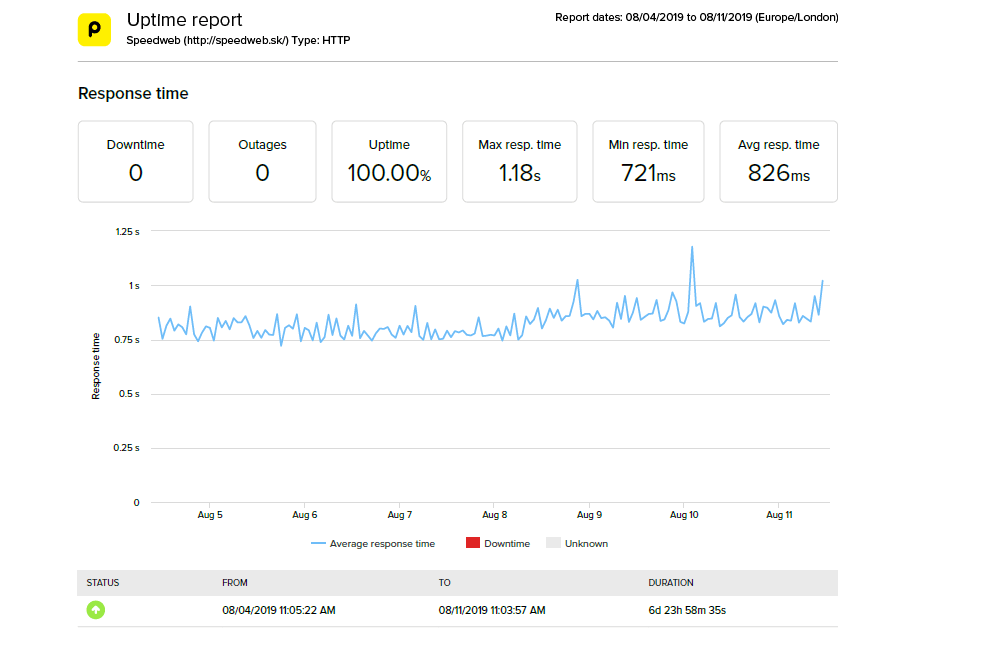 Pricing and Support
To get a feeling for its features, you could start with Speedweb's free web hosting, but you'll only reap the real benefits when you scale up to one of the pay-for plans with more storage space.
With this host, you can get a free domain, free website migration, and a 50% welcome bonus when you migrate. All plans are billed annually and come with a money-back guarantee that should get you out early if you're not entirely happy.
You can use the sliding calculator to calculate the cost of your chosen resource levels, and you can choose extras at the checkout such as server administration, PHP programming, onsite support, RDP access, RapidSSL, and Thawte SSL 123 certificates.
While scrolling the FAQs, I managed to summon some support (in English) via the live chat channel. The agent confirmed to me that I could migrate my PHP website to this host: