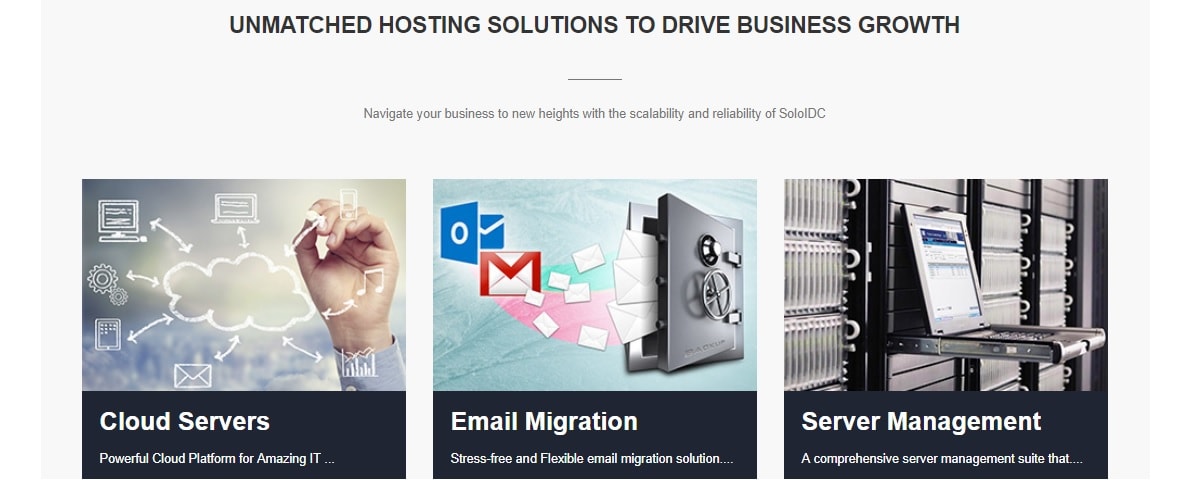 To compare the best web hosts, we hosted the same WordPress website on each one and tested performance, customer service, and value for money.
Check out the results here.
SOLOIDC is based in Noida, Uttar Pradesh, India. It offers a wide range of cloud hosting and cloud server plans plus email hosting, hardware dedicated servers, SSL certificates, managed services, backup services, disaster recovery solutions, and hosting solutions for Tally, CRM, SAP, and ERP.
This company has hosted over 20,000 websites. It boasts of 875 clients, 1275 projects, 5275 hours of work, and 350 awards. Its website is in English.
Features and Ease of Use
SOLOIDC offers eight VPS plans (four each for Linux and Windows) and three dedicated server plans. It also provides three Zimbra email hosting plans, four Microsoft Exchange email hosting plans, and six cloud storage plans.
The Linux VPS plans come with the following features as standard:
2 GB to 16 GB RAM
2-core to 8-core CPUs
50 GB to 300 GB SSD storage
Unlimited bandwidth
Windows VPS plans use Microsoft Hyper-V technology that facilitates more efficient resource usage.
Whether you want to host a website or e-commerce store, or test a critical web application, you can do it all with SOLOIDC. A 99.9% uptime guarantee is stated in the SLA, but you'll find a 99.999% uptime guarantee stated elsewhere on the vendor's website. Unfortunately, I couldn't get clarification on this.
SOLOIDC opts for SSD storage, which offers higher reliability and performance than traditional HDDs. To further enhance reliability, they implement RAID 10 data storage that duplicates data and minimizes the risk of loss in case of drive failure. Additionally, SOLOIDC ensures overall system uptime through N+1 data center redundancy, meaning that even if a component fails, the architecture remains operational.
Pricing and Support
SOLOIDC's Linux VPS plans are competitively priced, and you can pay for them in Indian rupees (INR) on a monthly basis. There is no money-back guarantee, but the SLA-backed uptime guarantee allows for refunds or credits in the event of services becoming unavailable. Unfortunately, I couldn't find the SLA details documented anywhere.
You can contact SOLOIDC's 24/7 customer support team via telephone, live chat, or email. I couldn't connect with anyone via live chat despite it looking to be online, and (unfortunately) my email query went unanswered. For self-support, the knowledge base link leads to the separate idcapps.com domain that contains some tutorials related to data centers: