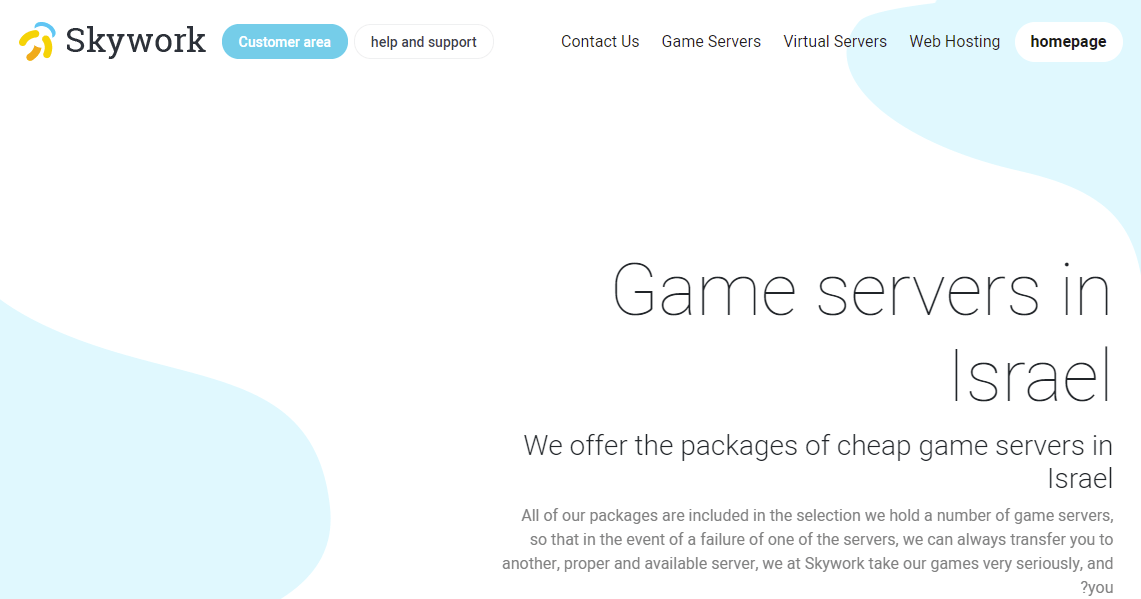 SkyWork is a web hosting company in Israel that serves the customers throughout the country. It offers shared hosting, Virtual Private Servers (VPS), and game servers. This company has been in existence since 2010 and its servers are in Israel, Germany, and France. SkyWork's website is available in Hebrew only.
Features and Ease of Use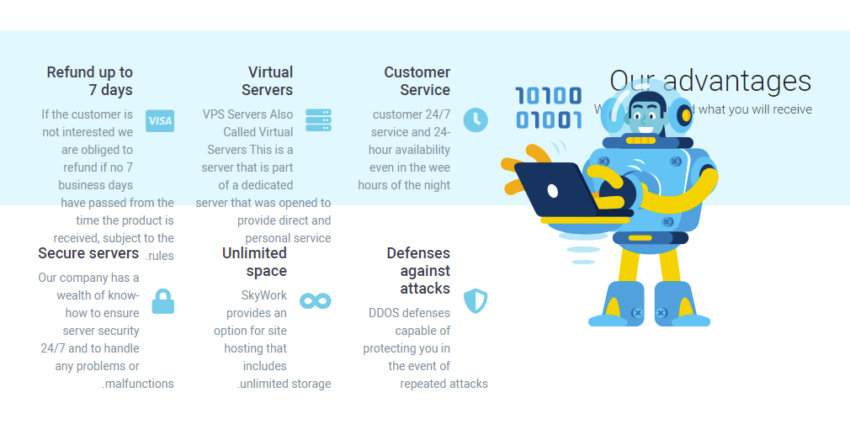 SkyWork offers four web hosting plans. Its shared hosting is stored in servers in Israel and comes with the following features:
99% uptime guarantee
Daily automatic backups
One, five, or ten domains
Unlimited traffic
1GB, 3GB, 5GB, or unlimited storage
SkyWork provides unlimited databases on all plans. With that, you can create WordPress websites, use any other application that requires the use of a database, or set up dynamic websites. Of course, if you need to host a simple HTML website only, you can do that as well. However, be aware that SkyWork doesn't mention any website building software on offer for free. That's likely because the company offers web design services, as well.
For security, though, you are assured of advanced security protection for issues like Distributed Denial of Service (DDoS) attacks through Arbor Protection. That, along with its provision of daily automatic backups, promises data safety and reliability to a large extent.
If you need more resources or are looking to host a large E-commerce website and other websites that need VPS, you can take a look at SkyWork's plans. With them, you can get up to four cores, 200GB storage, and bandwidth of 100 MB/s. Also, it uses solid state drives for top-notch performance.
As for the game servers, they come with nice security, FTP access, and more. Also, aside from being hosted on servers in Israel, they are also offered from Germany and France to ensure that those with European customers can serve them a bit faster from those two locations.
Pricing and Support
SkyWork's prices are higher than you would expect for shared hosting plans, especially one without frills and extras. You'll get lesser prices from the top web hosting companies from our reviews.
However, if you think it's worthwhile to use this service, you might be happy to know that it offers monthly subscription options, which reduces your risk. If you're willing to pay for a much longer duration, you'll get a discount; for one year, it's 10%; for two years, it's 15%; for three years, it's 20%. You can also pay for three months at a time, but that doesn't come with a discount.
SkyWork accepts payments via credit card, PayPal, and Electronic Fund Transfer (EFT). Be aware, though, that there's no money-back guarantee.
Customer support is available through email, ticket, and phone. The support agents are available from Sunday to Thursday from 9:00 AM to 6:00 PM, and on Friday from 9:00 AM to 2:00 PM. I sent an email, but didn't get a reply.