SistemDC was rebranded and registered in 2012 after about six years of operations in providing internet services. With a new aim to take the first place in hosting, it has been striving to cover the market servicing broadcasting services, individuals, and businesses with servers and trademark registration.
Its website is in about 25 languages, but most of them are not fully translated from Turkish. It does provide support in English and Turkish, though. SistemDC uses servers in Turkey, Germany, and the United States.
Features and Ease of Use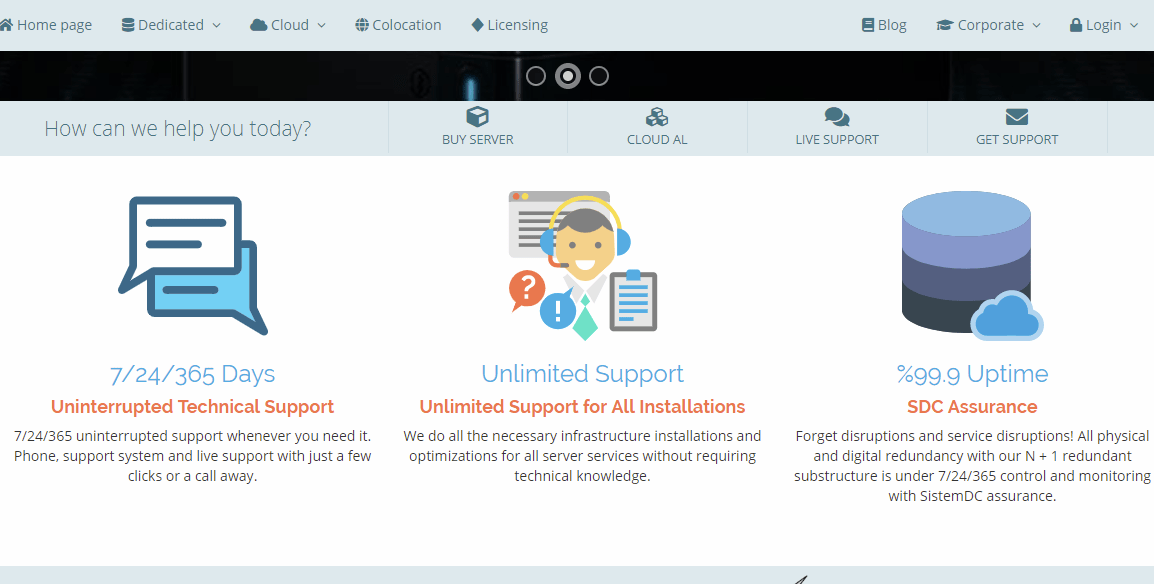 SistemDC doesn't offer web hosting or services that are specific to small businesses. It only offers dedicated servers, cloud VDS/VPS, and colocation. These are more suited to E-commerce businesses and large organizations.
Under its VDS/VPS offers, it has managed and unmanaged Linux VPS and Windows VDS. If you take any of the plans, you'll enjoy the following:
99.99% uptime guarantee
Either one or two dedicated IP addresses
Up to 5TB traffic
From 40GB to 120GB SSD
Although it has "unmanaged" servers, it seems that they are all managed as it states that it provides full management that includes installation, monitoring, optimization, and updating. Even though it handles these technical details, its services are not beginner-friendly.
If you're new to servers and hosting, you're better off with a shared server that provides beginner-friendly tools. SistemDC doesn't offer an installer or a website builder to allow customers to easily set up and manage their websites. Developers, though, will like it.
It offers ultra-secure SSH access to manage your VPS. You can also purchase a cPanel license and manage your Linux VPS with the control panel. SistemDC supports PHP, MySQL, Ruby, Python, Perl, Composer, and more.
It also handles web security by installing a firewall at your request. So, if you don't want the firewall at all, it's up to you. I also like that its uptime guarantee offers a refund of the whole month if you record less than the promised availability rate.
Pricing and Support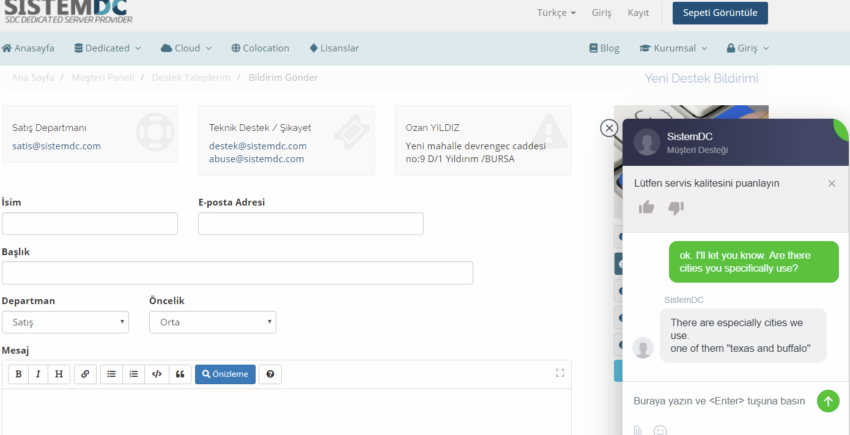 SistemDC offers great value for money. Its VPS and VDS plans come in six price levels with varying prices based on the features on offer – bandwidth, storage space, RAM, traffic, port, and processor. Compared to other VPS hosts, SistemDC prices are practically a steal. For what it provides, the prices are low-cost.
Although this vendor doesn't provide free domains, you can purchase one either through your dashboard or from another provider. It won't impact your cost so much due to the affordability of its VPS/VDS. Subscription periods are monthly, 12 months, or 24 months.
However, beware that it doesn't have a direct payment page on the features page. You'll have to register first, and order from your dashboard, and even then, you might have an issue with payment. Despite discussing with support, the payment page couldn't go through and they couldn't resolve it.
You can reach customer support through email, ticket, Skype, and live chat. Apart from resolving my payment issue, the support agent addressed all my other questions.
Although it has a help center, there are no tutorials in it.