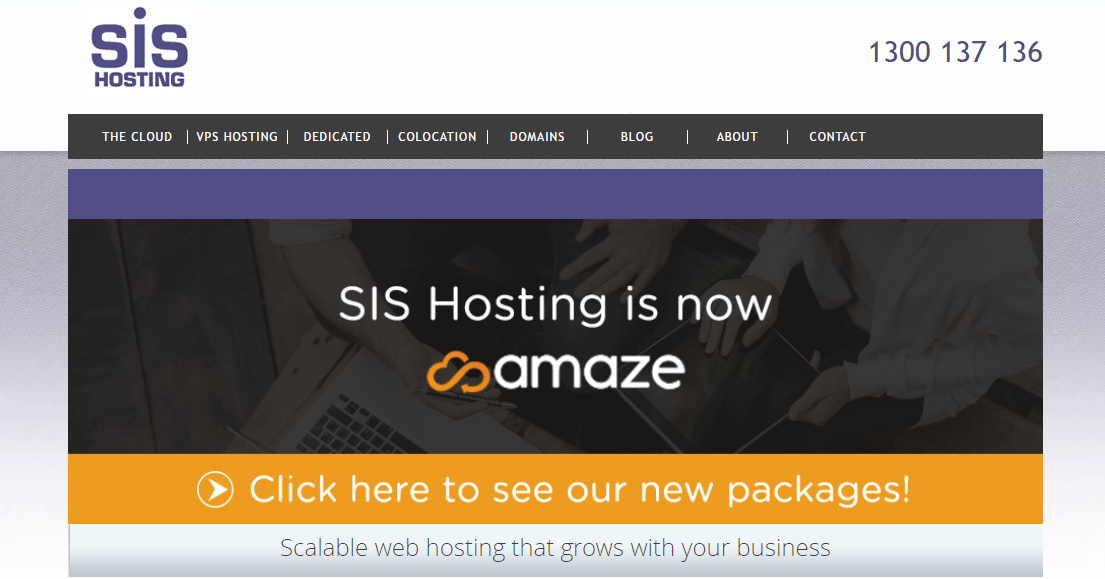 SIS Hosting is a network and cloud computing service provider operating under the SIS Group. It was established in 2001 and serves clients in the Australian East Coast. Its hosting services include cloud hosting, VPS hosting, dedicated servers, colocation, email hosting, and domain name registration.
SIS Hosting has a data center located in both Waterloo and Sydney, Australia and its website is available in English.
Features and Ease of Use
Cloud-based hosting is a growing trend in web hosting because it provides a convenient way for businesses to store data in remote facilities. SIS Hosting offers shared hosting services on cloud infrastructure. The features of this service include:
99.9% uptime guarantee
1GB to 130GB disk space
50GB to an unmetered bandwidth
As stated earlier, SIS Hosting offers software as a service (SaaS), where it specifically provides cloud hosting solutions for applications like SugarCRM. It also offers WordPress, Joomla, and Drupal hosting.
Although those exist, the company also provides one-click installation of CMSes on the cloud web hosting plans. You don't need to go for the "optimized" plans in order to host in a cloud environment.
With its provided control panel – cPanel – you can make changes to your websites and install and delete files easily, as well as set up and manage databases and domains. SIS Hosting offers unlimited subdomains and unlimited email addresses on its shared hosting.
All shared hosting customers can set up as many email accounts as they wish. For protection, It provides SpamAssassin for anti-spam protection and Smacks Antivirus for protection against viruses.
The operating system is Linux with Apache web server. If you're looking for NGINX or Litespeed web server or your needs are more in line with another OS, perhaps Windows, you'll have to look elsewhere or purchase a server where you can install what you want.
Some clients want faster delivery of content from where the servers are housed to their website visitors in other parts of the world. For this reason, SIS Hosting provides a Content Delivery Network (CDN) as well.
Pricing and Support
SIS Hosting's cloud web hosting plans are not cheap, but the good thing is that they offer a monthly billing cycle, meaning you don't have to pay a lot from the start or commit to a longer duration.
When purchasing a plan, you'll be required to first purchase a domain name or transfer an already existing one. This service can only be paid for biennially.
Its CDN and CMS hosting have no pricing plan on the website because it's a pay as you go service. Clients are required to contact customer support over the phone to make an order. Also, the CDN plan offers a 30-day free trial.
Billing is through credit card only. This is limiting, especially to potential clients who don't use credit cards.
Its support is available by phone and mailing address. There are no live chat, email, or knowledge base options to get useful information or communicate with technical support.