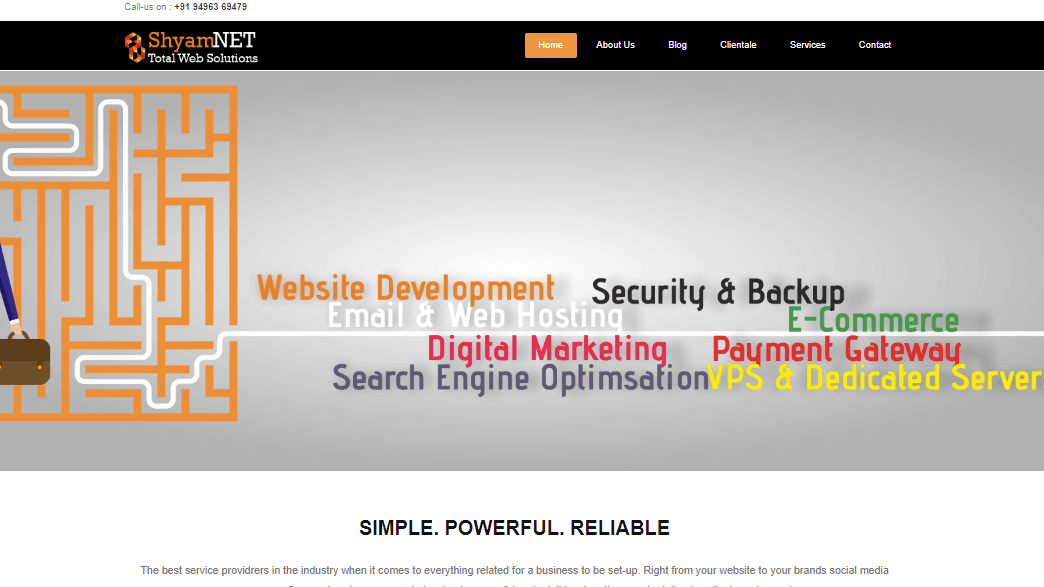 Founded in 1999, ShyamNet is a web hosting, web development, and digital marketing provider. For web hosting, it offers shared hosting, reseller hosting, dedicated servers, and Virtual Private Servers (VPS). It also offers add-on services, including SSL certificates. The company is based in Kerala, India and its servers are located in the United States, the United Kingdom, and India. Its website is available in English only.
Features and Ease of Use
ShyamNet offers ten web hosting plans. All of them support only one domain and the storage space has a vast range. These are the provided features:
99.98% uptime
Anywhere from 1000MB to 100GB bandwidth
POP email accounts
Some of ShyamNet's plans don't offer enough storage. For example, the starter plan comes with 100MB storage. If you're hosting a simple HTML website with no email accounts hosted on it and no plans to upload more than a few media items, then that might work for you. Be aware, though, that it offers only one email account on that plan.
Also, for websites on CMSes like WordPress that plan on using many other add-on tools like plugins and are looking to push SEO with lots of media-rich content, that will not be enough. It's also important to note that the first two plans do not offer databases, which WordPress needs in order to work.
The next three plans, though better, are still basic. Instead of providing many similar plans with not much difference, ShyamNet could focus more on features.
Its features aren't as robust as users need these days. If you were looking to host your website ten years ago or more, these features might have been perfect. However, these days, users need more.
To start with, a large percentage of websites are on WordPress, yet many people that set them up don't know how to install the CMS manually on their hosting account. They have to rely on tools like Softaculous and Installatron to handle the setup for them. Unfortunately, there's no mention of any here and you might have to go the "old-fashioned" and tech-skill-required route to install your web application.
Also, many companies offer parked domains for free as a web hosting feature. Not ShyamNet, though. That comes as a paid feature, albeit low-priced.
However, if you take some of the higher plans, you get to enjoy more features. For one, the dedicated server plans support Windows with MSSQL, while the reseller plans provide Softaculous, and VPS has more resources and security.
Pricing and Support
Although not overly expensive, some of ShyamNet's prices could be lower for the features that it provides. Also, it doesn't offer monthly prices, its prices start from one-year billing. That's a long contract and leaves customers at risk.
There's no free domain or SSL with shared hosting that could alleviate the cost of hosting. Plus, the company's money-back guarantee doesn't do much. According to its refund policy, it will only grant a full refund if you cancel and request it within three days after payment. The industry standard is 30 days, so three days ridiculously short compared to that.
You can access customer support through email, phone call, and WhatsApp call/chat. Additionally, the home page features a live chat tool. However, when I attempted to use it, I couldn't connect to an agent despite waiting for over 30 minutes. Nevertheless, I sent an email afterward and received a prompt response.