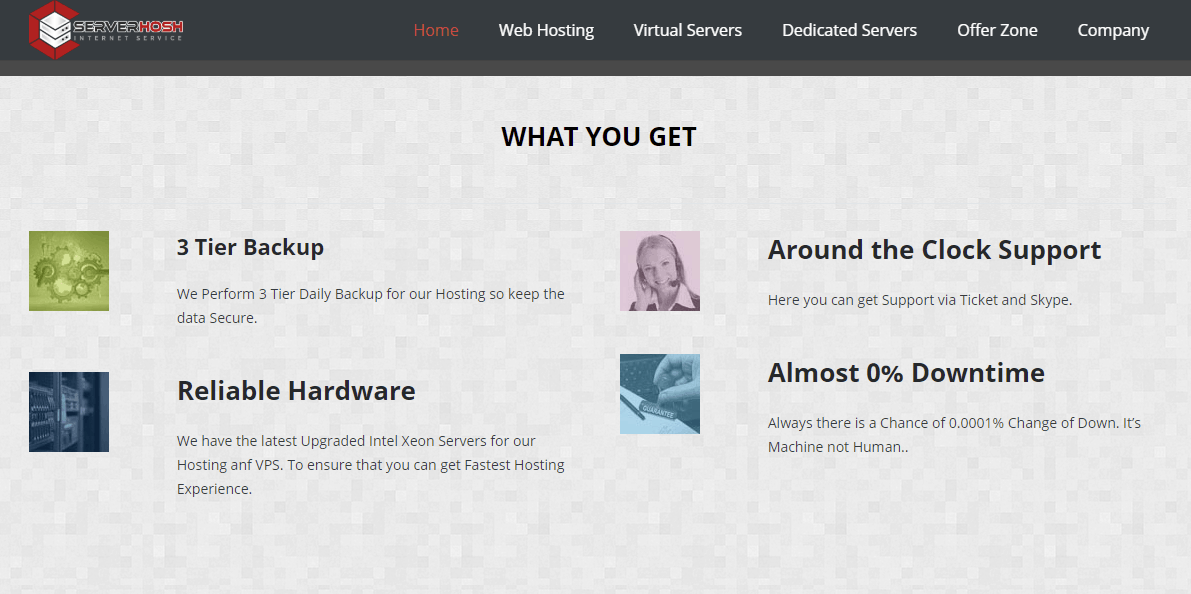 ServerHosh was founded in 2012 to provide web hosting services, namely shared hosting, Virtual Private Servers (VPS), and dedicated servers. Its servers are housed in NedZone data center in the Netherlands, and WowRack data center in the United States. The ServerHosh website is in English only.
Features and Ease of Use
ServerHosh offers different plans for its two server locations: there are four plans for those looking to host in the U.S. and three plans for those looking to host in the Netherlands. These plans feature:
Daily automatic backups
Anywhere from 100MB to 50GB storage
Either one or unlimited websites
1GB or unlimited data transfer
ServerHosh serves users who are not very familiar with the technical aspects of managing hosting and running a website with a simplified and easy to manage system. It provides the cPanel management tool to allow you to manage email accounts, databases, domains, DNS, website files, etc. You can manage most things with just a few clicks.
Furthermore, there's a one-click application installer that's paired with cPanel. You can use Softaculous to install WordPress, Joomla!, Drupal, Magento, Prestashop, and many other applications automatically without manually dealing with the file manager or databases.
ServerHosh further enhances the experience of its customers with the CloudFlare cPanel plugin that connects your website to Cloudflare in one click in order to increase your website loading time.
The company uses solid state disks that ensure speed and also help to shorten website load time. This is set up in cloud configuration that provides redundancy along with data redundancy from RAID. Its SSDs are placed in RAID 10, which makes sure that if there's a hardware failure from one drive, your data is still secure and it can quickly copy it from the remaining drive to another. Plus, this configuration helps a bit with speed.
ServerHosh also provides the CloudLinux operating system, which stabilizes shared resources, appropriately sharing the resources among customers and preventing overuse of one affecting others.
Pricing and Support
One of ServerHosh's strongest points is its low prices. The cost of its plans match those of similar reasonably priced plans from its competitors. Furthermore, there's one month hosting available on all but its base plans. For the USA base plan, you can only pay for a year at a time, but that's expected given the price point. The Netherlands base plan subscription period starts from six months.
ServerHost offers free migration to current cPanel users. Our assistance and user-friendly platform may eliminate the need for hiring more experienced personnel, thereby reducing your overall costs.
You can pay through PayPal, PayTM, BitCoin, or RazorPay. There's no free trial or plan, but there is a 15-day money-back guarantee.
SeverHosh provides support through a knowledge base, but the articles there are for those working directly with operating systems through VPS or dedicated servers. The team itself can be reached through email, phone, Skype, ticket, or WhatsApp.