To compare the best web hosts, we hosted the same WordPress website on each one and tested performance, customer service, and value for money. Check out the results here.
Rechenzentrum Kreuznach (RZKH) was founded in 2001 by Holger Scherer, a renowned IBM System i and AS/400 expert and regular community speaker. The company's data center moved to Rhineland-Palatinate in 2007, and then to a 1960s era German nuclear fallout shelter in 2009.
RZKH specializes in hosting, programming and consulting for IBM AS/400 and iSeries IBM hardware.
The RZKH website supports the German and English languages.
Features and Ease of Use
RZKH's hosting plans are designed to suit a wide variety of users… as long as those users are IBM aficionados. To give you an idea of how targeted these plans are, I can tell you that the company promises to help you with hosting "even if you need to compile BASIC on V3R2."
The company's target customs are:
Individual developers doing IBM 'i' programming
Globally distributed development teams that want to work with shared data and programs
Corporate customers who need to copy their production environments for development or testing purposes
Corporate customers who don't want to manage their own production environments
Former IBM AS/400 users who need to keep data/programs online for auditing purposes
Some unique features of RZKH's hosting plans include access to (S)FTP/SCP servers, SAN-based RAID 6 disks, dynamic CPU management, and dedicated VPN setup (to be negotiated).
In addition to shared hosting for single or group accounts, RZKH also offers dedicated partitions/hardware to host your own operating system.
Pricing and Support
RZKH's business price list suggests that its plans are competitively priced. However, every hosting solution is quoted individually based on the customer's exact requirements in terms of:
OS version
CPU power
Disk and main storage
Planned period of use (from one month up to decades)
Data backups
Service level
Coding requirements and user support
You can call the company, or reach out via email or email-based ticket system. No business hours are stated, but it's almost certainly not 24/7 unless this is specified in your bespoke SLA. Unfortunately, my exploratory email went unanswered.
The self-help resources are not much help at all. There is an empty blog, a software and tools page describing only the esoteric FB400 backup system, and a slightly more helpful list of useful links: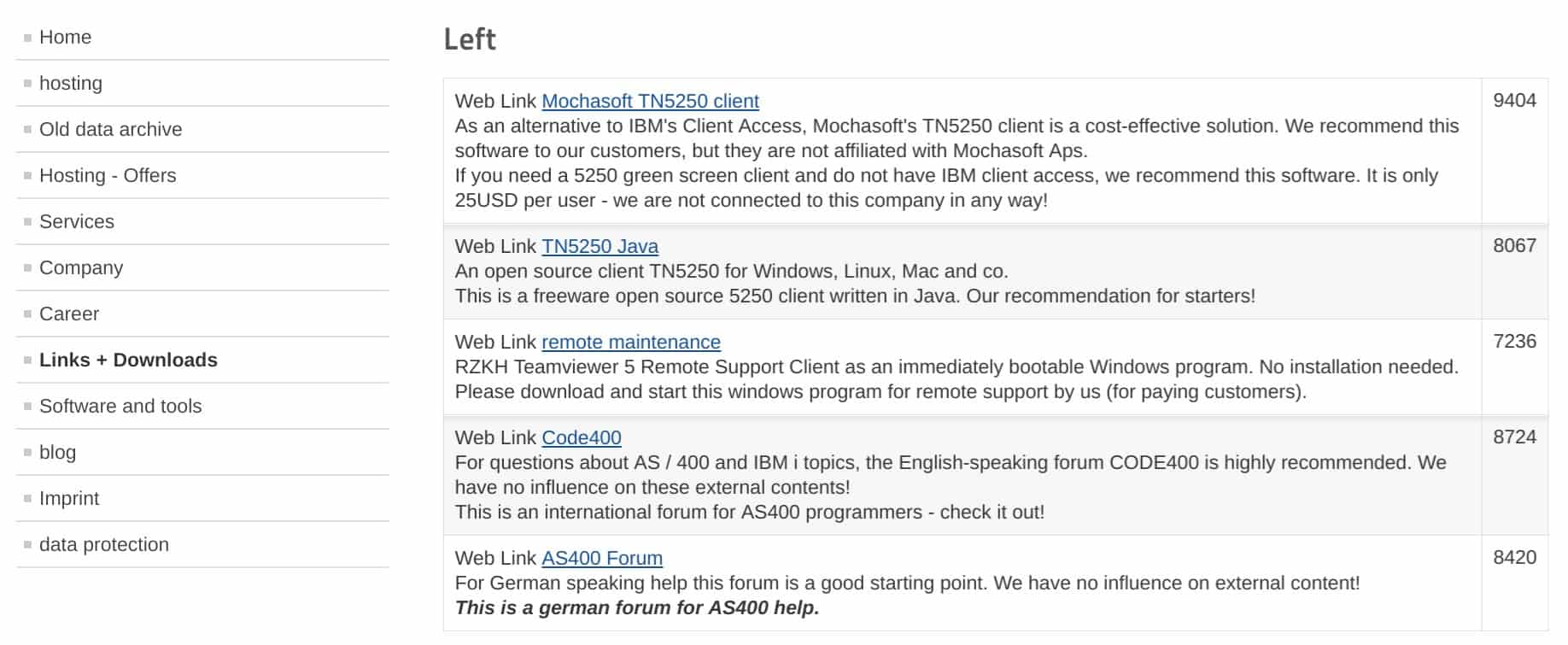 How much does RZKH cost?
RZKH offers multiple plans priced highest to lowest. The price depends on which type of hosting plan you choose. You can see the updated pricing table (updated weekly) below.

Which RZKH plan should I get?
My recommendation is to start with a cheaper plan. You can always upgrade later on. RZKH can help you with the migration to a more expensive plan. The increase in visitors many times takes longer than expected and you shouldn't pay a lot of money until the need arises. Of course, your needs may vary, and you can consult with a hosting expert from RZKH here.

How good is RZKH's customer support?
RZKH is not ranked as one of our top web hosts. But that can also be a result of RZKH being a small, under the radar, hosting provider. There are advantages to a small hosting company – as a customer, you are more important to them. You can also check out our comparison of the most popular web hosting services here.