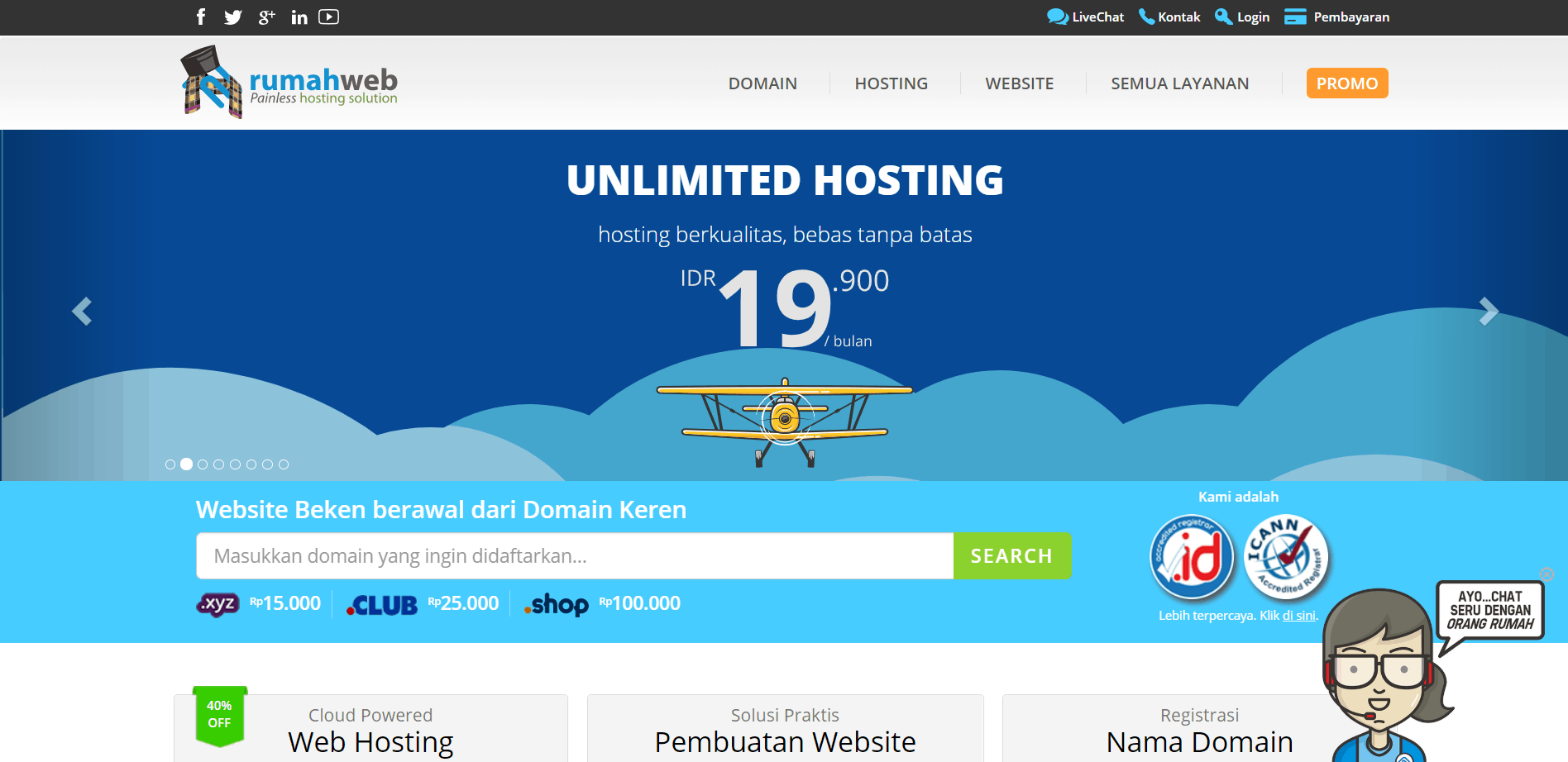 To compare the best web hosts, we hosted the same WordPress website on each one and tested performance, customer service, and value for money. Check out the results here.
Rumahweb is an Indonesian company that has been in business since 2002 and has established itself as one of the leading website hosting services provider in Indonesia. They are experienced in this domain and have served over 20,000 customers since their inception.
Features and Ease of Use
Many web hosting services today offer a paid or free website builder to cater to the demands of those users who aren't into programming. Rumahweb is one such provider and offers two different website builders. One of them is the free Weebly website builder and the other one is Rumahweb's own creation. Ultimately, both help you to create a professional looking website with ease and without the need to get into technical details.
They ensure the security of your website and your visitors by offering free SSL certificates as well as free AntiVirus. You can make use of the ModSec firewall as well for added security. You also have the option of weekly or daily backups so even if something does go wrong, your data is safe.
They also support various programming languages including, but not limited to:
PHP 5.x and 7.x
CGI Support
CURL
GD2
PERL

The databases offered by Rumahweb include:
MySQL
MariaDB
PHPMyAdmin
InnoDB
Installing software and scripts on your website, even for non-programmers, is as easy as it gets. The 1-click installer ensures you can install software like WordPress, OpenCart, Drupal, Joomla, and PHPbb among many others with a single click. Further management of websites is made easier with a friendly control panel giving you easy access to files, backups, applications, statistics and much more.
There are multiple packages available at Rumahweb which are divided into three main categories: Personal, Professional, and Enterprise. The Personal packages only offer 50 to 100 MB of disk space and 1GB to 5GB bandwidth, with only a single domain allowed. The Professional hosting packages offer up to 2GB disk space with unlimited traffic and email accounts. You can host anywhere from a single domain to four different domains. For those with bigger needs, the Enterprise packages offer a good solution with unlimited bandwidth, emails, databases, and adequate disk storage, though not unlimited. In the most expensive package, you can host up to 29 different websites. All packages except those in the Personal category offer the free Weebly website builder.
Pricing and Support
Rumahweb offers incredibly affordable packages, especially with the added benefit of free website builders. The only limitation is that they do not provide unlimited disk storage. However, if you can effectively manage your storage needs, Rumahweb is the perfect hosting provider for your websites.

The support staff at Rumahweb is reachable by live chat, telephone, and email. The live chat was offline when I tried to contact them, so they probably do not have a 24/7 live chat service but they are reachable by one way or another at all times. I think it is safe to say they don't offer support in English. The person did answer my question but kept insisting he only speaks a little English and that he is comfortable speaking Indonesian. The contact buttons are located at multiple locations on their pages so you won't have a hard time trying to find it.