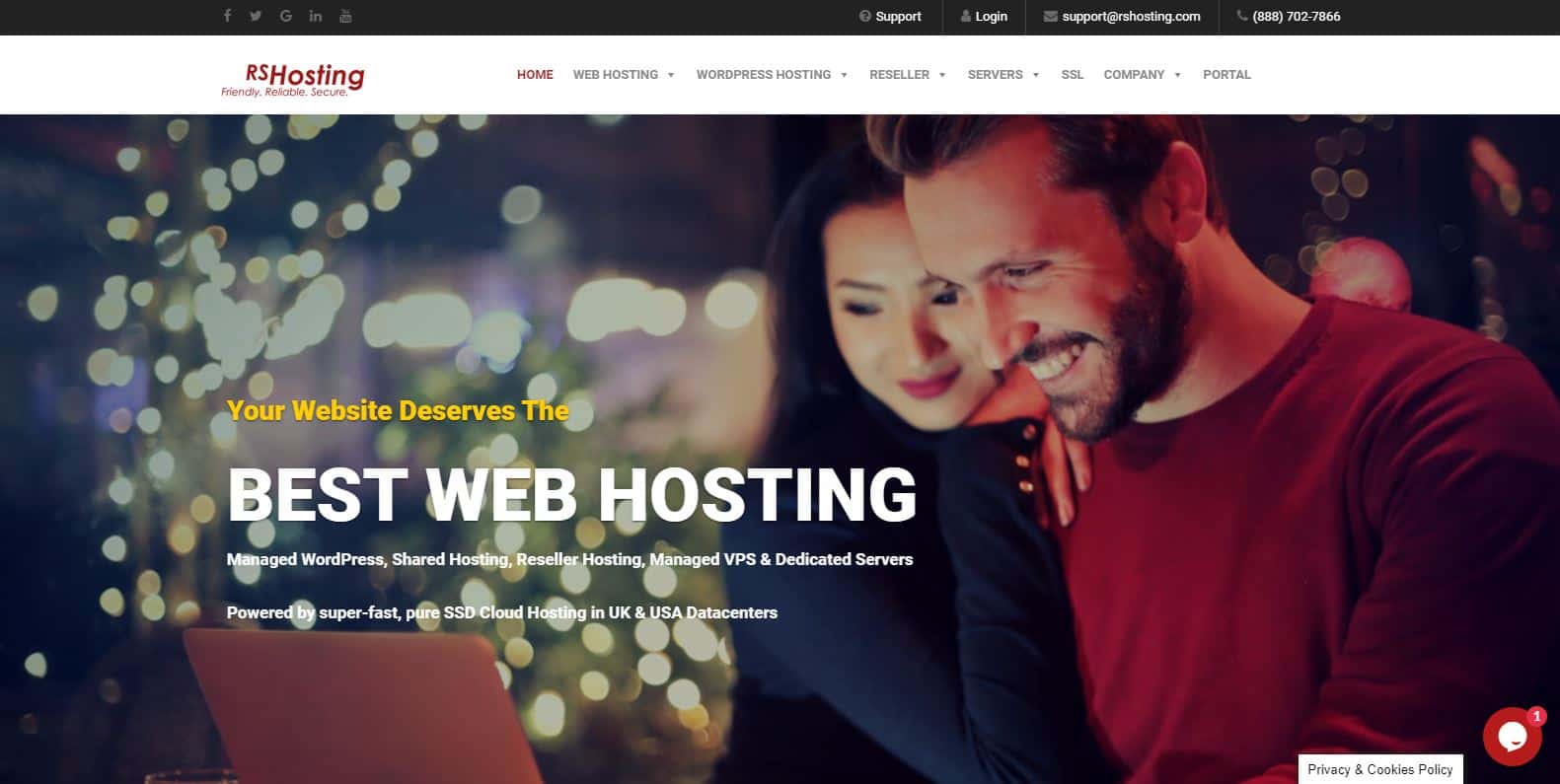 To compare the best web hosts, we hosted the same WordPress website on each one and tested performance, customer service, and value for money.
Check out the results here.
RSHosting is a web hosting provider established in 2003. The vendor is privately registered and debt free and specializes in providing fully managed hosting services backed by a number of data centers located in the United States and the United Kingdom. They pride themselves on providing secure and reliable hosting solutions operated on SSD cloud servers with RAID 10. In addition, they provide VPS and fully managed dedicated server solutions.
Features and Ease of Use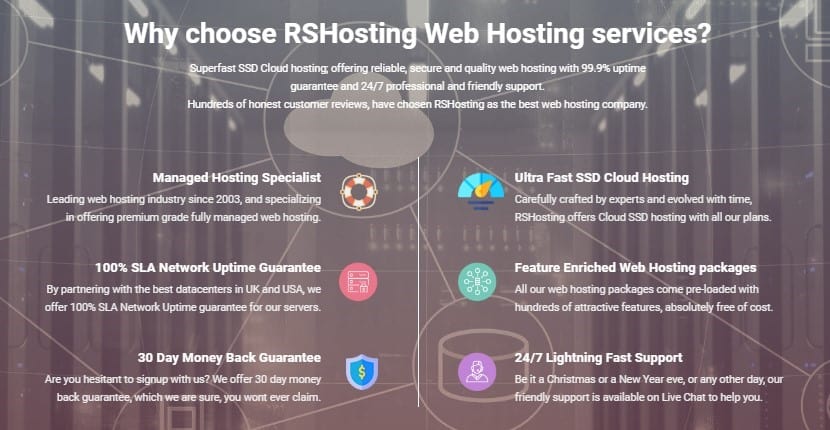 RSHosting provides a complete line of web hosting solutions including shared hosting, managed WordPress hosting, reseller hosting, e-commerce hosting, managed cloud VPS, and dedicated servers. They incorporate some of the following standard features:
One-click app installer for 400+ apps
User-friendly WHM reseller control panel
Free website builder
DDoS protected servers
Free Let's Encrypt SSL certificates
CloudLinux operating system
LiteSpeed web server with LSCache
Choice of U.K. or U.S. data center
Free Enom domain reseller account
Free CDN cloudflare compatible web hosting
RSHosting uses SSD servers for their cloud servers as well as their dedicated and fully managed VPS servers. They allow users to choose the location of the data center that should host their websites. RSHosting offers free offsite data backups with two daily and one weekly file and data restoration points. That said, they insist that the backup services are complementary services therefore encouraging customers to always maintain their own copies of their data backups. Luckily, users don't have to ask them to download a copy of their website; their control panel enables clients to generate and download website backups. They also offers paid managed backups, which comes with an option to choose your offsite file and data backup retention.
RSHosting uses a popular and user-friendly WHM cPanel. Additionally, they provide Plesk or cPanel with a one-click app installer for 400+ apps on all their dedicated servers. They offer fully managed and cloud-compatible free website builders that allow users to create their own website in just a few minutes.
Pricing and Support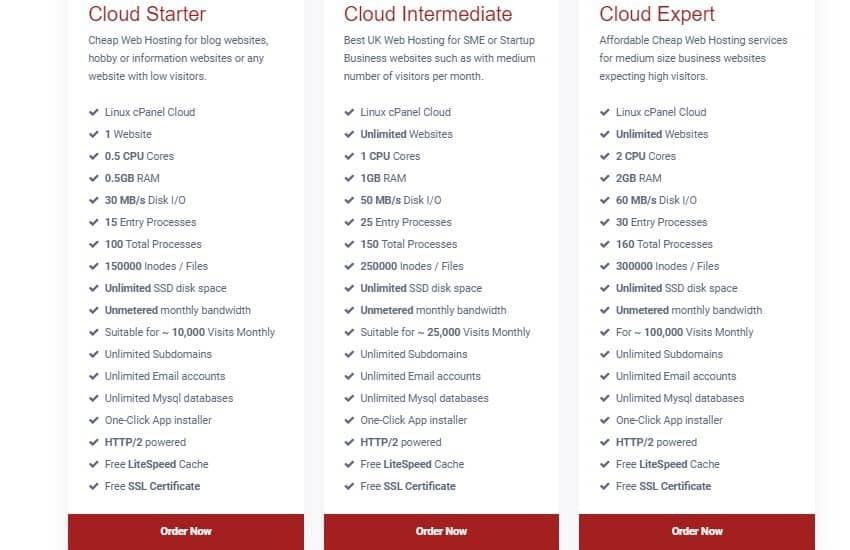 RSHosting web hosting solutions are pretty cheap. Hosting prices are listed in dollars and pounds and clients have the option to pay on a monthly or annual basis. The hosting provider offers an unconditional 30-day money-back guarantee, a 100% SLA for VPS, cloud VPS, and dedicated server hosting, and a 99.9% uptime SLA for managed VPS and cloud VPS. Their compensation plan gives users a refund of 5% to 100% of the monthly service fee for every hour of network downtime recorded on the affected server.
RSHosting customer service team is available 24/7. They are polite and helpful when talking to their clients and their response time is extremely quick. Whether it's by telephone, email, Skype, live chat, or their ticketing system, this team of professionals gives satisfactory support service to their clients. What's more, their knowledge base includes an array of articles, blogs, and tutorials that offer additional help and answers pertinent to customer questions. They also have an FAQ section and a good number of video tutorials.
How much does RSHosting cost?
RSHosting offers plans from $1 to $6. The price depends on which type of hosting plan you choose. You can see the updated pricing table (updated weekly) below.

Which RSHosting plan should I get?
My recommendation is to start with a cheaper plan. You can always upgrade later on. RSHosting can help you with the migration to a more expensive plan. The increase in visitors many times takes longer than expected and you shouldn't pay a lot of money until the need arises. Of course, your needs may vary, and you can consult with a hosting expert from RSHosting here.

How good is RSHosting's customer support?
RSHosting is not ranked as one of our top web hosts. But that can also be a result of RSHosting being a small, under the radar, hosting provider. There are advantages to a small hosting company – as a customer, you are more important to them. You can also check out our comparison of the most popular web hosting services here.