Managed WordPress Hosting Best Suited for Multiple Sites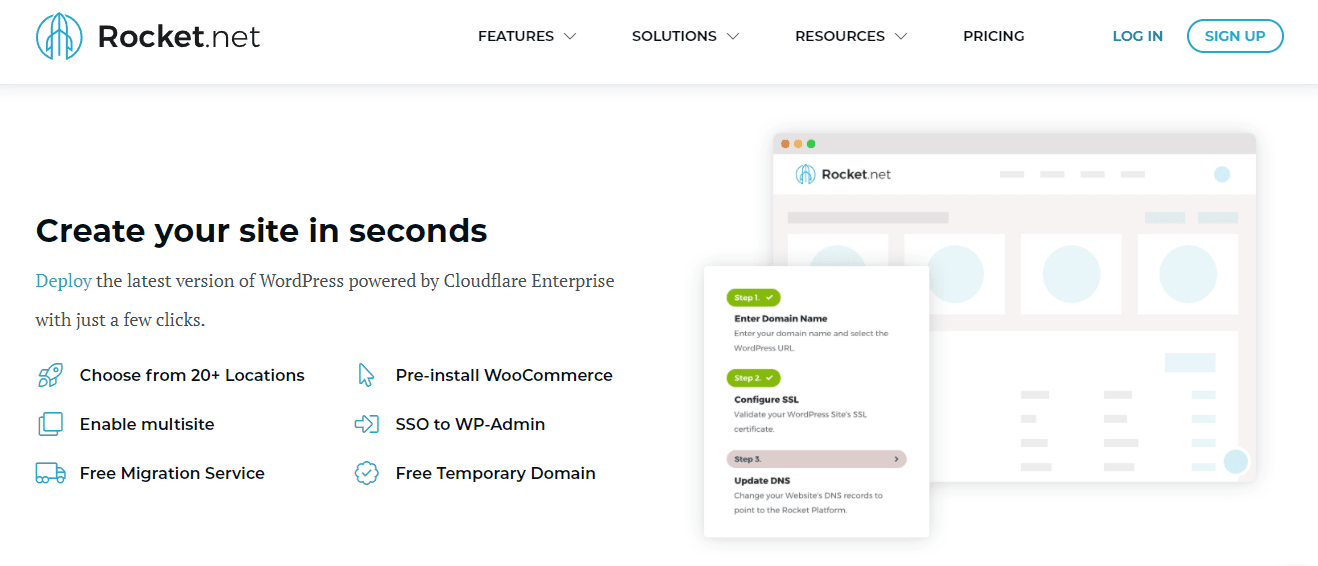 Rocket.net is a hosting platform with over 20 data centers in North America, Europe, Australia, and Asia. Managed WordPress hosting is what it does best – and coincidentally, the only service it offers.
You'll need to look elsewhere if you want other types of CMS hosting, or are looking for an all-in-one host that offers domain management and email hosting.
Rocket.net offers four levels of plans for its Managed WordPress Hosting. But unless you're managing multiple mid-sized websites with decent traffic (which means opting for the pricier Business or Enterprise plans), you're unlikely to get great value compared to other hosts.
Features and Ease of Use
A Great Platform for WordPress Web Designers and Developers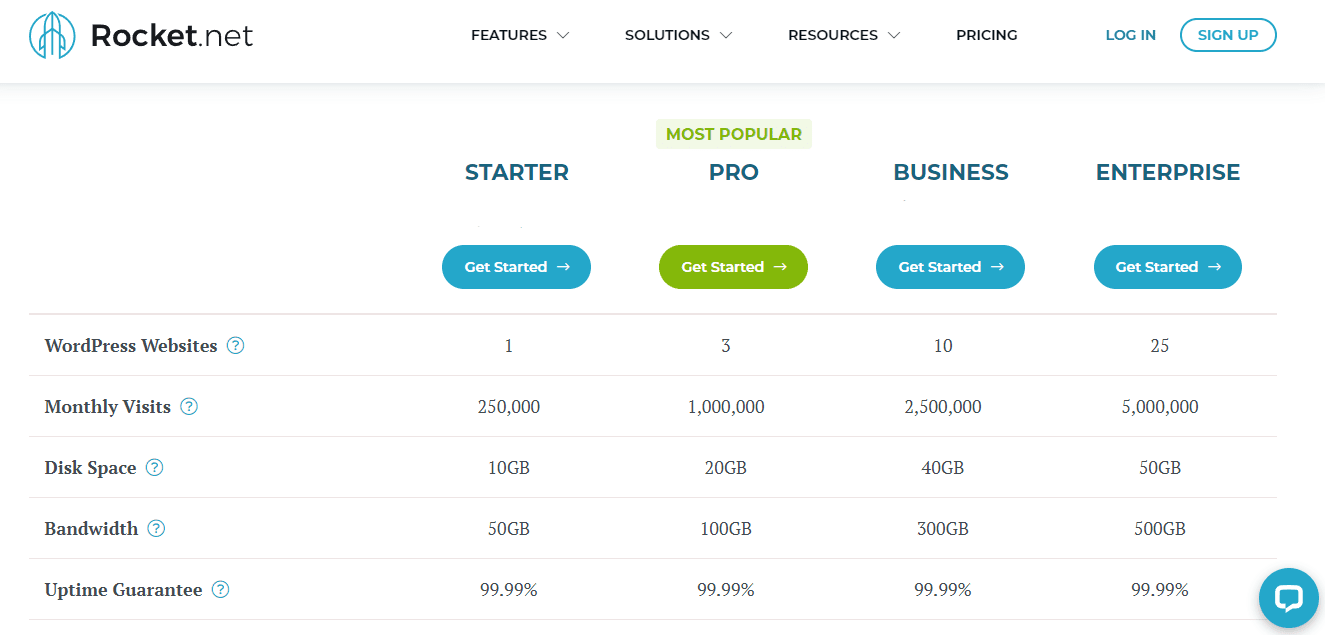 Rocket.net's Starter plan includes enough resources for one WordPress install: 10GB of storage, 250,000 monthly visits, and 50GB of transfer. If you have a website with decent traffic, this should be more than enough to keep your website performing as it should.
If you're looking for more resources, you can opt for the Enterprise plan. This is designed to manage multiple sites, so you can have up to 25 WordPress installations with a total storage space of 50GB.
It might be worth noting that while all plans support legacy versions of PHP (5.6, 7.0, 7.2, 7.3, 7.4), later versions are not currently available. This can be tricky if you're running the latest version of WordPress, which should work best with the latest stable version of PHP.
Regardless of which plan you choose, you'll also get:
A streamlined control panel
99.99% uptime guarantee
Automatic and on-demand backups with back-up retention
Free site migration
Free SSL certificates
SSH access
Visitor analytics
If you work with a lot of WordPress-based websites, you'll appreciate Rocket.net's control panel, which allows you to develop, test, and analyze your site's performance without having to install extra plugins. You can also add an unlimited number of collaborators so your entire team can work together.
When you sign up with Rocket.net, you'll be able to choose from any of its 20+ data center locations to host your site.
Rocket.net is also powered by the Cloudflare Enterprise CDN (a premium service), which caches your site to more than 200 data centers around the globe to help your pages load as fast as possible, no matter where your visitors are located.
Rocket.net gives your website not one but two firewalls – included free in all of its plans. The global Cloudflare Web Application Firewall (another premium feature that's not included with the free version of CloudFlare) blocks malicious requests at the network level before they can ever reach your site. The second is a firewall powered by Imunify360 that further protects your website from attacks.
Pricing and Support
Pricey Plans but Hands-On Support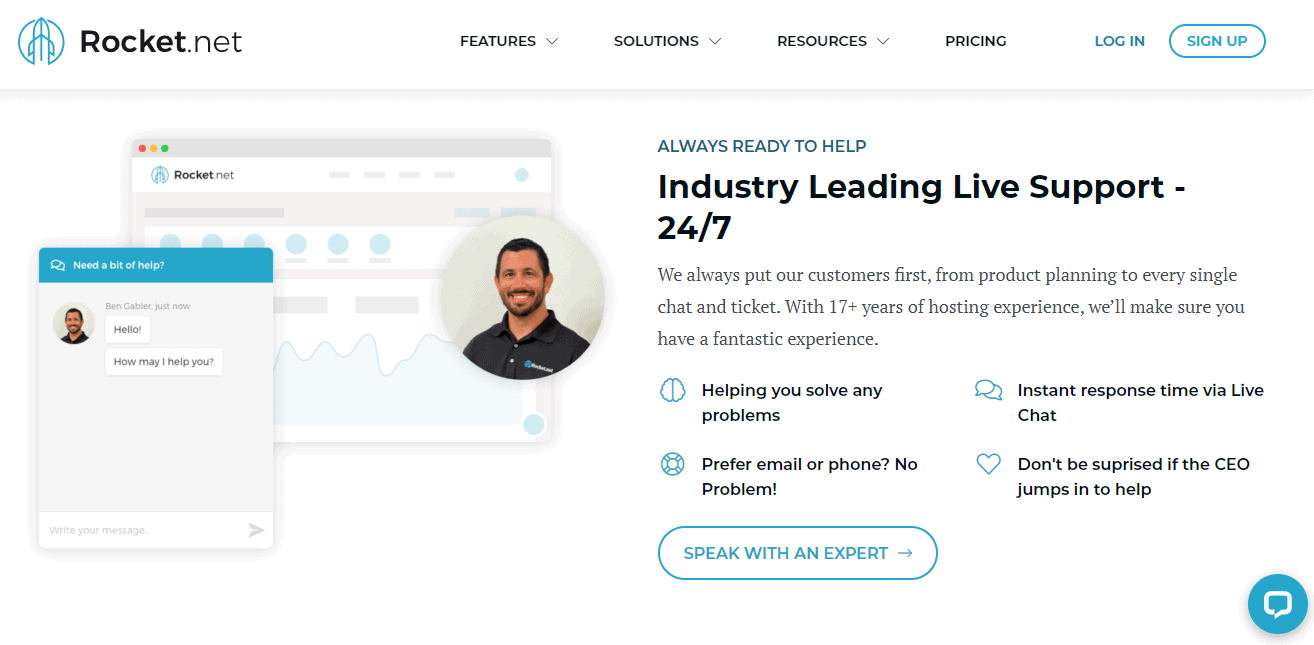 Rocket.net offers plans priced from $30.00 per month, but there are no free trials available. By opting for a monthly plan, you can get your first month for only $1, while choosing the annual plan gives you two free months. Regardless of which plan you choose, all plans come with a 30-day money back guarantee.
Our plans adjust according to your hosting capacity for sites, along with the bandwidth and disk space allocation for your sites. It's important to highlight that unlimited resources are not available. The highest-tier plan, for instance, permits a total of 50GB space distributed across a maximum of 25 sites.
Rocket.net offers 24/7 support via live chat, email, and phone – although round-the-clock phone support is reserved for Business and Enterprise plans.
But don't forget that you're signing up for a managed plan, so Rocket.net's support team will help you optimize just about every part of your WordPress installation. It only draws the line at coding your website for you.
Upgrading your plan is easy enough, and your bill will even be prorated based on what you've already spent. If you already have an existing WordPress site, Rocket.net will help you migrate it free of charge, without the need for extra plugins.
Rocket.net WordPress Hosting