RedSwitches Offers Powerful Solutions for Medium and Large-Scale Projects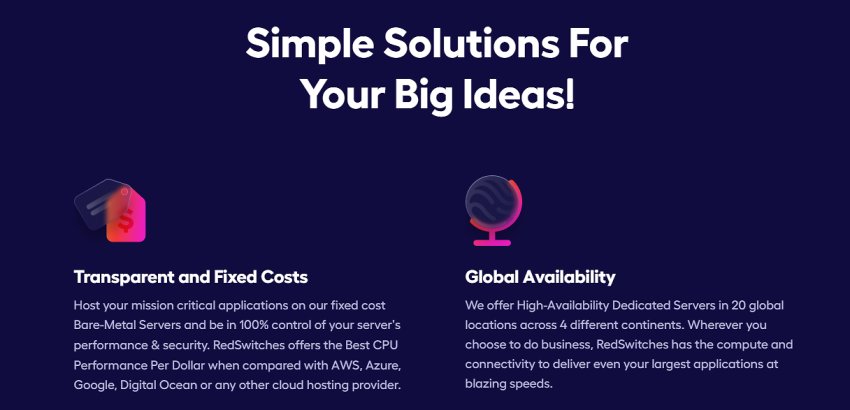 With regards to web hosting, RedSwitches primarily offers unmanaged, dedicated bare metal servers. To take advantage of this service, you need to know how to configure a server, or have someone on your team who does. If you do, you'll get the maximum possible freedom to set up your server as you wish.
RedSwitches also offers managed or specialized servers for video streaming, file storage, crypto mining, and various other purposes, but these must be acquired via consultation with an engineer.
With a network of 20 global data centers, it might seem that RedSwitches is the answer to all of your high-end hosting needs. But there are some details you should consider first.
Features and Ease of Use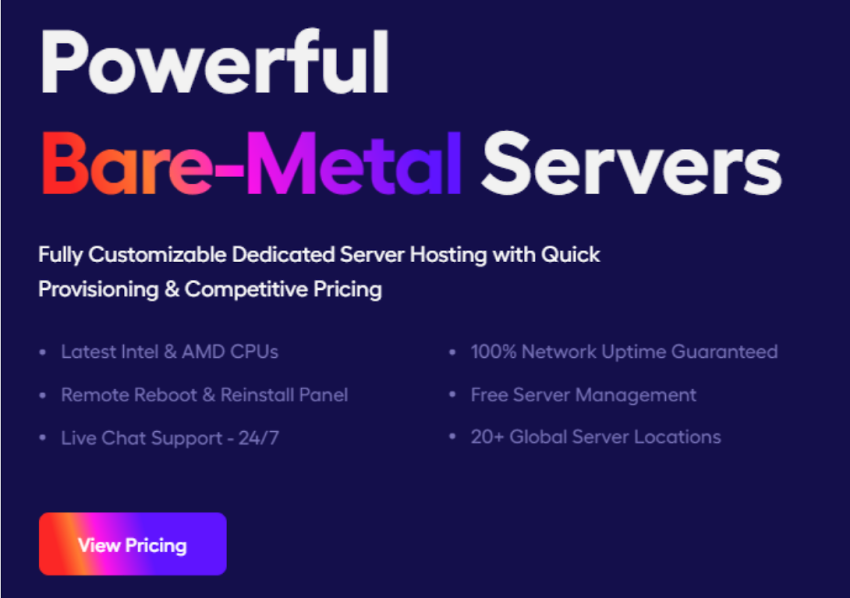 The RedSwitches account area features an intuitive control panel with remote reboot and reinstall. This eliminates the need for a support agent to reboot your bare metal server should things go wrong. Other providers may offer this option, but will often encourage you to contact support anyway.
If you need help choosing the right dedicated server for your project, RedSwitches offers a custom server request form on its website. Simply fill it in with your contact details and your specific requirements, and the engineering team will come up with a quote and help you deploy a custom dedicated server built for your specific needs.
If you're buying one of the 400+ servers on the website pricing list, RedSwitches promises fast deployment, which is sometimes accurate. It ranges from 12 hours at its European and Indian data centers to a potential maximum of 120 hours in Asia and the Americas.
Another notable detail: RedSwitches offers a bold uptime guarantee of 100%.
RedSwitches Features at a Glance
| | |
| --- | --- |
| Money-back guarantee | 24 hours |
| Uptime guarantee | 100% |
| Control panel | Account dashboard with reboot and reinstall functions; servers support cPanel or Plesk |
| Data centers | Netherlands, Germany, Switzerland, Singapore, Hong Kong, San Francisco, Washington DC, Australia |
Support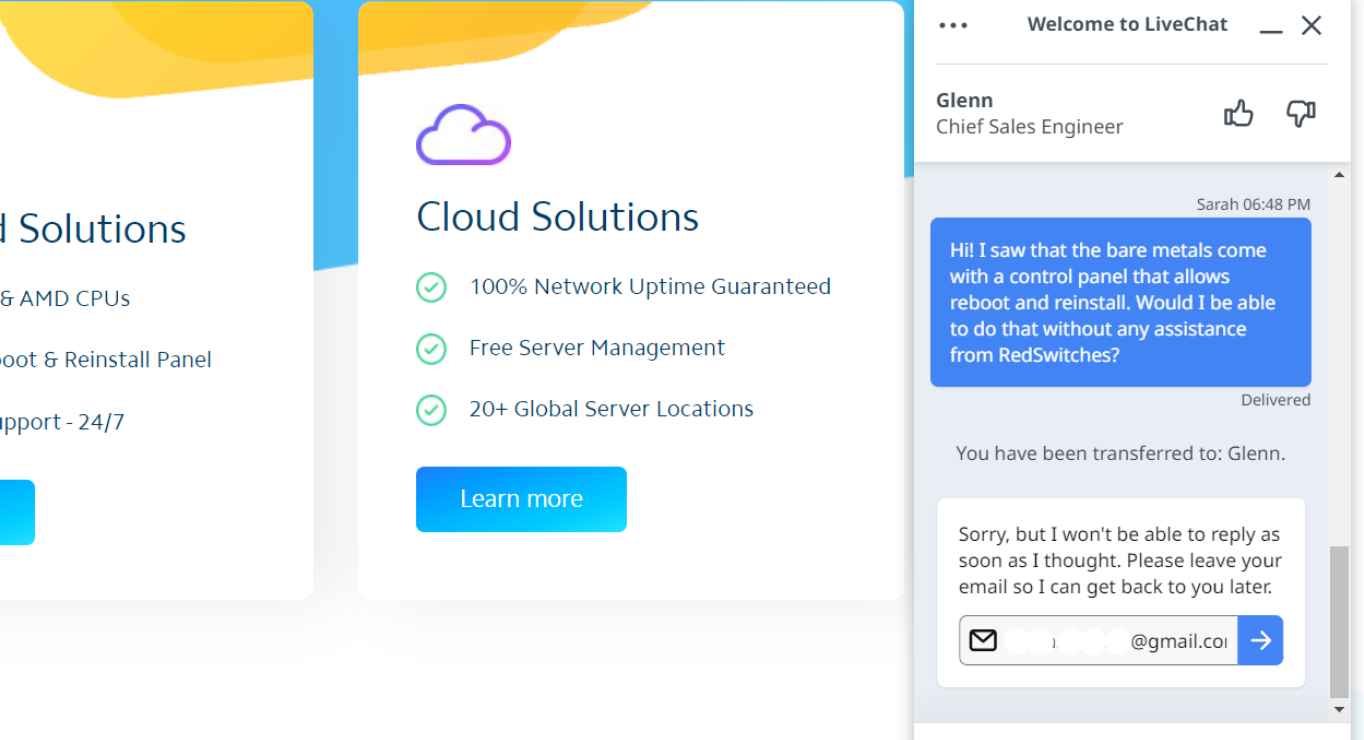 RedSwitches offers 24/7 human support via live chat, phone, email, and social platform messaging. Its service level agreement guarantees response times: 15 minutes or less for emergencies and outages, four hours for support inquiries, and a maximum of 24 hours for billing and sales inquiries.
I conducted a test of RedSwitches' live chat functionality. Shortly after posing my inquiry, I received a notification within two minutes, explaining that the agent was occupied at the moment. Thus, I was informed that I would obtain a response through email. Despite not receiving the anticipated email, I did, however, receive a response via the live chat after a delay of ten minutes. During a subsequent interaction, the agent's response time improved significantly, taking just three minutes.
Answers to my questions were polite and informative. All in all, not a bad service, but it could stand to be a bit more prompt.
Pricing
RedSwitches has some of the most competitive prices on the market for dedicated servers in the EU. However, if you click through the location tabs on the pricing table on the Bare-Metal page, you'll see that identical servers in the Americas, Asia, Australia, Switzerland, and India will generally cost double what they do in Amsterdam and Frankfurt.
That being said, with regards to the typically inflated prices in Australia, these rates are actually quite competitive, perhaps because RedSwitches is based in Melbourne.
Regardless of location, you can save some money if you commit to a quarterly, semi-annual, or annual plan instead of the default monthly option. You only have 24 hours to request a refund on your subscription, regardless of term length, and only if you haven't uploaded more than 25 GB.
There are plenty of discounted servers to be had on RedSwitches' Pricing page, with lower prices on servers with HDD storage, usually in sets of two or more drives to allow you to set up a RAID array. There are also temporary deals on servers with high-end specs.
Some of these servers incur high setup fees. They can apparently be avoided by simply choosing a different server option.