Founded in 2004, Radore is a Turkish website hosting provider with top-of-the-line hardware. They currently provide website hosting to over 3,000 enterprise-scale businesses. Their website is available in Turkish, and they offer support in Turkish and English.
Features and Ease of Use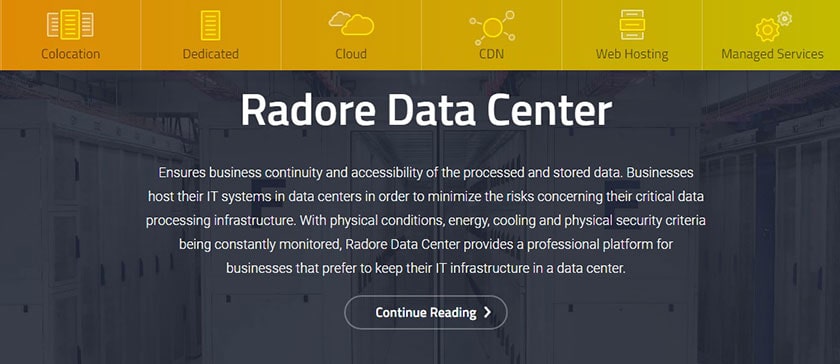 Radore is a full-service website hosting provider. They offer a wide range of hosting services including colocation, dedicated servers, shared hosting, cloud hosting, a CDN, and managed services.
Their shared hosting packages include the following features as standard:
99.99% uptime guarantee
Domain registration available at an extra cost
From two to 50 domains supported, depending on package
SSL certificates included in all plans except for the Standard and WordPress hosting packages
2GB to 100GB storage depending on package
I also like that they own and operate their own data centers, which usually means faster website speeds and quicker resolution times for technical issues. Not only are their data centers Tier II and Tier III, but they are phenomenally clean and well-maintained. Their website outlines all the safety precautions in detail, so it's clear your data is in good hands.
Surprisingly, considering their top-quality hardware, they don't support advanced scripting languages such as Ruby, Ruby on Rails, Python, and so on. It also seems they only support up to PHP 5.6, which is far slower than the PHP 7.2 that many other providers offer. While this may be sufficient for new and small website owners, experts and developers may require additional features here.
Pricing and Support
Their pricing is quite reasonable compared to that of other local and international providers, especially considering that you can host two domains even in the most basic packages. However, keep in mind that all packages incur an additional cost for domain registration, while SSL certificates are included for free with all plans except the cheapest one.
Oddly, Radore doesn't offer any flexibility with billing periods. The only term available is one year. They do not incentivize customers to go for longer terms with discounts, nor do they offer flexible month-to-month payment options.
In terms of customer support, they offer telephone support, email support, and live chat. Technical support is 24/7 and available in both English and Turkish. I love the fact that they have live chat and that the operator has always picked up quickly and politely whenever I have a question, even out of office hours. Plus, if they were unable to provide an answer on the spot, they've always followed up with an email as soon as possible.