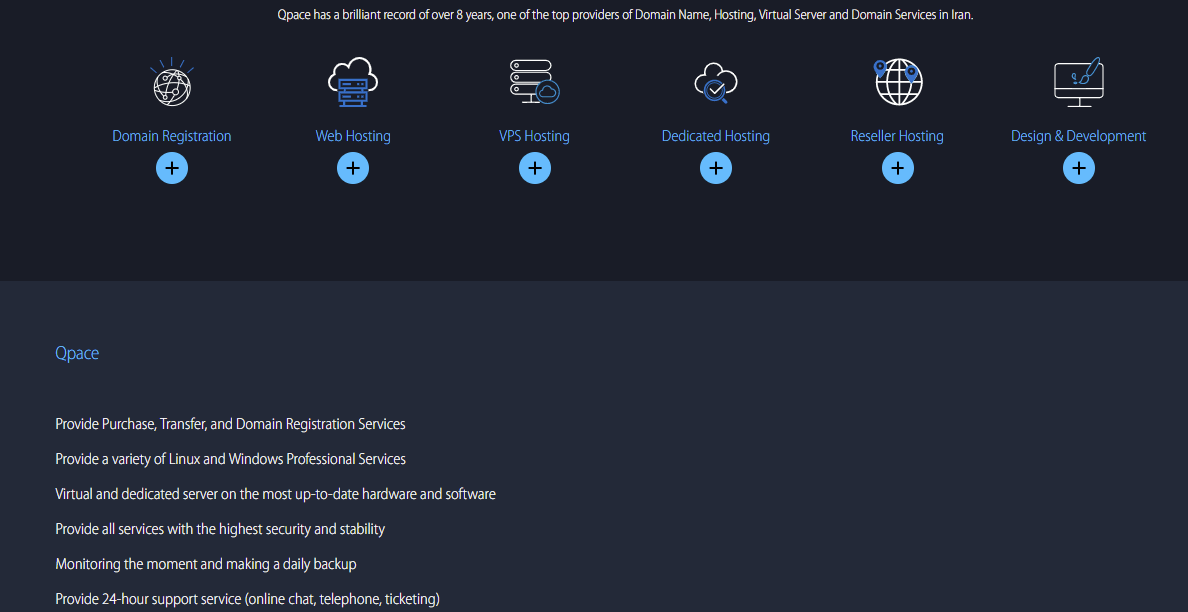 In business since 2004, Qpace serves the Iranian market with hosting and web development services. Working with the goal of identifying the needs of customers and providing the best possible services in advanced technologies, it serves organizations, government agencies, and individuals.
Its website is available in Persian and English, but the English version is not fully translated in some sections.
Features and Ease of Use
Qpace offers web hosting, VPS, dedicated servers, and reseller web hosting. Under web hosting, it offers Linux servers, Windows servers, and file hosting services. Here are some of the basic features that shared hosting customers get:
Two to seven add-on domains provided on a few plans
Between 2GB and unlimited bandwidth on hosting plans
Under the shared web hosting, it offers many plans, but the resources offered on them do not differ much. And, most of them wouldn't be suitable for small businesses. For example, the starter plans only provide 100MB storage space. If you plan on creating a static website and not using the free email accounts provided with the hosting, then that storage might be sufficient.
Even the top plans only offer 30GB storage, at most. With continuous website updates, blog and vlog content, and emails, you will definitely exceed that. Qpace has VPS plans that offer more than enough for most websites. Aside from the extra storage space, it also comes with protection against DDoS attacks.
Qpace supports PHP, CGI-BIN, Perl, and Python on Linux hosting, with ASP and ASP.net on Windows Hosting. While this is great for developers, beginners do not have such provisions; it isn't easy to use this company as a beginner, because you'll need a lot of technical knowledge.
Qpace doesn't offer a one-click installer to ease the process of installing popular web applications. A large percentage of websites are run on some form of CMS, so having an installer is essential because the likelihood of customers needing it is high.
There's no website builder either, so you'll have to write your own HTML.
Pricing and Support
Qpace offers low-range hosting at a high price when compared to the features that it offers. You can get those features and more from a top hosting website for a much lower fee. Also, it doesn't offer any perks like free domain or SSL, even if you choose a long-term subscription.
You won't find month-to-month payment plans with this provider. Subscriptions can only be purchased for one to three years at a time. Unfortunately, there is no free trial available to test the service before making a commitment. To add to the disappointment, they don't offer a money-back guarantee either.
Qpace offers 24-hour support to customers through ticket, live chat, email, and phone. The live chat doesn't seem to work 24/7 though; I tried it during a workday but didn't receive a response, so I sent an email but never got a reply to that either.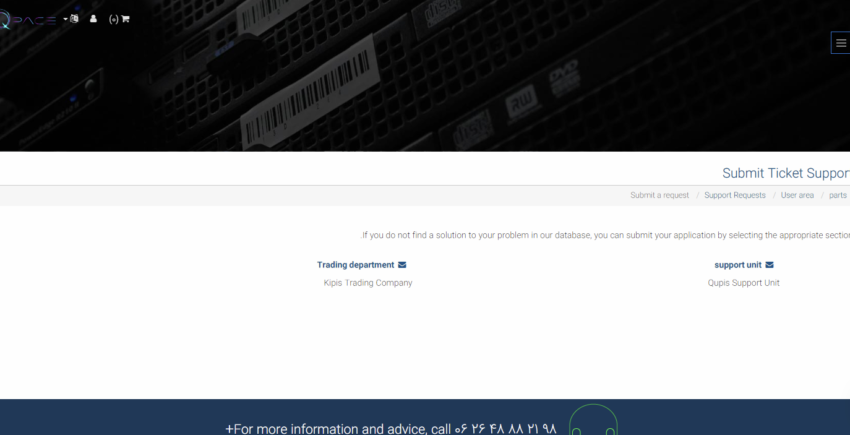 It doesn't have a knowledge base, but its blog articles might help you in a few cases.