ProfitServer is a Russian based independent company located in Chelyabinsk and offers a wide range of premium hosting services starting with domain name registration, shared hosting, virtual and dedicated servers and much more. With 12 years of experience, more than 10,000 satisfied customers in the hosting business, and their own latest generation equipment of Tier3/Tier4 level, this company shows highly professional business intentions and dedication.
Features and Ease of Use
Covering the full spectrum of data center and cloud hosting solutions, ProfitServer offers a wide range of services covering domains, administration, SSL certificates, virtual servers, dedicated servers, and shared hosting solutions. For partners, they have arranged promo materials, Affiliate and Reselling programs, all with the purpose of expanding and upgrading businesses.
They are registering domains in more than 300 zones through their own registrar with ICANN accreditation.
Their Virtual Servers section offers premade plans powered by ISPsystem VMmanager with various features. Those plans are START, OPTIMA, PROFI, MASTER, and UBER. For each of those plans you can get from 1 to 6 cores, 256, 512, 1024, 2048 and 4096 MB of RAM, 5, 15, 25, 50 and 75GB of SSD memory, IPv6, and IPv4+6 IP addresses, Unbound traffic for any plan and no restrictions for Profi, Master and Uber plans. I found that this company provides the option to create your own plan with scalable features, such as CPU, RAM, SSD, IP addresses and DDoS protection.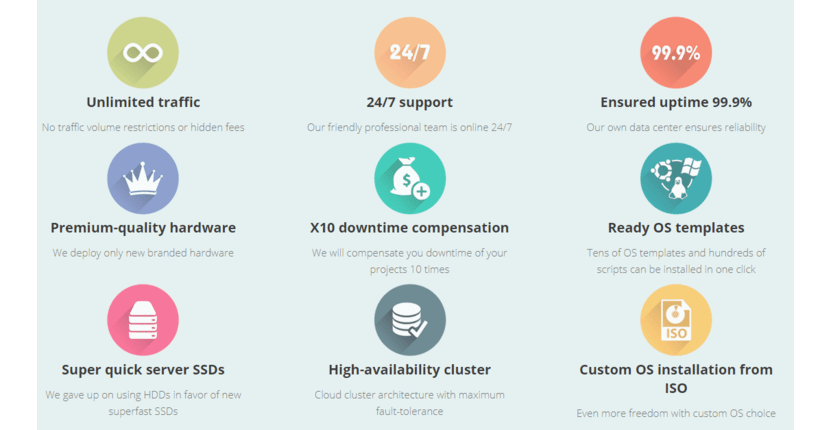 For Shared Website Hosting, the company offers BASIC, PROFI, and GURU plan with unlimited traffic, unlimited number of websites, unlimited databases, unlimited number of emails and FTP accounts, 3, 10, and 30GB of SSD. With any plan, they guarantee 99.99% of uptime. They also offer the following:
assistance with website relocation
a free trial period
multi-function control panel
free of charge DNS hosting
Dedicated isolated resources
automatic and manual backup
Webalizer system statistics
antivirus and antispam for email
support for SSL certificates.
Pricing and support
You can choose premade plans for prices that are competitive with the market and lots of discounts are offered mainly for Russian customers. You can create your own set of features and get a reasonable price for the number and amount of services that you select.
The support service is highly professional and polite, and you can reach out to them through their ticket service, phone, or Skype. They respond very quickly, providing solutions and guidance whenever you encounter any problems.
Live chat support
Phone and Skype service operating 24/7/365
Ticket service that responds within 20 minutes
Knowledgebase