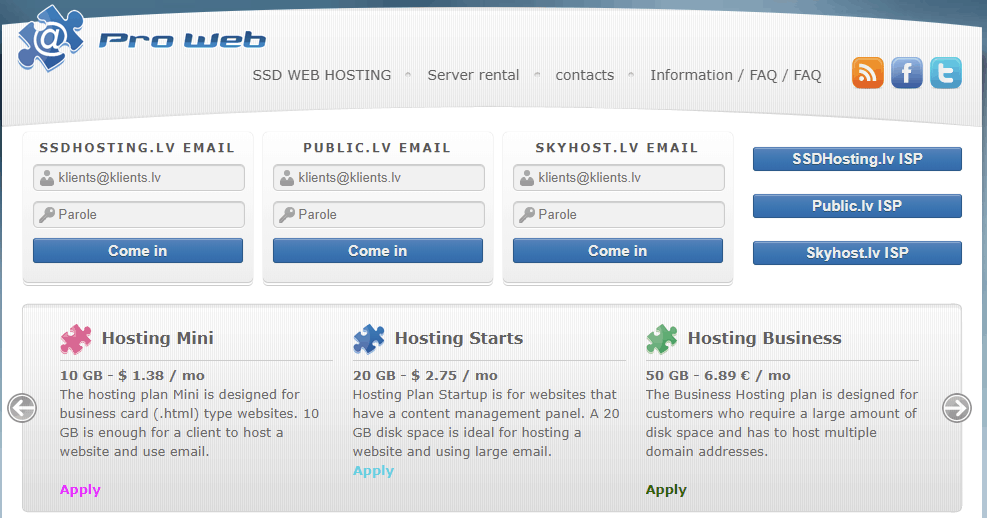 Pro Web is based in Riga, Latvia. This company offers shared hosting, domain registration, and servers. It has been in the business since 2005 and has its servers in a data center that's located in Latvia. Its website is available in Latvian only.
Features and Ease of Use
Pro Web offers four shared hosting plans with ample storage space that go from 10GB on the base plan to 100GB on the top plan. They run on the Linux operating system and come with these other features:
Daily automatic backups
Anywhere from one to 50 hosted domains
Free SSL
Unlimited traffic
Although it takes automatic backups, restoring the backups for you will cost you an added fee. Now, this isn't much different from a few other providers, so it's necessary that you create your own backups from time to time. You can use cron jobs to do a bit of automation.
Pro Web uses Solid State Disks (SSD). You probably know – or don't – about how great they are for website performance and hosting experience. The SSDs are on RAID 1 mirroring. It offers excellent read speed as well as data availability if the other drive was to fail.
It supports FFMPEG for video/audio encoding and decoding. For other programming tools, it supports PHP with multiple versions available. There's also Ruby, Rails, CGI, Python and Perl support.
One thing that Pro Web lacks is beginner-friendly features. Starting with its provided control panel, ISP Config isn't the best for beginners to web hosting. It's not so easy to understand and doesn't come with as many tools as cPanel or Plesk.
Also, the company doesn't provide a website builder. It supports CMSes like WordPress and Joomla! on the servers but doesn't have an installer to make the process easy and quick. You'll have to go back to the old way of setting up databases and connecting the application to the necessary settings on your server.
Pricing and Support
Pro Web hooks up every shared hosting customer with free SSL, except those on the base plan. They also let you set up your website with a free subdomain. The best part is that the prices at Pro Web are low. You can get shared hosting for a pretty affordable fee, but you can't pay for one month at a time. Their lowest subscription period is six months.
It goes on from there to 12 months, 24 months, 36 months, and 48 months. There are discounts for purchasing a longer-term with 30% on 12 months (at this time) and more as you go higher. However, be aware that it doesn't have a money-back guarantee. Unfortunately, there's no free trial or test version that you can use to try its service.
Although there is a contact phone number, it isn't for technical support. You should only call when you have accounting issues. For technical support, the company only provides an email address. That's a bit of a minus for me. Personally, I love live chats; they are quick and allow you to get a fast solution.
This company also doesn't have a knowledge base, so I reached out via email, but never got a response despite waiting for a week.