PowWeb was founded in 1999 as a low-cost shared hosting platform for small to medium-sized businesses. They're part of the hosting giant Endurance International Group. To ensure maximum uptime for their shared hosting clients, they've built their own load-balancing platform as well as developed their own web hosting software and automation protocols.
Features and Ease of Use
This hosting provider is focused only on smaller websites for individuals and small to medium businesses. I found it quite unusual that they only offer one hosting package to their clients.  With this all-in-one hosting package, PowWeb provides unlimited storage, virtually unlimited and scalable bandwidth, 75 MySQL databases, and unlimited emails.
One caveat though: since it's a shared server, you do have to abide by their Terms of Use — which means that if your resource utilization on the server exceeds reasonable usage, they will work with you to reduce the number of files you're hosting, or find a VPS solution that would better fit your needs.
The hosting plan also includes a free domain registration, an instant script installer, support for multiple scripting languages, daily database backups, and an easy-to-use website builder. E-commerce website owners will particularly enjoy the free SSL certificate, e-commerce starter kit (which includes ShopSite and OsCommerce), and PayPal payment feature.
One perk of their shared hosting is their proprietary load-balancing technology, which means that the workload of any website or database will be spread out across multiple servers rather than taxing a single server. This means that there are always multiple points to your website, and should any single point fail, another will activate and load the website for your visitors (and yourself!).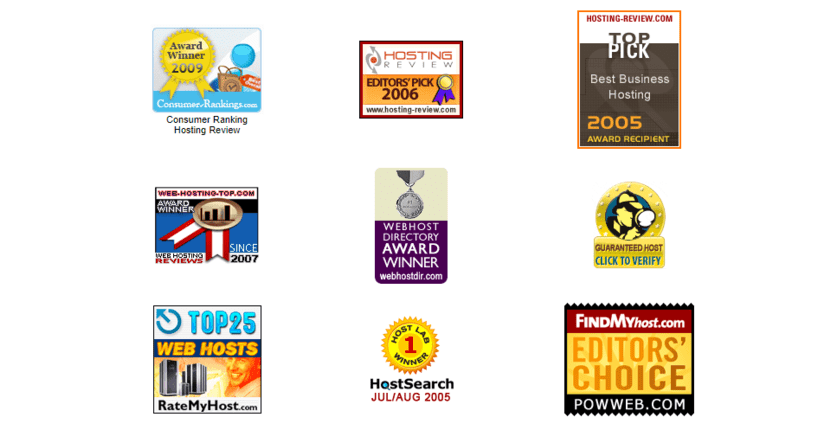 PowWeb also provides Microsoft Exchange email hosting, automated daily backups, malware defense, G Suite, and SEO tools at an additional fee. The Microsoft Exchange and G Suite were a nice touch — these platforms are far more sophisticated than regular web hosting email add-ons, so it'll be far easier for you to manage your business emails.
PowWeb doesn't appear to have an uptime guarantee, but they do promise 99.9% infrastructure availability.
Pricing and Support
With PowWeb you are provided with a simple choice: you can choose either a one- or two-year billing cycle. They don't seem to offer a bigger discount for selecting longer terms, unfortunately, and the promotional rate is only applicable for the initial term. Since there's only one hosting package, this keeps things fairly straightforward: there are no hidden surprises and additional charges because everything you need for basic hosting will already have been included. They accept multiple payment methods, including PayPal.
This company offers a 30-day money back guarantee with no questions asked. However, this is only if you've paid with a credit card, and if you've registered a free domain through their service, the registration fee will be deducted from your refund.
I experienced very good service when I needed support. Their support team members were polite and made it a point to be there for me at every step of the way, so I always had the feeling that I was covered in every aspect. Also, there are lots of tutorials and support documentation available on their platform, so you can find answers for the most common questions asked. PowWeb provides you with 24/7 live chat support.
Summary
Though PowWeb only has one all-inclusive plan available, this affords you a greater level of simplicity and affordability. With their beginner-friendly features like their WYSIWYG website builder and instant script installer, it's no surprise that this is a popular option for individual bloggers and small business owners.
Pros:
One plan, simple solution
Positive reviews and recommendations
Polite support team members
Affordable all-in-one package
Cons:
No uptime guarantee
No free plans