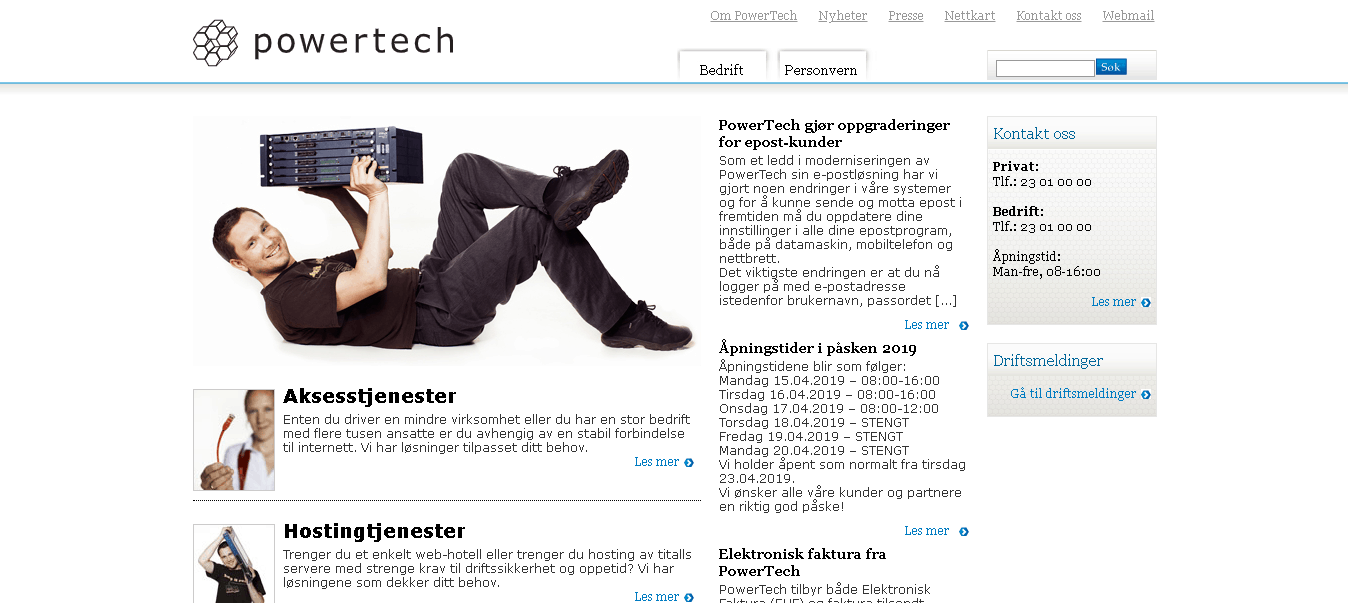 A group of dedicated technologists started PowerTech in 1993. It was the first company in Norway to bring commercial internet to the private market. Since then, it has emerged as a leading communications services provider for the corporate market in and around Oslo. Today, PowerTech offers internet access services, web hosting, colocation, and several additional services such as spam filter, centralized firewall, and VPN. PowerTech's website supports Norwegian.
Features and Ease of Use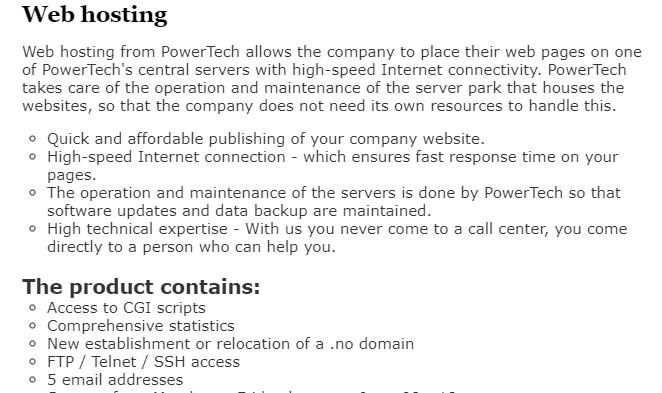 PowerTech's web hosting plan allows companies to place their web pages on one of PowerTech's central servers that come equipped with high-speed internet connectivity. The plan features:
Access to CGI scripts
5 email addresses
Comprehensive statistics
Registration or transfer of a .no domain
SSH/FTP/Telnet access
Since no information about disk space, bandwidth etc. is available on the company's web page, it appears you'll have to contact them to get price quotes. PowerTech also offers colocation services with a standard uptime guarantee of minimum 99.9% for companies that need an affordable and safe server location in a professional operating environment. Rather than investing to build their own infrastructure, these companies can physically place the server in PowerTech's operating center with top-notch security and availability. PowerTech positions the server in 19" industry standard rack, and the cabinets boast of a depth of up to 1200 mm. The company offers speeds up to 10 Gbit/s.
As an additional service to colocation, PowerTech offers ATS (auto transfer switch) with PDU (power distribution unit) for connection of equipment with solitary power supply. By automatically transferring power to a secondary source from a primary without interruption, the ATS PDU ensures increased reliability.
The company also offers VPN, which securely connects two or more computer users or networks, without the need of creating separate dedicated lines between the users or data networks as in a conventional WAN.
PowerTech's internet access services are another of its unique features. Be it fiber delivered with a standard uptime guarantee of at least 99.6%, or SHDSL for faster transmission of digital data (compared to a conventional voiceband modem) over copper wires of a network, the company offers suitable solution to meet the needs of bigger companies. PowerTech also offers faster data transmission with VDSL and ADSL, the latter being suitable for home offices, shops, and smaller companies.
Pricing and Support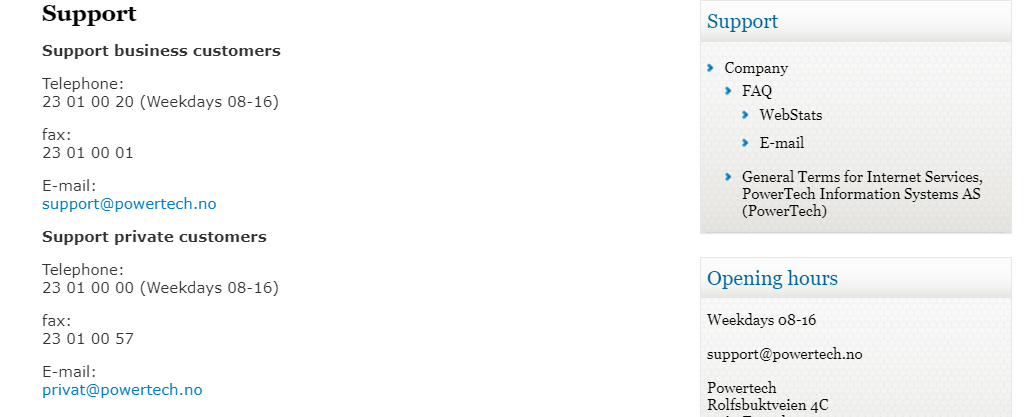 Since PowerTech doesn't display any price for its hosting plan, it's difficult to comment on it.
PowerTech's redundant grid is designed to ensure high service availability. The company offers four service guarantees (where service availability per month varies from 99% to 99.99%) for its services, from which you can take your pick.
You can reach PowerTech's customer support via phone (8 am to 4 pm on weekdays), email, an online contact us form, and a ticket system. I tried their email but didn't get a reply.
The company provides limited self-help through its FAQ section. Additionally, they maintain a "News" section where they share updates on service upgrades, changes in opening hours, special achievements, and more.