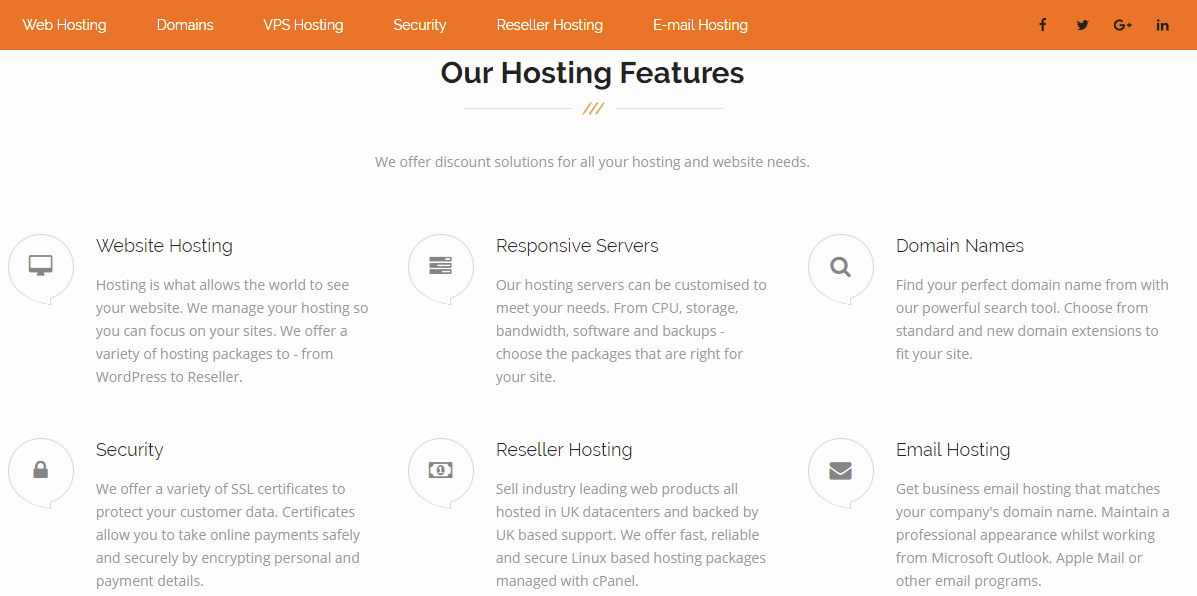 Founded in 2006 by Jeremy Rose and Darren Lavender, Planet Hippo is a company in the United Kingdom that offers web hosting, reseller hosting, and Virtual Private Servers. The company also sells SSL certificates and domain registration. Its website is in English only and its servers are located in the U.K.
Features and Ease of Use
Planet Hippo offers four shared hosting plans with varying features for small to medium-sized websites. Customers on these plans will get to use the following features and resources:
99.9% uptime SLA
Free AutoSSL or Comodo SSL
One Free .co.uk Domain
Either one, two, or unlimited websites per account
Unlimited data transfer
Automatic backups on some plans
Planet Hippo's automatic backup varies depending on the plan that you're on. If you take the base plan, you don't get backups. The next plan offers optional backups for a fee. On the top two plans, you can get either daily, weekly, or monthly backups.
Its shared hosting customers are hosted on powerful servers with RAID 5 protection which can withstand a single drive failure. An added perk is fast read speeds. The storage is SSD which enhances performance as well.
Planet Hippo likes to kick up performance as it provides yet another performance-enhancing tools in its servers – Anycast DNS. It essentially speeds up the delivery of website content, reduces latency, and has better node redundancy.
On the top plan, you get a free dedicated IP address. There's also an Uptime SLA of 99.9% that if it doesn't meet, customers will be credited with 2% to 100% of their invoice for every minute of downtime.
For website management, you have cPanel and you can program with its supported PHP versions. Although it supports CMSes like WordPress and is optimized for them, there is no auto-installer, so customers are stuck with manual installation.
Pricing and Support
One thing that draws most customers to Planet Hippo is its low-cost prices, which is apparent from customer reviews online. It's lowest plan costs less than a cup of coffee at Starbucks, and other plans follow the low-cost pattern as well. The vendor also offers VPS on Linux and Windows operating system, which are affordable as well.
Planet Hippo allows potential customers to sign up for a monthly plan, a one-year plan, or even longer. One sweet thing here is that the free domain is not restricted to annual payment only. You can get it on the one-month subscription option, too.
The prices are in Euros, and you can make payments using PayPal, MasterCard, Visa, and Maestro. While there isn't a free trial available, you can take advantage of our money-back guarantee, which ensures that you'll get your money back if you're unsatisfied with our service.
For self-support, there are many tutorials on its knowledge base. For customers that would rather speak with a support agent, there's a live chat and phone support. You can also send an email. One gripe I have with its support is that the agents don't work 24/7. You'll have a better chances of reaching someone live on Monday to Fridays from 9:00 AM to 5:00 PM.
Planet Hippo has an SLA of one hour initial response time for tickets and six hours response on updates for technical support. However, I sent an email and never received a reply.