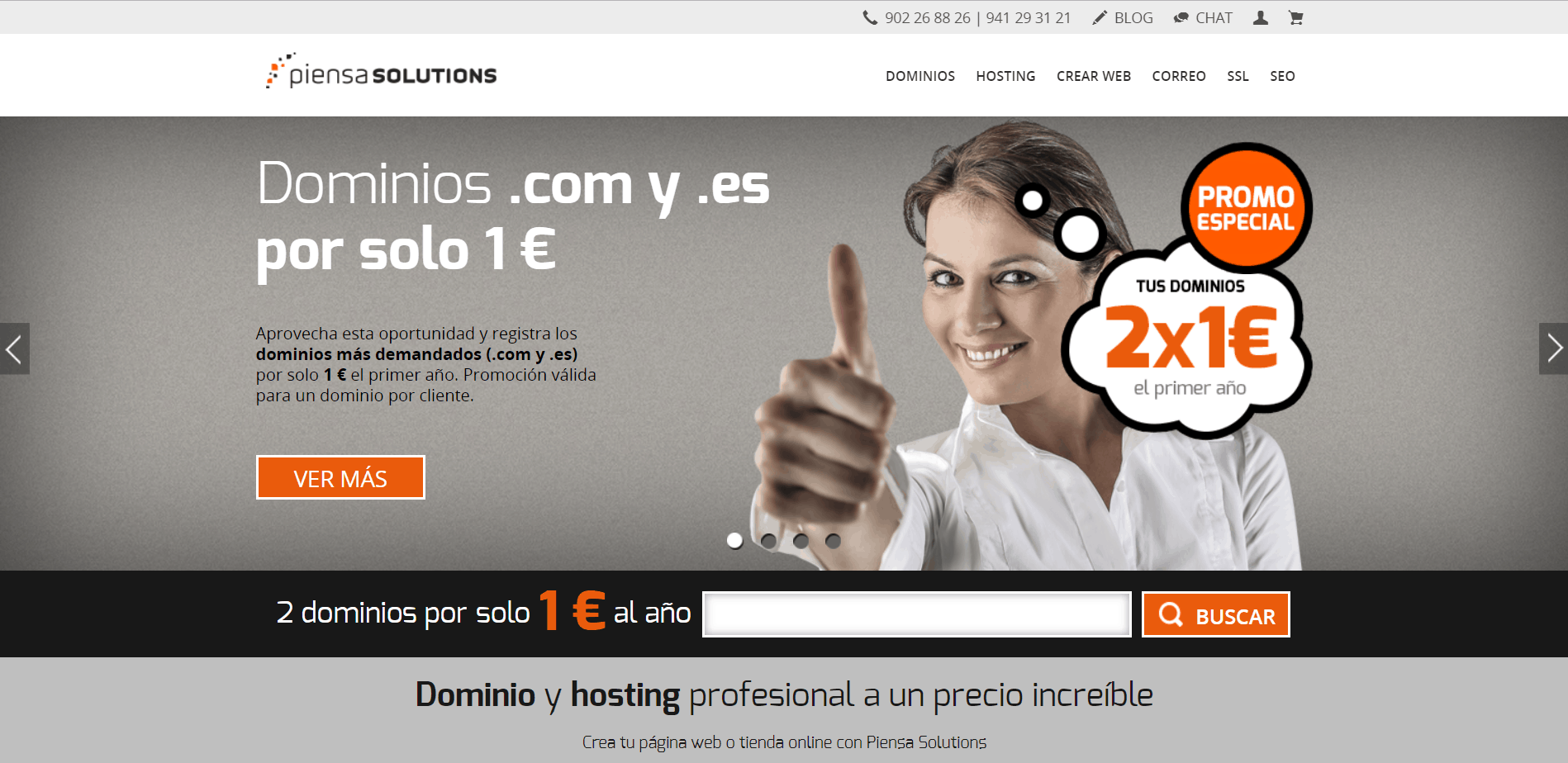 To compare the best web hosts, we hosted the same WordPress website on each one and tested performance, customer service, and value for money.
Check out the results here.
Piensa Solutions was originally incorporated as Telsys Internet in 2000. They later began offering seamless hosting services to clients all over Europe, and are especially popular with those who require a Spanish IP address. The company runs a state-of-the-art data center in Spain that's equipped with the latest HP and IBM hardware.
Features and Ease of Use
This company seems to offer anything a typical blogger or small business owner would require in order to leave a meaningful digital footprint. Their servers run Linux OS, which is one of the most popular and versatile operating systems for hosting. Their plans are clearly laid out so that it's easy to understand what you get with each plan.
Their shared hosting service includes three individual plans, each of which provides unlimited data transfer. This is important for businesses that are running active marketing campaigns; you never know when you're going to experience a rush of visitors.
What I found most interesting is their Unlimited plan, which — as the name implies — includes a completely unlimited set of resources. You also get an SSL certificate for free, which is great news for anyone who runs a webstore. Their servers support Joomla!, WordPress, and Drupal for your choice of CMS, but you can easily transfer your custom website and see it running without a fault. There's also a number of free third-party software that you can install with a single click to offer added website functionality to your visitors. Each account also comes with cPanel.

They don't currently have any other web hosting services available beyond shared hosting, which may be a problem for businesses that anticipate outgrowing their shared servers. They do have a drag-and-drop website builder available at an additional subscription fee, though.
Note that Piensa Solutions doesn't appear to have an uptime guarantee or any backup services advertised on their website, which is slightly disconcerting.
Pricing and Support
Piensa Solutions offers their services at more-than-attractive prices, even though there are no free plans. The highest-tier plan is their Unlimited shared hosting plan; if your business demands the highest levels of performance from either VPS, cloud, or dedicated server hosting options, you'll have to look elsewhere.
Piensa Solutions employs the same pricing trick as many other hosting providers: while their Premium Hosting and Hosting Unlimited plans are extremely affordable, this price is only valid for the first year, and you'll have to purchase at least an annual contract to be eligible for the promotion. Thereafter, the prices are hiked up rather drastically. However, given what they include in their packages, the prices aren't unreasonable either. There doesn't seem to be any money back guarantee available.
However, in case anything should go wrong, they offer support via telephone, a ticketing system, and live chat. The live chat seems to be fairly limited: when I tried to access it, their agents were unavailable even when I waited quite a while. They also have a fairly comprehensive FAQ, so you may be able to get your questions answered that way. Note that this FAQ is entirely in Spanish, however.