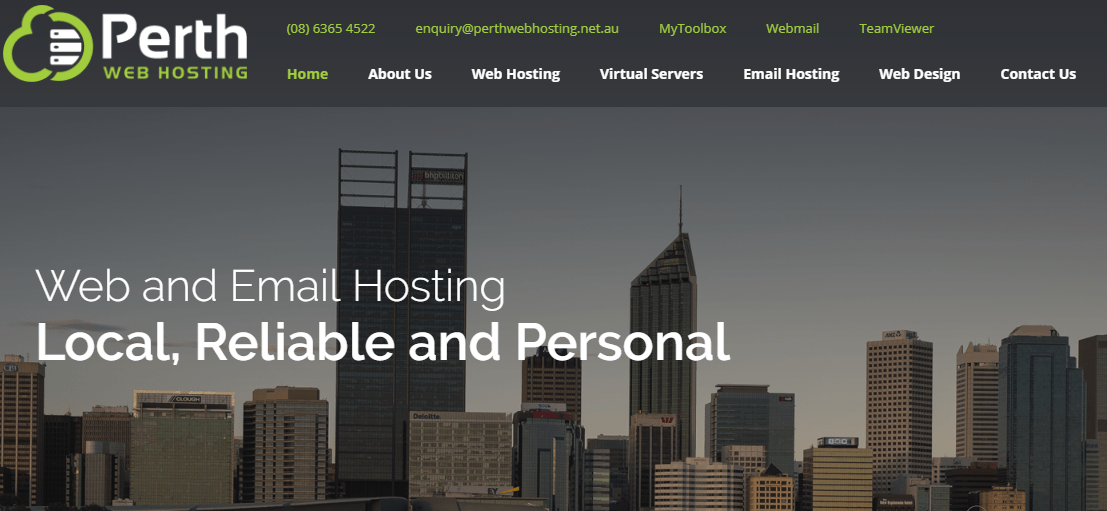 Perth Web Hosting has been providing hosting services for over 12 years to clients in Australia. It offers shared hosting, VPS hosting, email hosting, web design, and Microsoft Office 365 services.
It has a client base that spans across different industries. Its servers are located in data centers in Perth, Australia and its website is available in English.
Features and Ease of Use
Perth offers semi-managed WordPress hosting and Linux web hosting services under its shared hosting plans. Some of the features on these plans are:
99.9% uptime guarantee
Free SSL certificates
Daily automatic backups
From 200MB to 30GB disk space
From 25GB to 500GB bandwidth
On its Linux web hosting, it offers two plans; one of which comes without a control panel or a database. This plan is only suitable if you want to run a static HTML website and you only want the basics. It is not recommended if you wish to run software like WordPress that requires a database.
If you do need a control panel and databases, you'll need to get that separately or go for its second plan – cPanel web Hosting. This plan offers greater speed, more email addresses, add-on domains, MySQL databases, and a cPanel control panel, which gives you access to easily manage your website.
It's important that you stay up to date with WordPress updates for security reasons. For automatic updates and other WordPress optimizations, the semi-managed WordPress hosting is on offer and it helps keep your plugins, themes files, and the WordPress core up to date.
The WordPress hosting also uses cPanel control panel and you can host up to five WordPress websites.
On all plans, you will be able to install different web scripts with its one-click installer.
Perth Web Hosting offers free SSL certificates for website security, making it safe for visitors to use your E-commerce platform and give you a better visitor experience without the "unsecure" notification.
All plans also come with LiteSpeed web server and LScache caching tool, which speeds up your website. Website speed is further enhanced with the SSD drives on its servers.
Pricing and Support
Perth Web Hosting has two plans each on its Linux and WordPress hosting. The Linux plans are way cheaper than the WordPress plans, which are quite expensive.
The billing cycle is monthly only for its cheapest plan while others are monthly, quarterly, semiannual, and annual with a discount on the annual subscription.
Payment method is through credit card and it offers instant activation on ordering, which applies only to orders made within Australia. It offers a 30-day money-back guarantee, too.
Support is available through phone, email, live chat, knowledge base, mailing address, and TeamViewer (remote support). Its office hours are 8:00 AM to 6:00 PM and live chat is available from 9:00 AM to 5:00 PM from Monday to Friday.
As part of its customer service, a sensor is installed on your WordPress hosting to alert support in case your website goes down, and you are guaranteed a restoration time of one hour.
I sent an email to support, but never got a response.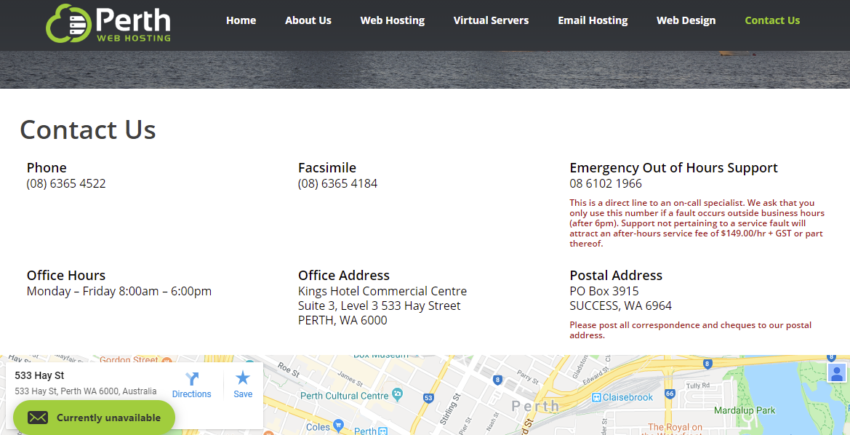 How much does Perth Web Hosting cost?
Perth Web Hosting offers plans from $4 to $11. The price depends on which type of hosting plan you choose. You can see the updated pricing table (updated weekly) below.

Which Perth Web Hosting plan should I get?
My recommendation is to start with a cheaper plan. You can always upgrade later on. Perth Web Hosting can help you with the migration to a more expensive plan. The increase in visitors many times takes longer than expected and you shouldn't pay a lot of money until the need arises. Of course, your needs may vary, and you can consult with a hosting expert from Perth Web Hosting here.

How good is Perth Web Hosting's customer support?
Perth Web Hosting is not ranked as one of our top web hosts. But that can also be a result of Perth Web Hosting being a small, under the radar, hosting provider. There are advantages to a small hosting company – as a customer, you are more important to them. You can also check out our comparison of the most popular web hosting services here.