Upload S.R.L., a company in Paraguay, began business in 1999 as a software development company. Its subsidiary, ParaguayServers, offers VPS, colocation, and dedicated servers with a data center in Fernando de la Mora, Asuncion, Paraguay. Its website is in English only.
Features and Ease of Use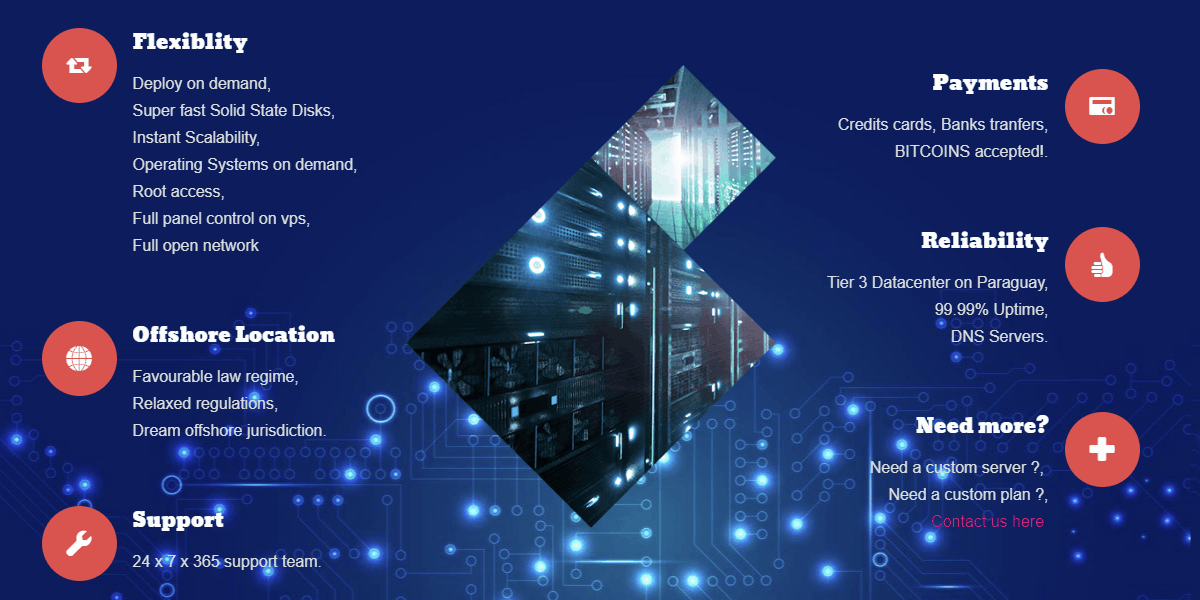 ParaguayServers doesn't offer starter website plans like shared hosting for those with basic website needs. Small to medium websites will not be able to use its services because their needs are suited to shared hosting plans with lesser features and prices.
However, large E-commerce brands and big organizations that require custom security solutions will require advanced services like the VPS and dedicated servers that ParaguayServers provide.
Customers on a VPS plan enjoy these perks:
99.99% Uptime
Anywhere from 10GB HDD to 300GB HDD
1GB, 2GB, or 4GB RAM
One or two dedicated Paraguay IP addresses
Up to 2000GB transfer
ParaguayServers offers Linux based VPS with OpenVZ as the virtualization technology. Customers can deploy CentOs, Ubuntu, etc. on their virtualized servers.
It provides developer-friendly features only. If this is your first time using a web host, you will find it hard navigating the technical waters of web hosting with this company. There are no one-click installations to get your new website set up, nor is there a website builder to make building a website a breeze. You'll have to deal with the hard area of server management and code your website from scratch, or get a development whiz to do it for you.
ParaguayServers also offers a mix of other features in its dedicated servers. It provides high-quality bare metal with up to 64GB RAM and five Paraguay IP addresses. Having dedicated IP addresses helps in many ways, including not being affected by the actions of other users. For example, if you share an IP address and the actions of another user cause it to get banned or blacklisted for spamming, it could affect you too.
Pricing and Support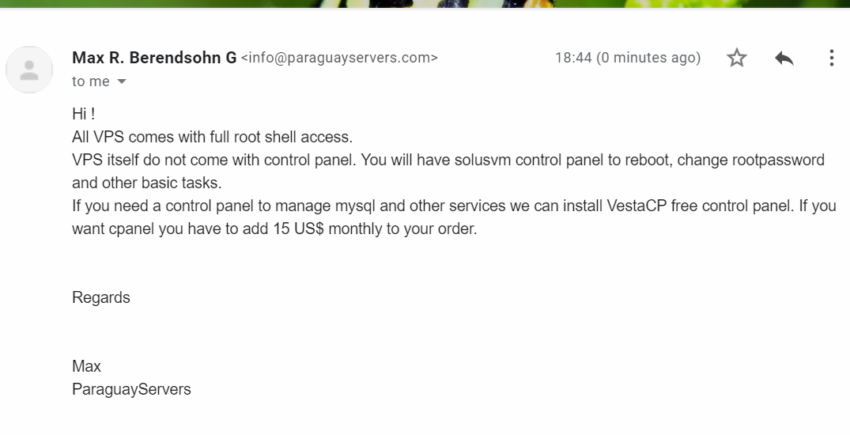 VPS isn't a low-range product and isn't necessarily cheap. ParaguayServers goes a bit above the average market price for the features on offer. Features like domain names and SSL are not available for free here, you'll have to purchase them from another company because this vendor doesn't offer them at all.
To get the best deal, you'll have to sign up for the longest subscription, which is a year – and then you'll get one month off. ParaguayServers has a 15-day money-back guarantee, so you can get a refund if unsatisfied.
ParaguayServers accept PayPal, Visa, MasterCard, American Express, Discover, Diners Club, and Bitcoin. VPS is deployed within five minutes of payment confirmation, and dedicated servers take at most 24 hours.
Having easy contact options is essential in hosting; at some point, you'll need technical help. Firstly, there's no knowledge base, so you'll have to rely entirely on the support team. The support team is available through the contact form on the website and email. There's no personal conversion through phone, nor is there an immediate response system like live chat.
Thankfully, I sent an email and received an almost immediate response from a support agent.