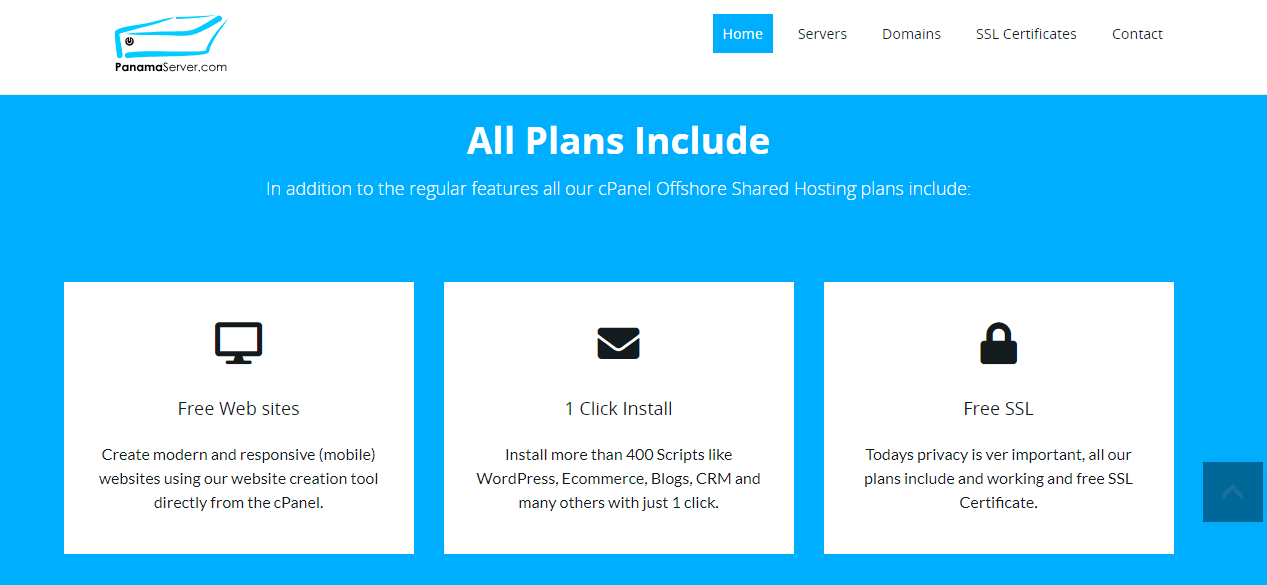 PanamaServer.com was founded in 2004 to provide web hosting solutions from Panama. Over the years, it has offered security and website speed with its shared hosting plans. Also, it offers VPS and dedicated servers. It owns a data center located in Panama. Its website is in English.
Features and Ease of Use
PanamaServer.com offers three shared hosting plans, all varying in storage space and bandwidth suitable for most medium sized business websites. Customers on them enjoy the following:
99% Uptime
Daily automated backups
Free SSL
One website for each hosting account
200GB, 500GB, or 1024GB bandwidth
PanamaServer.com offers SSD, which has been proven to have 20x faster processing ability and 7x faster hosting speed than HDD. It's also more durable.
Beginners shouldn't have any issue setting up the basics of their website on cPanel with this company. That's because it offers a one-click installer that they can use to install more than 400 scripts including WordPress and E-commerce and CRM tools. Website designing is also easy because there's a website creation tool for designing responsive websites.
If you'd rather use VPS, this company offers that too. It runs on SSD and also comes with automated backups and SSH access (which isn't on shared hosting). PanamaServer.com offers VPS on OpenVZ, KVM, and Managed KVM.
The company supports PHP and Perl only, but most hosting companies do. If you want to use Python programming, you'll have to look elsewhere.
One advantage that you get with PanamaServer.com is data security. Hosting companies in the U.S. have to follow anti-privacy laws, and that's one thing you won't experience with this company. Panama's Electronic Commerce Law guarantees privacy and protection of data for its citizens and foreigners stored on servers in their country.
Pricing and Support
The VPS and shared hosting prices are reasonable for the features on offer. It doesn't offer a free domain though and only one website is allowed on each hosting account. That means you will pay more to cover these costs compared to many other hosting companies. It does provide a free SSL certificate; depending on your plan, you'll get three months or one year duration for your SSL.
There isn't a free trial available, but you have the option to pay for a month of hosting to minimize your risk. However, if you pay for a year upfront, you'll save approximately 77% on annual hosting fees. Keep in mind that there is no money-back guarantee provided. If you decide to cancel, you'll only receive a refund for the unused days.
You can use its knowledge base to set up your hosting and solve some issues. If you're not DIY inclined and would rather contact customer support, it's 24/7 through email, phone, and submitting a ticket. There's also a live chat, but I didn't get a response despite sending messages during Panama's official work hours. Instead, I had to send an email and received a reply about three hours later.