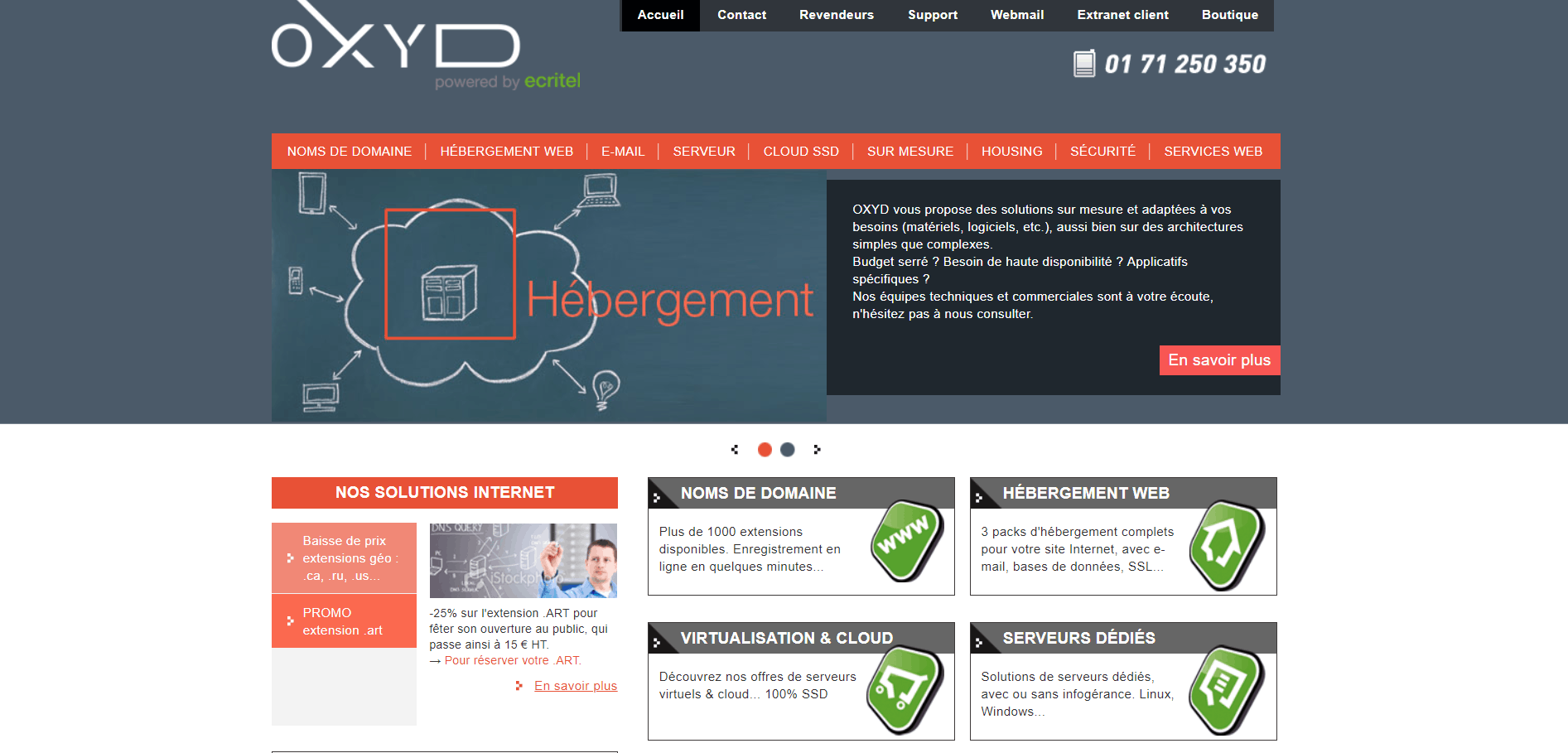 OXYD was founded as a French company in December of 2000 with the goal of providing highly affordable web hosting solutions to as large an audience as possible. As such, they provide a wide range of internet hosting-based services that include different types of website and server hosting as well as related services, such as domain registration, email, etc.
They proudly boast that 80% of their employees are technical support staff to give their customers the level of support they require. As of now, they are still based in Paris and offer their services primarily in French.
Features and Ease of Use
While they don't provide plenty of extraordinary features, there is little missing from Oxyd. Most of these features/services can be purchased regardless of whether you host with Oxyd:
Domain registration services.
Email hosting services.
SSL Certificates.
Hosting backup.
Whois verification.
The following features may also be appealing reasons to sign up for Oxyd:
Managed server: For an extra fee, you will have a 24/7/365 dedicated manager overseeing the health and availability of your server.
Website creator: Although slightly dated, their website creator tool is very easy to use and comes with templates and a wide selection of modules.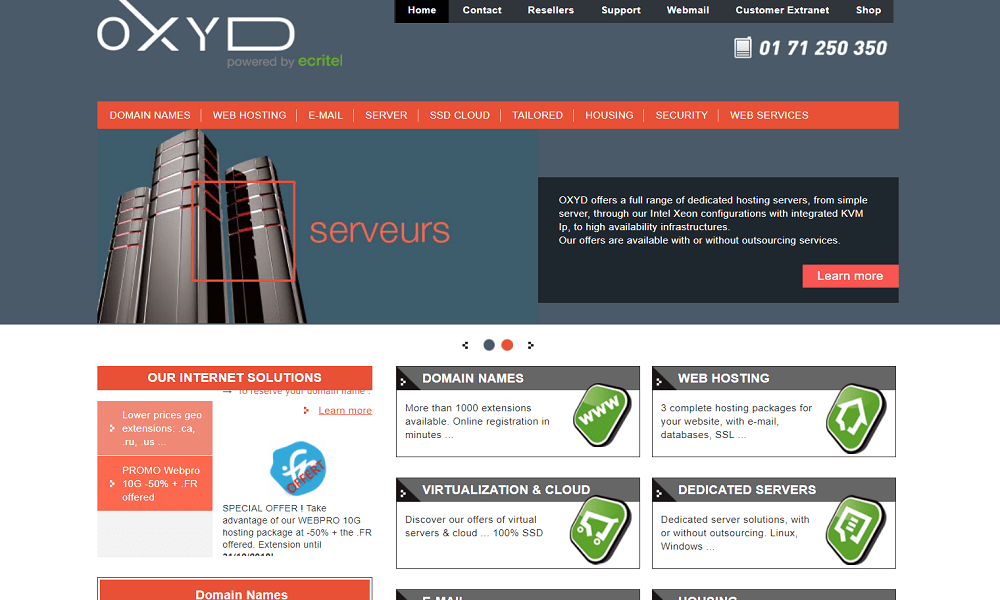 With their option to purchase extra support services, the process of managing your hosting solution can be as hands-on or as easy as you want it to be. They also make use of Plesk as a management console, which is one of the easier to use and more popular hosting managers.
Pricing and Support
Oxyd has organized their pricing plans into three main categories: Standard web hosting, Dedicated server hosting, and Virtual server cloud hosting. Within each category, you'll find various packages that offer different resource allocations. It's all about choosing the package that best suits your resource needs.
Standard Web Hosting: All plans come with backups, a website creation tool, a high-availability cluster, unlimited and 100 Mbps bandwidth, and multiple sites per solution as well as a free SSL certificate. You can then choose from the following configurations:

WEBPRO 5G: 5GB storage, 100 emails, 5 GB email storage.
WEBPRO 10G: 10 GB storage, 200 emails, 10 GB email storage.
WEBPRO 25G: 25 GB storage, 300 emails, 25 GB email storage.

Dedicated server: These servers run on top-end Intel Xeon processors and provide high availability and speeds with bandwidth and SLA guarantees. You can also choose from either Linux or Windows as your operating system as well as which management console you prefer between their own and Plesk. There are two products:

OPTIMA STAR 2018: 1 Xeon processor (4 cores), 24 GB RAM, 480 GB SSD, 4 TB SATA disk.
OPTIMA STAR 2018: 2 Xeon processors (4 cores), 96 RAM, 1 TB SSD, 4 TB SATA disk.

Virtual Cloud Servers: The configurations for their cloud hosting solutions are very similar to those of the dedicated servers. There are three set plans as well as the option to apply for a custom solution.
All products come with both ticket and phone support. In addition, you can add on support services for an extra monthly cost to your dedicated or cloud hosting product in the form of a dedicated hosting manager that will look after your solution. However, support is mainly offered in French and you stand little chance of getting great service in another language.