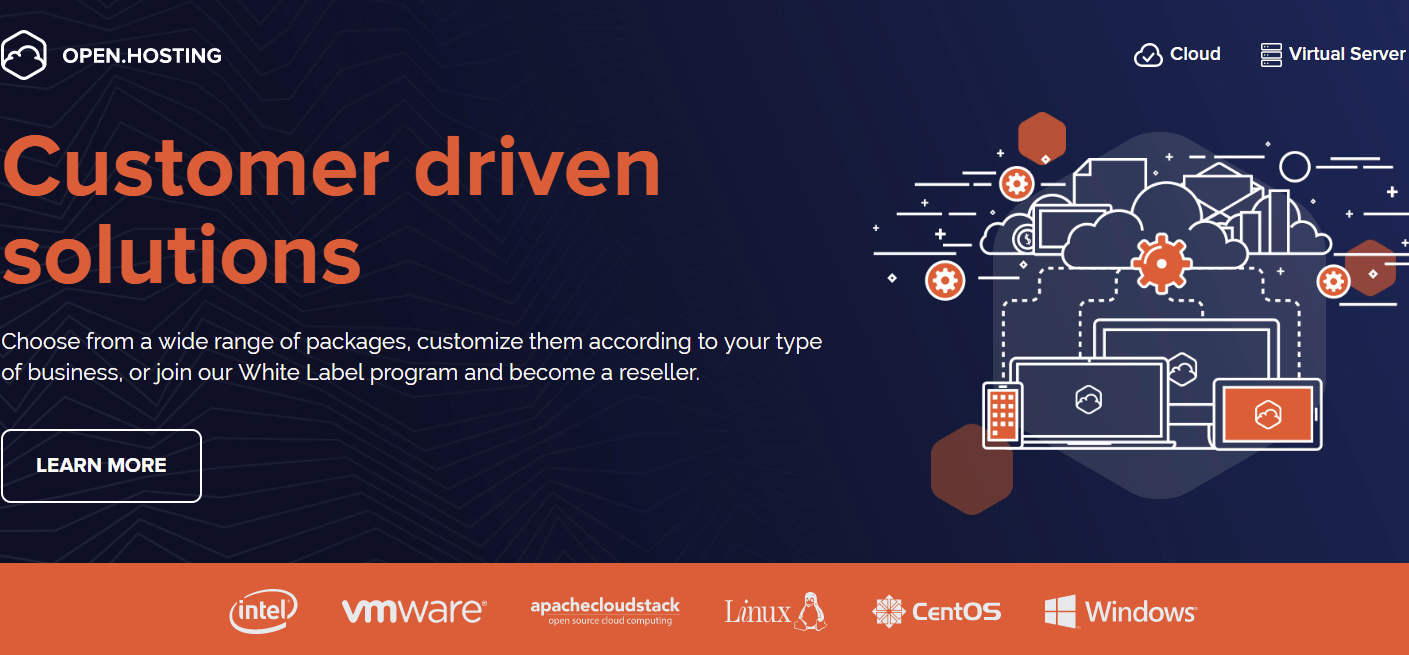 To compare the best web hosts, we hosted the same WordPress website on each one and tested performance, customer service, and value for money.
Check out the results here.
Open Hosting offers two main services  – Virtual Private Servers (VPS) and cloud hosting. Both services have two categories – NVME and SSD for VPS, and NVME and flexible for cloud hosting. Its servers are spread across the United States, the United Kingdom, France, Australia, Singapore, Netherlands, Germany, and Canada.
Its website is in English only, but its checkout page can be translated into German and Portuguese.
Features and Ease of Use
If you own a web development company or an international E-commerce business with lots of traffic, you might be comfortable with the cloud plans. There's flexible cloud where you can choose the exact resources that you want on your cloud server. This helps you scale down cost to the exact features you need and go up or down when you need to. Then, there are pre-configured cloud plans as well – these are better for people that don't want to deal with configuring their servers or have seen that the cloud plans fit their needs.
Aside from cloud, there's VPS, which is a bit lower-range than the cloud hosting. These are better for high-traffic websites as well or web applications, but note that the lowest plan offers fewer resources than the cloud plans. Customers on VPS get to enjoy:
99.999% uptime
Unlimited traffic
Anywhere from 50GB to 400GB storage
If you go for the SSD plans, you get SSD space which is great for performance, but the NVME is slightly better for performance due to the reduction in input\output. Open Hosting also provides some other performance enhancing tools, one of which is a load balancer.
If you get a sudden traffic spike (perhaps from a great marketing push), if you're not adequately prepared, your website won't perform. Load balancers take the stress out of worrying about your website doing down. With them, you can spread the workload or traffic across many nodes or servers leading to increased performance during times of high activity.
Also, this company offers a firewall that you can use to block incoming or outgoing traffic to protect and secure your servers from hackers. You can also create your own firewall rules to keep what/who you want out. AThe servers have automatic anti-DDoS protection enabled, as well.
You can install and setup Linux or Windows operating system, and OS templates are provided for this. There's also full administrative control.
Pricing and Support
Open Hosting has no free trial, but its pricing structure works marvelously. To start with, subscription periods are as low as weekly – no tying you down with long-term contracts. You can easily pull out if you realize that it isn't performing well. Plus, it has a seven-day money-back guarantee. And, the higher you go in subscription duration, the lower the price.
If you are not satisfied within the seven-day full-refund period and you have paid for a year, you will still receive a refund. However, the refund will only be applicable to the remaining duration of your subscription. In general, the prices are reasonable considering the features that are offered.
Its setup time is three minutes. If yours isn't provisioned within this time or you experience any other issue, you can contact customer support through email, online ticketing, or live chat. Unfortunately, I sent an email and didn't get a response, despite waiting for more than two weeks.
There is also a knowledge base section with video tutorial links to its YouTube page.