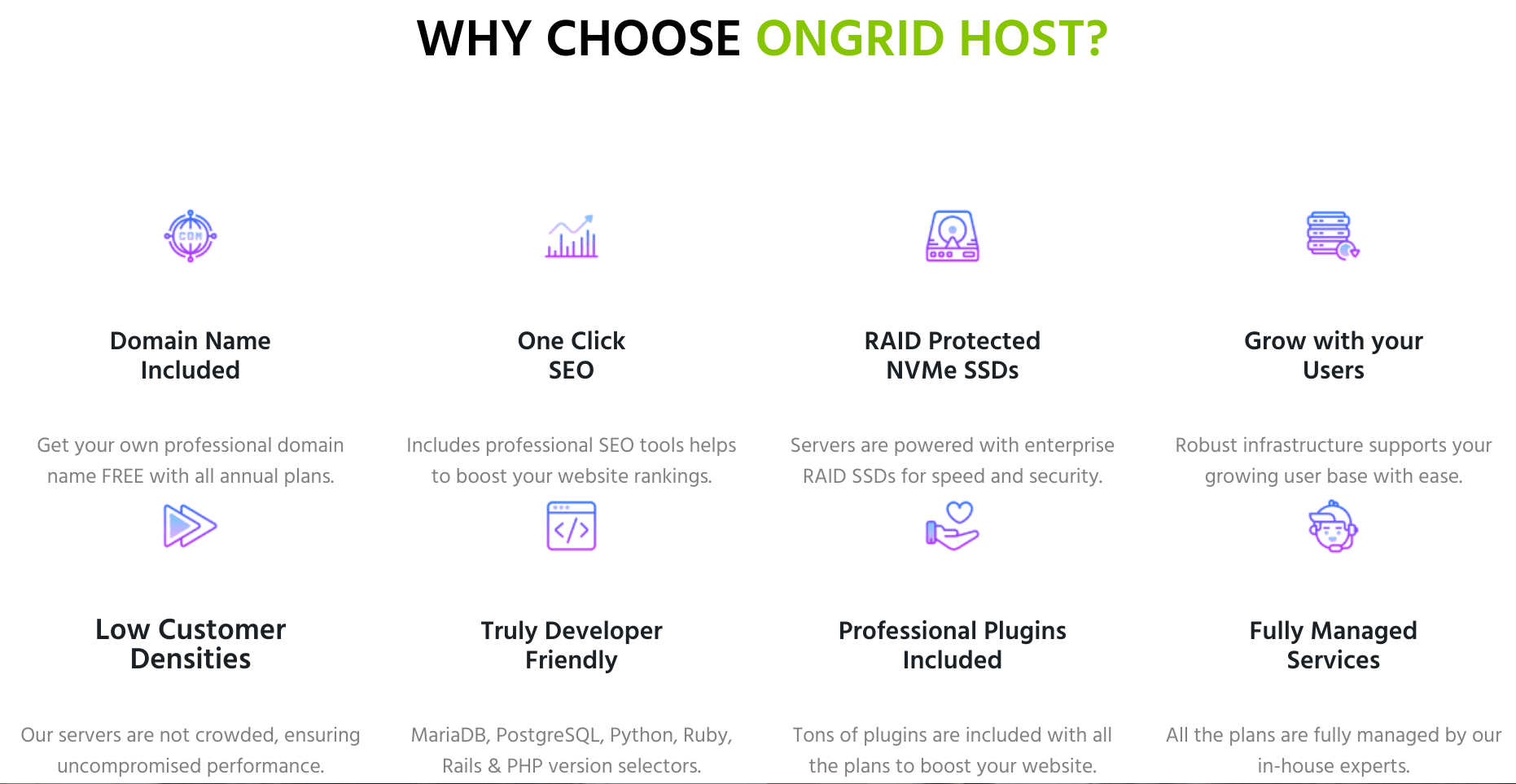 OnGrid has provided hosting and data center solutions to individuals and businesses around the world since 2012. OnGrid's servers are located in French data centers, and its website is available in English, but the +91 telephone dialing code suggests that this company is Indian.
Features and Ease of Use
OnGrid offers shared hosting and optimized WordPress hosting. The four shared hosting plans provide you with:
99.99% uptime guarantee
Automatic backups
Comodo PositiveSSL or Let's Encrypt SSL
One, three, or unlimited websites
Free domain on annual hosting
Unlimited bandwidth
To help you create your web content, OnGrid provides a one-click installation tool for a myriad of software applications such as WordPress and Magento. If you would rather code your website from scratch (and you know how), you can do so using the PHP, Python, or Ruby programming languages. Once your website is up-and-running, you'll need to promote it, which you can do with OnGrid's one-click SEO tools.
Hosting accounts sit on the CloudLinux operating system that isolates you from the effects of other hosted users, so you should get full access to the resources you signed up for.
From a performance point of view, you get a worldwide CDN (which caches content for faster page loading) and NVMe SSD storage (which is faster and more reliable than HDDs) in RAID configuration (to guard against disk data disasters). And from a security perspective, OnGrid performs automated daily server scans to detect malware and vulnerabilities.
Pricing and Support
You don't always get the best features for the lowest prices, so there's always a trade-off. OnGrid doesn't offer the lowest prices, but it does provide reasonably priced plans with 25% off an annual commitment and a price-freeze guarantee for when you want to renew. The 30-day money-back guarantee should make you feel better about signing up for a full year because it gives you a chance to get our early if anything goes wrong.
When you choose a plan, the level of support you receive will depend on your selection. All customers are entitled to email support, while those on the top-tier plan for shared hosting also receive telephone support. OnGrid's 24/7 support team aims for two-minute response times to emails; however, it's worth noting that this expedited response time doesn't extend to pre-sales support, as evidenced by the fact that I did not receive a response to my exploratory email.
If you have to resort to self-support for pre-sales purposes, you'll be disappointed. The knowledgebase contains only one entry, and there are only five frequently asked questions: