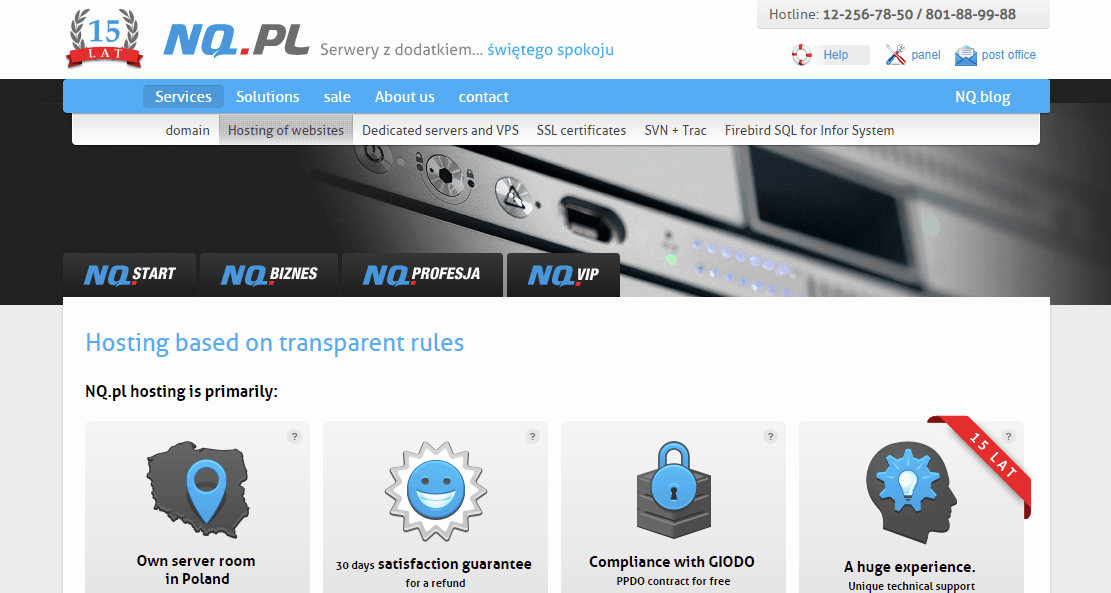 NQ.pl is owned by Netlink Sp. z oo. The company provides web hosting, Virtual Private Servers (VPS), dedicated servers, domain services, and other related services. It was founded in 2000 and serves both individuals and businesses. Its servers are in its own server room in Poland and the webpage is in Polish only.
Features and Ease of Use
NQ.pl offers six shared hosting plans with options that are suitable for both individuals and businesses with storage space reaching the terabytes. Customers on any of the shared hosting plans enjoy the following features:
99.8% uptime
Daily backups
Free nq.pl sub-domain
Unlimited add-on domains
Up to 1400GB storage space
5000GB or unlimited bandwidth
NQ.pl offers tools that both freelance developers and those that work in a team will find useful. On top of SSH, it provides SVN repositories that are great for managing databases and other parts of your website and code. You can sync and manage team projects through it as well, especially with the Trac add-on.
The company supports PHP programming. You can switch between versions, just choose the one you want for your application or website from your control panel.
NQ.pl allows you to use secured shell protocol on your server over an unsecured network. With SSH access, your data is encrypted and protected from malicious would-be attackers. It also has other benefits. Everyone but those on the base plan can access SSH.
The crontab is accessible to all customers. With it, you can set up automatic tasks that will run on their own and automatic updates of applications like WordPress. Beginners can also use it through a WordPress update plugin.
Despite NQ.pl's attempts to satisfy developers and other experienced users, it hasn't made much effort in the area of beginners. Novices at web development/server management are left to fend for themselves with no assistance from software; there's no one-click installer nor website builder.
Pricing and Support
If NQ.pl's features appeal to you, you can purchase a plan for one month, six months, or one year. Only the top two plans allow monthly billing. Other than the base plan, every other plan allow six-month subscriptions.
The prices are affordable and the company promises that there are no hidden costs. Also, you can run the service for 14 days for free without any monetary commitment. After payment, customers are entitled to a 30-day money-back guarantee.
After you register, you'll have to wait for the employees of NQ.pl to activate the server. In my experience, that took so long that I gave up waiting. I waited for over three weeks, and my account still wasn't activated. That's enough to make anyone look elsewhere.
Customer support is available through phone, email, and fax. There's no live chat support, unfortunately. I reached out through email, but didn't get a response.