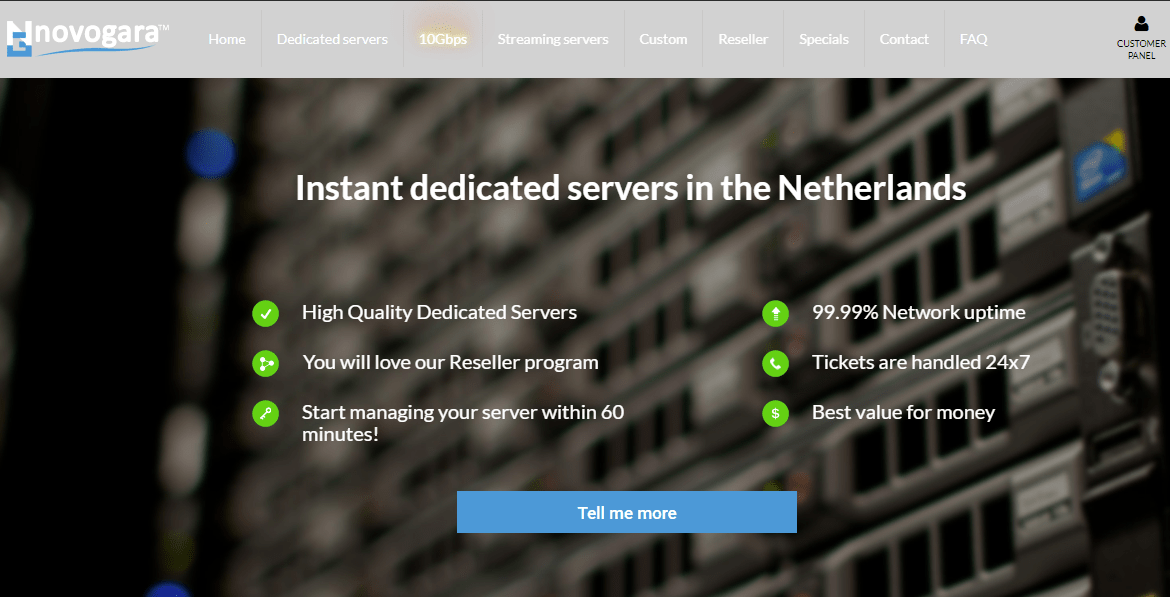 Novogara is a company with offices in Amsterdam, the Netherlands. It offers services that are suitable for large businesses and websites that need their own servers. From servers that are located in Amsterdam, it offers dedicated servers and reseller servers to customers all over the world. Its website is available in English only.
Features and Ease of Use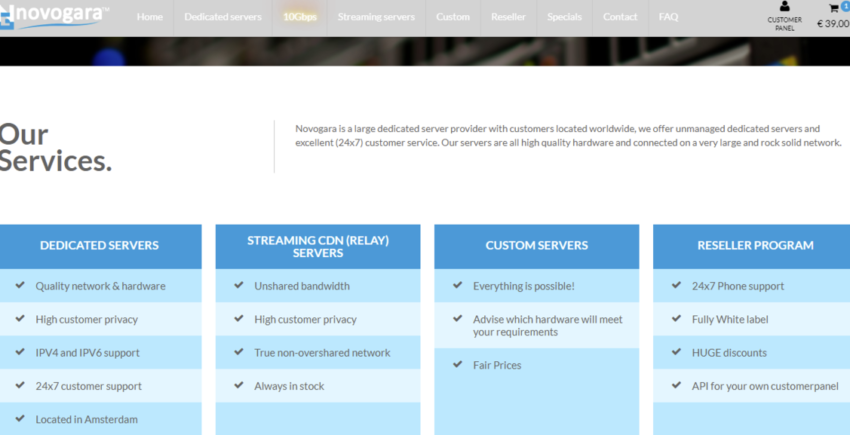 If you searched for Novogara because you want to host your small website or online store, you are searching for the wrong host as this company doesn't offer shared hosting for these purposes. Rather, it offers dedicated servers, streaming servers, and reseller servers. These are some of its features:
99.99% uptime guarantee
Intel Xeon processors
One to four dedicated IP addresses
If you're a beginner to web hosting or you have never managed a server, you will find it really hard to manage your server with this provider. That's because all of its servers are unmanaged; the customers manage them while the company manages the network connection and physical equipment. You are in charge of software from the operating system.
This means that you'll have to install your operating system. Alternatively, the company will help you with it if the OS you want to set up is any of these: CentOS, Debian, FreeBSD, Ubuntu, VMWare ESXI, or Windows. You can then choose your preferred one before checkout, and get your server provisioned with the OS that you want.
It might be an unmanaged server, but Novogara ensures that some security features are in place to keep you secure at all times. There's protection against large DDoS attacks. These attacks – NTP, SSDP, and DNS amplification are filtered its backbone. Be aware that it doesn't protect against small DDoS attacks, so you'll have to handle those yourself.
You can use Novogara's servers to provide streaming services, but you will need to have a takedown tool. If at any time you have copyright issues, the company operates a tight ship and expects that the content will be taken down in 20 minutes maximum. If it realizes you aren't using a takedown tool, you can't keep using the servers for streaming.
Pricing and Support
Novogara keeps its servers reasonably priced, ensuring that dedicated servers don't come at the cost of a cup of coffee, as you'd find with some shared servers. Despite this, there exists a price point that the provider should not exceed for certain features to remain reasonable. Novogara is committed to playing fair and delivering value to its customers.
The vendor offers monthly, quarterly, semi-annual, and annual payment periods. It does charge a set-up fee, though not a large one. You can pay either using PayPal or bank deposits/transfer. If you order from one of the plans on the website, you should expect your server within 60 minutes to 48 hours after the payment.
Novogara doesn't provide refunds on "delivered" services. This means that if you were provided with the server but didn't like the service, you can't get a refund. However, if after paying, your server wasn't provisioned, you can get your money back.
Customer support is available through phone, email, and ticketing system. I sent an email but unfortunately, didn't get a response.