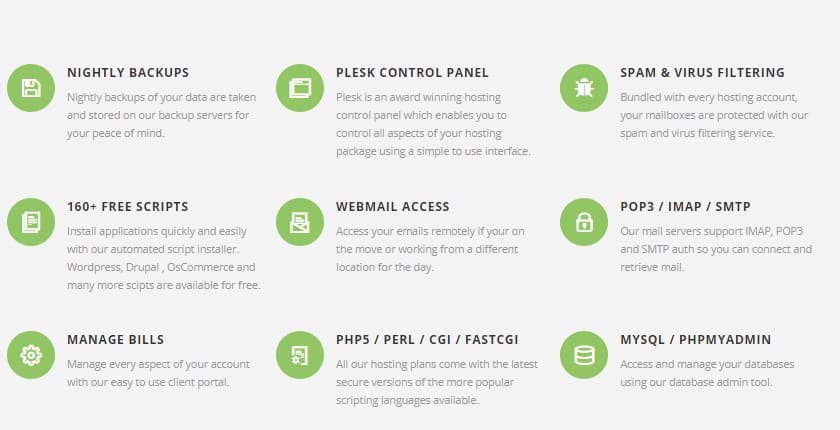 MyHost.ie is a privately owned hosting company that offers a range of enterprise-grade hosting solutions including shared hosting, VPS, and dedicated resources besides professional email, spam filtering, Office 365, and SSL certificates. It operates out of a secure facility in South-West Ireland.
Features and Ease of Use
When you sign up with MyHost.ie, you'll get access to a good number of features, most of them cutting across personal hosting and business hosting. Key features include:
Plesk control panel
POP3, IMAP, Webmail access
Free domain with annual plans
24×7 NOC monitoring
PHP, Perl, Python support
Email spam and virus filtering
Multiple data carriers
MySQL 5.x / PhpMyAdmin
I have never hosted my website with any company that has a history of downtime. With an uptime guarantee of 99.5%, MyHost.ie measures up to my expectations regarding speed and performance. Its Cloud-based servers are easy to replicate and are connected to a distributed storage with SSD caching and disaster recovery options. The fact that they're not overloaded means websites load faster at MyHost.ie than on most standard shared hosting accounts.
Securitywise, MyHost.ie uses firewall and DDoS protection as the first line of defense for websites and user data. At the personal level, customers can password-protect their directories, enable spam filtering, and upload files via SFTP access. But what really impressed me is that servers are self-healing. Whether a hacker tries to take it offline or it develops a system problem, it will restore itself and continue running.
MyHost.ie also offers customers an easy-to-use website builder with 1,000s of prebuilt templates that they can use to create personal blogs or business websites. It has an intuitive drag-and-drop interface that lets you customize your web pages before you publish. I encourage you to test drive the builder (the demo is free!) before placing an order.
Pricing and Support
Though MyHost.ie's hosting plans have no hidden fees, its annual and biennial packages aren't cheap by any standard. I am not trying to discourage you, just add any of the extras such as website backup storage, OS + panel updates, SSL, and intrusion prevention system, malware prevention, and IP blacklisting and you will get a clear picture. You have 30 days to test drive its hosting services and upgrade or cancel and ask for a refund.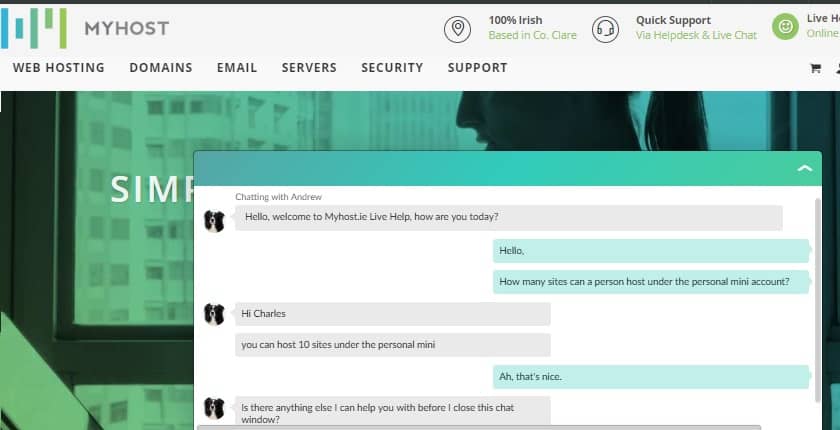 You can reach technical support through telephone, online ticket, and email. Additionally, you have the option to make inquiries through their Facebook page. When I contacted their live chat support rep, Andrew, he provided helpful assistance. If you contact support between 9:00 a.m. and 5:00 p.m. GMT, they aim to resolve cases within one hour. For answers or assistance with basic hosting issues, the FAQ and video tutorials section is the best place to start.