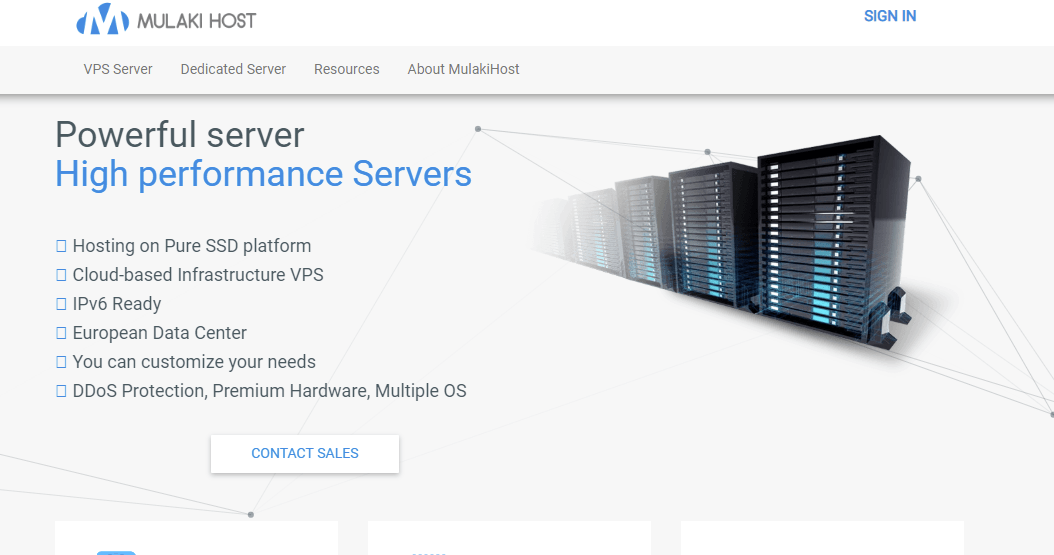 Founded in May 2017, MulakiHost offers Virtual Private Servers (VPS) and dedicated servers. Its servers are located in Bulgaria, Germany, Finland, Belgium, the U.K., and the Netherlands. Its website is available in English only.
Features and Ease of Use
MulakiHost offers VPS in three categories – for Windows, Linux, and GitLab. On each, there are different plans and features. These are some of them:
3000GB bandwidth
Two to five core
Up to 12GB RAM
Disk space of up to 210GB
Scheduled maintenance is one thing that you should expect from all web hosts, and during this, servers are usually down. However, MulakiHost's VPS never goes down for scheduled maintenance. That's because it has a built-in live migration technology that ensures that your website is still being delivered during maintenance.
Even though VPS doesn't go offline during maintenance, a quick look at its terms of services shows only a 99% data center uptime guarantee.
It provides fast I/O and website performance due to its use of SSD. Also, it uses a cloud-based infrastructure that makes it easy for customers to build websites and applications on an easy to scale environment that can support a heavy workload.
VPS is based on KVM virtualization, which gives you total control over your server, almost as if it were a dedicated server environment. You can replicate your VPS in an instant on another node and allocate your resources as you please.
For operating systems it supports CentOS, Ubuntu, Fedora, Debian, and Windows. It has the OS templates in the server for ease of installation. Also, you can reinstall your OS in a few clicks.
MulakiHost provides a custom-built VPS panel and also adds in cPanel for those on Linux.
As a website/application on the web, you're susceptible to DDoS attacks. Also, given that it's not a dedicated server, you still share a physical server with other websites that might be under attack, thus putting the entire server at risk. It's great to know that MulakiHost provides DDoS protection to mitigate threats instantly.
Pricing and Support
MulakiHost offers low-cost VPS. They have subscription periods of one month, three months, six months, 12 months, 24 months, and 32 months. There's no discount on purchasing a longer duration.
Your server will be delivered within 20 minutes after payment. The payment methods are PayPal and bank transfer.
As expected with VPS, there's no free trial or free version, and while there's a money-back guarantee, it's only for three days. Many hosts that provide money-back guarantees on VPS provide them for at least a week. At three days, you might not have finished even setting up your environment, let alone trying the service.
Although 24/7, customer support options are a bit disappointing being available only through email. There's no ticketing system, live chat, or knowledge base. I sent an email and got a reply not long after.