MiroHost is one of the largest web hosting providers in Ukraine. In fact, they're the second largest web hosting company in Ukraine by market share. They began their operations in 2001 and today have over 250,000 customers. While most of MiroHost's customers are businesses in Ukraine, the company also serves clients in Turkey, Russia, Germany, and Poland. The MiroHost website is available in Ukrainian, Russian, and English.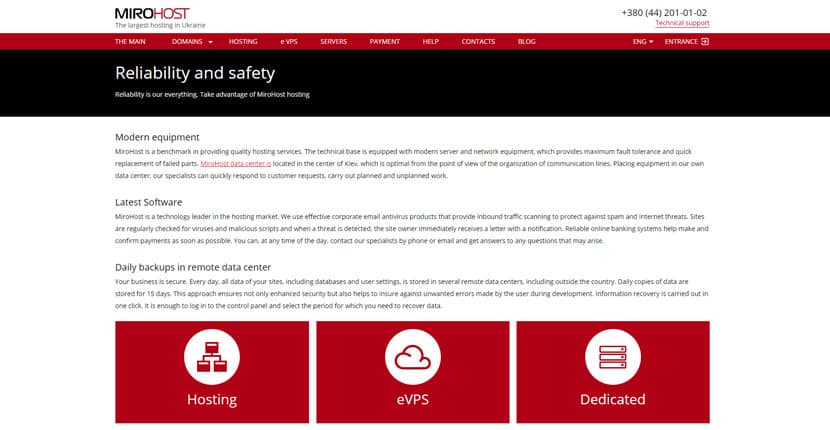 Features and Ease of Use
As one of the largest hosting providers in Ukraine, MiroHost focuses on providing web hosting services to medium-sized businesses and large corporations. They also have lightweight shared hosting plans for startups and small businesses, but it's clear that this isn't their target market.
The features you'll find in their three shared hosting packages include:
Blazingly fast SSD storage
Unlimited email accounts (for Site and Portal plans)
CMS auto-installer
Daily backups retained for up to 15 days
Free domain registration
These are definitely adequate to get you started, but you may find in the long run that these plans are rather limiting. They don't include SSL certificates, for instance, so your search engine rankings will take a hit and you won't be able to run any e-commerce websites on the base plan. Furthermore, storage for all three shared hosting plans will feel restrictive to media-heavy websites: you get 3GB, 6GB, and 9GB for their Mini, Site, and Portal plans respectively.
Where MiroHost excels is in their provision of virtual and dedicated servers. These come with the following features:
Free domain registration with the purchase of any VPS package
Dedicated IP address affording you greater security and better chances of ranking in search engines
SSD storage ranging from 4GB to 512GB and unlimited domains hosted per VPS
Elastic virtualization technology that guarantees unlimited access to computing resources even at peak server loads
Automated daily backups stored in a remote data center and retained for 15 days
Free hardware replacement for dedicated server packages in the rare event of any breakdowns
The MiroHost data center occupies over 230 square meters and can host up to 10,000 units. It also has three backup diesel generators with enough fuel to keep the data center running for up to 30 hours.
I should note that there's one caveat with MiroHost's control panel. It appears user-friendly and quite decent, but a closer look reveals a different picture. For instance, a simple task like creating several mailboxes and adding a mail subdomain is unnecessarily tedious. Most of the actions users will undertake are repetitive, with no way of completing the task in one smooth and simple process.
Pricing and Support
MiroHost's plans are reasonably priced, though of course you should expect to pay more given that their specialty is in virtual and dedicated servers. All prices indicated are in Ukrainian hryvnia. MiroHost allows you to test out their virtual servers for up to 30 days. This is a rare perk for a VPS provider, given that many other companies won't even give you a money back guarantee.
MiroHost has made available several methods through which their customers can get in touch with their support staff. These include the contact form on their website, email, a support phone number, and a fax number. They don't have a ticketing system or a live chat, unfortunately. This is quite surprising for a web host of their caliber.
Also, perhaps because of MiroHost's decision to focus on medium-sized businesses and large corporations, many of their smaller customers often feel neglected. My experience with this vendor aligns with those sentiments. It took them more than 24 hours to reply to my inquiries. The support team wasn't particularly helpful either; they simply directed me to their knowledge base, which is only partially available in English. The majority of it is written in Ukrainian and Russian.