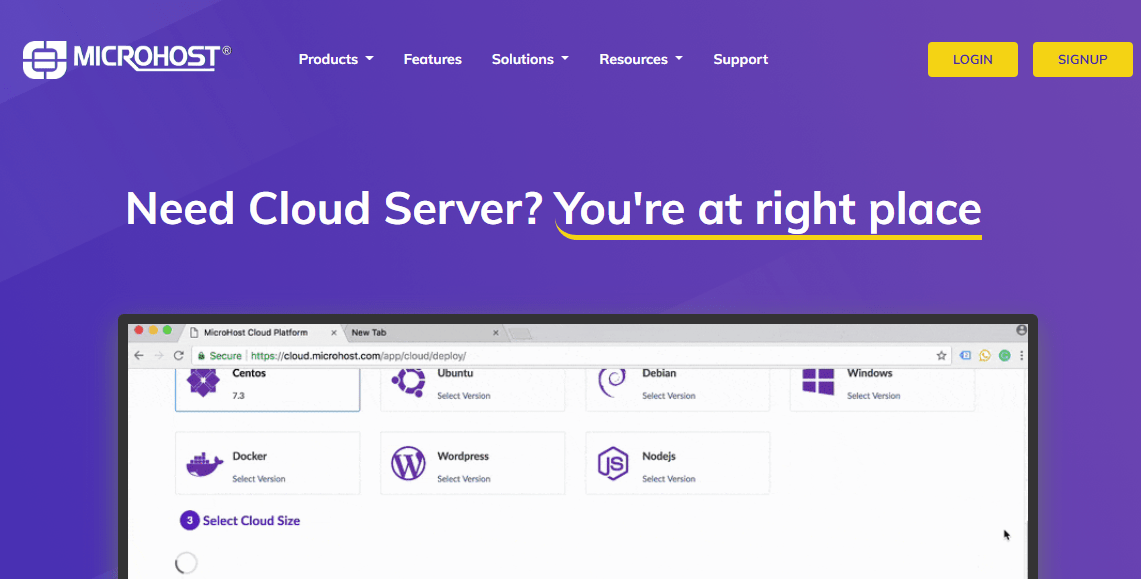 Founded in 1996, MicroHost is an experienced hosting company. This provider offers high-level solutions, including cloud hosting, load balancer, dedicated server, and backup servers. It has served over 160,000 customers around the world.
The company is based in India and its servers are located in Noida and Mumbai, India. Its website is available in English only.
Features and Ease of Use
For those looking to host websites with high-level needs, the cloud servers or dedicated servers are suitable. MicroHost provides many plans with great features. These are some of the features of the cloud servers:
100% uptime SLA
Up to 15000GB Bandwidth
Anywhere from 40GB SSD to 1980GB SSD
The company doesn't provide free automatic backups. If you want them, you can enable the auto backups at a 20% cost of your cloud server monthly billing.
MicroHost provides many operating system choices. It's up to you to choose the one that you prefer from its OS library. It supports Centos, Windows, Ubuntu, Debian, CoreOS, and Fedora; all of which you can install in one click.
Another one-click installation that the company provides is for content management systems and a host of other web applications. You can build your cloud server with Docker, WordPress, Magento, Prestashop, etc.
The company supports Node.js and MySQL. While every customer has full console access of the server, they can also choose to manage their website/server through an easy to use control panel. You can install cPanel or Plesk while building your server, or install any other preferred control panel through your root access.
You can create, resize, and reboot your cloud server through its API. It also makes the work of DevOps smooth through automation. Furthermore, MicroHost provides an enhanced server system with SSD coupled with RAID technology and multiple network-level firewalls.
Pricing and Support
You can deploy a server on MicroHost in seconds. You don't need to wait for 24 hours to get a server provisioned for you. Also, the entire system is automated, so if you need to increase your storage, all you have to do is add it on your console and it will automatically mount with your cloud server.
MicroHost doesn't offer long-term contracts. Its billing is per hour. You only pay for every hour that you use and frankly, it's hourly rates are low. Even if you use the server throughout  the month, you'll still spend less than you will on many other cloud servers from its competitors.
Keep in mind that the company doesn't provide refunds on cloud servers and dedicated servers, probably due to its hourly charging system.
Customer support is available through phone and a contact form on its website. There's no live chat support, nor is there any option for self-support using tutorials in a help center/knowledge base, as there is none.
I contacted the agents through the contact form on the website and got my response via email in about an hour.