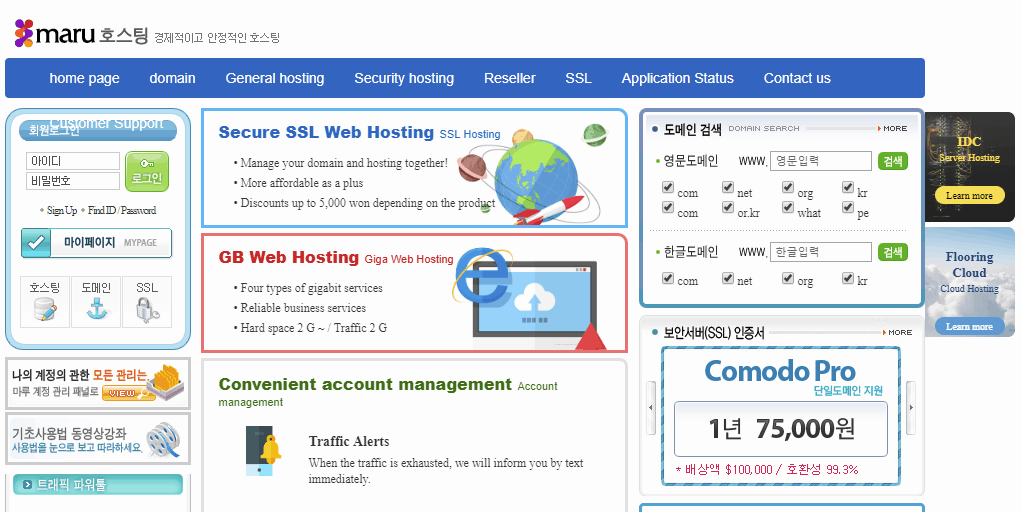 Maru Internet is a company that's based in Seoul, South Korea. It offers shared hosting, Reseller hosting, domain registration, and reseller hosting. The company that runs the hosting website also has two other websites for dedicated servers and cloud hosting. Its website is available in Korean only.
Features and Ease of Use
Maru Internet offers two shared hosting categories: Giga Web Hosting and Secure SSL Web Hosting. There are three plans under each category. Aside from a slight difference in storage space and traffic, the main difference is the Let's Encrypt SSL certificate that's provided on the Secure SSL hosting option.
These are some of the other features that you get on the plans:
Daily automatic backups
Anywhere from 2000MB to 10,000MB storage space
Up to 10,000MB traffic
Although Maru Internet supplies automatic backups that are kept every seven days, restoring those backups is an "extra service" which doesn't come free with hosting. You'll have to keep in mind to take your own manual backups so that you can restore yours whenever you want.
It doesn't allow more than one website/ TLD per hosting account; you can only have subdomains. One is provided but if you need more, you can contact customer support.
Maru Internet doesn't provide support for Python, so if you wish to use it, you'll have to look elsewhere. You can program with PHP, though, as the company supports it. Maru Internet doesn't provide a one-click application installer or website builder either.
For a database, it provides MariaDB which is a fork of MySQL. If you're already used to MySQL, you shouldn't have any issues with using MariaDB. For management, it provides PHPMyAdmin.
The company provides only one email address for customers on the SSL plans, which isn't enough for anything but a personal brand. If you take one of these plans, have in mind that you'll have to spend on email hosting from another provider. Customers on the Giga plans get between three to ten email addresses.
Pricing and Support
While Maru Internet offers affordable prices on some plans, there are others that can be considered slightly expensive considering the features provided. You can find lower-cost hosting options with better features elsewhere. It is also disappointing to note that they charge a setup fee.
What I didn't like most is the increase in price on the SSL plans. On the top plan, there are lower resources than the Giga plan but it's more expensive, possibly because of the Let's Encrypt SSL. However, Let's Encrypt SSL is provided for free from Internet Security Research Group (owners of Let's Encrypt).
You can only pay on a yearly basis, from one to five years; there are no monthly subscription options.
Maru Internet doesn't have a money-back guarantee but it offers refunds to customers on cancellation. To cancel, you'll have to give one week notice to the date of cancellation and also give the reason for your cancellation. If the vendor thinks you're justified, it will deduct 30% of the total hosting money you paid and the months you've used, and then refund the remainder.
You can reach its support agents between 9:00 AM to 6:00 PM through email, phone, and fax. I sent an email and but never got a reply, even after waiting for more than a week. There is a knowledge base, though, in case you want to try and resolve issues on your own.