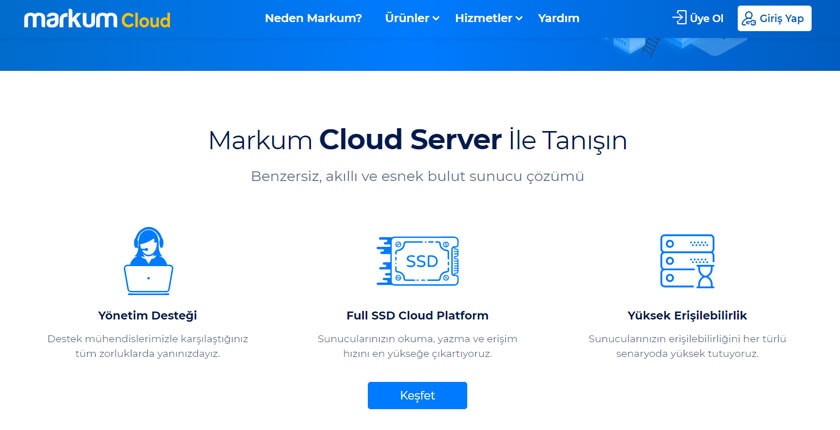 Founded in 2000, Markum is one of Turkey's leading hosting services with a customer base of over 60,000. It provides cloud-based solutions for personal websites and businesses of all sizes. While Markum doesn't have its own data center, it houses its servers in two powerful data centers, Radore and Equinix, both located in Turkey. Its website and services are available in Turkish, but the team can also provide English support upon request.
Features and Ease of Use
Markum's products range from cloud servers, cloud email, domain services, SSL, and cloud hosting for Linux and Windows. It offers several cloud hosting packages for private users and corporations with 99.98% uptime, full SSD storage infrastructure, and full redundancy.
Some of its standard Linux cloud hosting key features include:
Weekly and monthly backups

From 1GB to unlimited web space

Unlimited FTP accounts

DNS management

10GB to unlimited bandwidth

Control panel with Turkish interface
One of Markum's strongest points is its scalable, redundant, and flexible infrastructure. This is guarded against external threats by solid software and hardware. Markum also offers a free firewall, anti-DDoS attack mitigation, and end-to-end security services between you and their servers.
Markum also boasts high levels of availability, thanks to its superior bandwidth and top-quality SSD cloud infrastructure. This means that your website will run with minimal (if any) interruptions. In addition, since Markum's hosting plans are entirely cloud-based, you can easily upgrade your system requirements and server resources.
If you want to boost your Google rankings and earn your customers' trust, Markum offers four SSL certificate packages including Wildcard SSL. Free SSL certificates are also offered with higher-tier corporate hosting plans.
Pricing and Support
There are four main cloud hosting plans offered by Markum: Startup, Standard, Professional, and Unlimited. These mainly vary in disk space and a few other features. Notably, the Unlimited plan comes with unlimited websites, unlimited disk space, and unlimited bandwidth, so this plan offers the best value if you have many smaller websites you need to host.
All paid plans come to a 15-day money-back guarantee and there are currently attractive discounts on long-term subscriptions. You can make payments via bank/wire transfer, credit card, or Paracard.
Getting help with Makrum is a breeze. First and foremost, they have a knowledge base with tutorials and an FAQ section, although it mostly covers general topics. If you prefer direct assistance, you can submit a support ticket, send an email, or, if you're in a hurry, simply initiate a conversation with one of their live chat support staff.
From my experience with the live chat team, I was very pleased as the chat representative answered all my questions in a professional and informative manner. Hats off to Markum's support. You can also give them a call on their support phone line. Markum also offers support via Teamviewer and AnyDesk for its customers.