Founded in 2006, Lithium Hosting is American web hosting provider with data centers in America and Germany. The company currently works to provide hosting for over 10,000 websites owned by customers worldwide. Their website and support is provided in English only.
Features and Ease of Use
Lithium Hosting is a full-service website hosting provider that offers shared cloud hosting, reseller hosting, virtual private servers, SSL certificates, a website builder, and domain registration.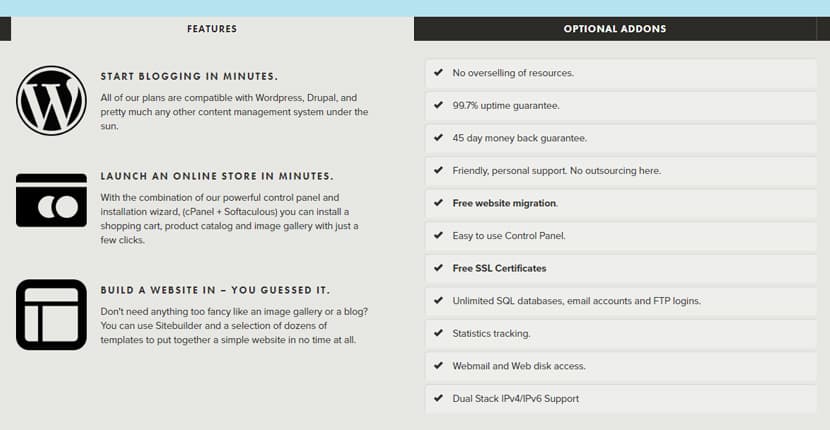 As standard, their shared hosting plans enjoy the following features:
99.7% uptime guarantee
Daily backups
From two to unlimited add-on domains
Free SSL certificates
Unlimited MySQL databases, email accounts, and FTP logins
Intel Xeon CPU(s) and 32+ gigs of ram
For beginners, there are some excellent added value features, including an integrated website builder and one-click installer. Their website builder, provided by Weebly, comes with a drag-and-drop builder, ready-made website templates, and an e-commerce solution with a fully-integrated shopping cart and secure checkout.
Lithium Hosting also offers certain features that show they care about your website's security. For example, all of their hosting packages (whether shared or reseller) include a free SSL certificate and Cloudflare as standard. These features often cost extra with other providers, so it's refreshing to see them bundled in with the standard packages.
It's very easy to get set up with Lithium Hosting. With just a few clicks you can pay, install, and set up your hosting through their website. Their website is really easy to understand and their packages are clearly defined, so it's easy to pick what you need and get started.
Pricing and Support
Lithium Hosting's tagline claims that their mission is to make website hosting affordable. Not only do they offer affordable rates, but their pricing is also remarkably simple and straightforward.
For example, the listed rates for their flexible month-to-month pricing are similar to a larger company's monthly rates under a long-term contract. However, unlike their larger competitors, Lithium Hosting's prices remain the same and don't increase drastically upon renewal.
They offer a range of contract terms: monthly, annually, biennially, or triennially. While their monthly prices are very competitive, they also offer large discounts for purchasing longer terms.
Another really user-friendly aspect of their pricing was how they described their inclusions. Unlike other companies that sometimes claim "unlimited" bandwidth or disk space and then hide limits in their Terms of Service, Lithium Hosting clearly explains the exact amount of the storage or bandwidth in each package, so it's really easy to understand what you are purchasing.
Finally, what I found really impressive was their free trial. All shared hosting plans come with 45-day money back guarantees and 30-day free trials with no credit cards required. This is a great option for newbies to give the provider a test run.
Unfortunately, the major downside of Lithium Hosting is their support. They offer email and ticket support only. They do not offer live chat or telephone assistance. If you have an issue, they require you to fill out a support ticket and wait for a response, which oftentimes take several days.
While this might be manageable for small-time webmasters, larger websites and businesses need a much more timely response to issues. I'd much prefer to get instantaneous assistance from them, whether via live chat, phone, or instant messenger.
That said, they do have a large knowledge base with a significant number of help documents. They also have a Twitter feed with status updates and promotions advertised, but no instant messaging unfortunately.
How much does Lithium Hosting cost?
Lithium Hosting offers plans from $3 to $9. The price depends on which type of hosting plan you choose. You can see the updated pricing table (updated weekly) below.

Which Lithium Hosting plan should I get?
My recommendation is to start with a cheaper plan. You can always upgrade later on. Lithium Hosting can help you with the migration to a more expensive plan. The increase in visitors many times takes longer than expected and you shouldn't pay a lot of money until the need arises. Of course, your needs may vary, and you can consult with a hosting expert from Lithium Hosting here.

How good is Lithium Hosting's customer support?
Lithium Hosting is not ranked as one of our top web hosts. But that can also be a result of Lithium Hosting being a small, under the radar, hosting provider. There are advantages to a small hosting company – as a customer, you are more important to them. You can also check out our comparison of the most popular web hosting services here.