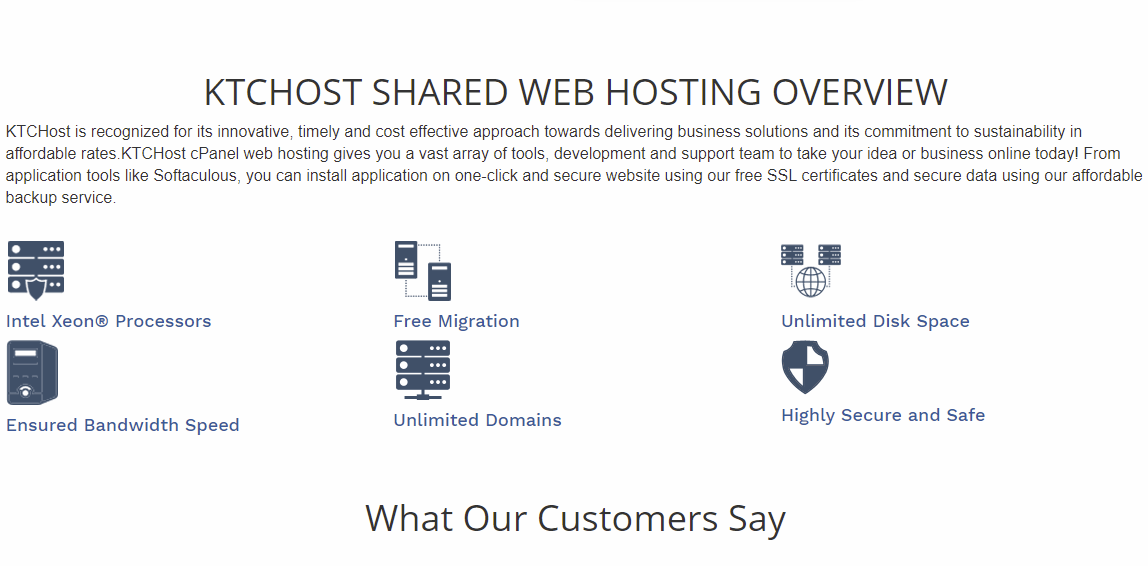 KTCHost (or KAIZEN Software Solutions) is a web hosting and server provider that offers web hosting, bank hosting, disaster recovery, domain registration, and more. It has offices in the United States and India.
Its website is available in English only and its servers are located in the United Kingdom, India, and Canada.
Features and Ease of Use
KTCHost offers shared web hosting, VPS, dedicated servers, and reseller hosting. Its shared hosting is provided in four categories: cPanel hosting, WordPress hosting, School hosting, and special offers for Startups.
Shared hosting customers get to use the following features and resources:
99.95% Uptime SLA
Daily and weekly automatic backups
Anywhere from one to unlimited websites, depending on the plan
Let's Encrypt SSL
Up to unlimited storage space
Unlimited bandwidth
KTCHost supports PHP, but most web hosting companies do. If you're looking to program in Python, you'll have to look elsewhere because this provider doesn't support Python. For hosting management, it provides cPanel, the most popular management tool for shared hosting. It's intuitive and the user interface is beginner-friendly.
This web hosting company provides a vast array of tools that you can use to build your website, which are especially great for beginners to web hosting.
If you want to use WordPress, for example, you don't have to learn how to create databases and tweak wp-config files. All you do is go into Softaculous in your cPanel, choose WordPress, and you're good to go.
If you'd rather just use a website builder, you can use SitePad builder which has a drag-and-drop tool with more than 300 themes and 40 widgets for you to build a responsive website. You can also use Softaculous to install more than 300 other applications.
The company provides easy connection with Cloudflare through the control panel. With Cloudflare CDN, your website loads even faster as Cloudflare caches and saves content to various servers and networks all over the world.
Pricing and Support
KTCHost offers three plans under cPanel hosting, and all are low-cost.
The WordPress plans are low-cost, as well. If your budget is way lower than the prices that KTCHost offers on WordPress and cPanel hosting, you can take any of the Startup plans, which are even lower than low-cost. You might not see such prices elsewhere, but given that its other offers are at a reasonable price, I wouldn't expect the best of performance on the Startup plans.
You can pay for one month, three months, six months, 12 months, 24 months, or 36 months. It's important to note that for the cPanel plans, you can only get the low prices listed on its website when you pay for 36 months at a go. The slashed out prices are the actual month-to-month prices.
KTCHost has a 30-day money-back guarantee, but the terms aren't clear, and it mentions yearly hosting packages as one of the services that you can't get your full refund on within 30 days after payment.
I tried to confirm the terms from customer support, but I didn't get a response on that despite getting answers to my previous questions on connecting my domain to the hosting account.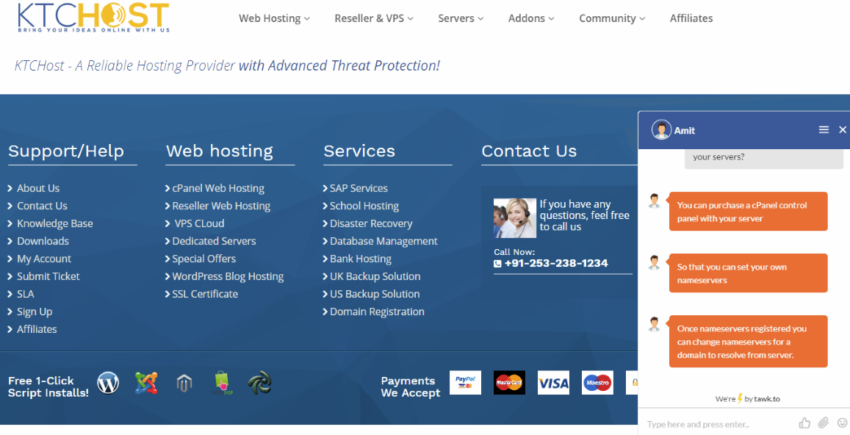 You can reach the 24/7 support agent through email, live chat, ticket, Skype, and phone, but there's no knowledge base available.