IQ PL has been providing hosting and internet solutions since 2001.
It owns its own server room in a Tier III data center and thousands of servers.
The business is located in Gdańsk, Poland, and the website is provided in Polish.
Features and Ease of Use
IQ PL sells a full range of hosting services and cloud solutions. The shared hosting plans come with these key features:
99.982% data center uptime availability
Daily backup of FTP data, weekly backup of databases
Domain registration available
Automatic support for LetsEncrypt certificates
Up to 400GB disk capacity
Up to unlimited transfer per month
IQ PL owns and operates its own server room which is N + 1 and partially 2N + 1 redundant. Robust, branded Dell and Juniper hardware is used, and the servers run on Apache.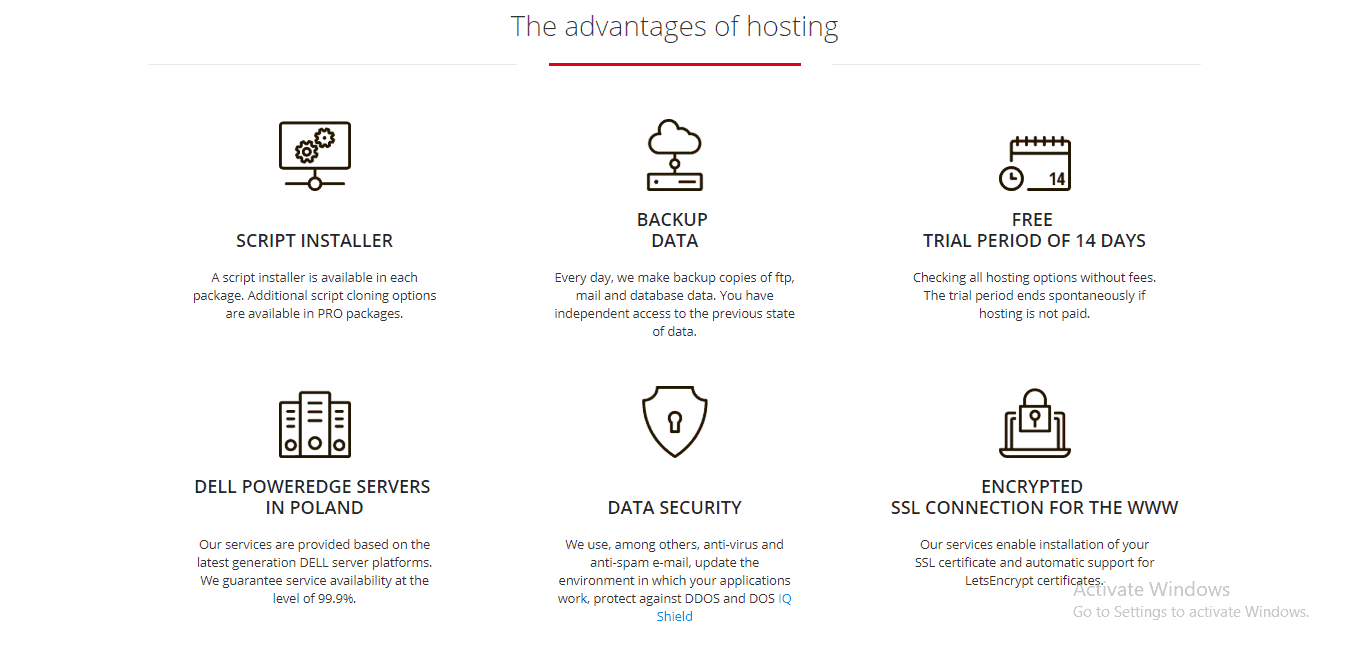 The center is Tier III classified, which means the uptime guarantee is 99.982% or less than 1.6 hours of downtime per year. Oddly, however, IQ PL does not pass this uptime on to its guarantee and the shared hosting plans come with an availability guarantee between 99.8% and 99.9%, dependent on the plan.
There are tons of value added features for experts. There's support for all versions of PHP, unlimited FTP accounts, Perl, Cron jobs, and MySQL databases, as well as SSH access.
The information related to beginner friendly features is less interesting. For ease of use, there is an Installatron automatic script installer (although it's not clear for how many programs), however, there is no website building tool (I confirmed this with support).
Also included are some unique discounts off partnering companies such as Brand 24 (a credit towards ad spend), Firma.pl (an accounting software and tool voucher), and SEO Factory (a discount towards SEO services).
Pricing and Support
The plans are at the higher end of the spectrum, when compared to both local and international companies. You're paying a premium price to have servers located in a Tier III center, with a server room operated by IQ PL. The downside here is the 99.982% uptime not being passed on to the customer.
When you check out, you have a few promotion options presented to you. There's the "Lack" plan, which is a twelve-month plan, the "Six Months Free" option where you sign up for eighteen months but pay the same price, or the "First Year Cheaper" plan, which is a twelve-month plan at a discounted price. To be honest, it can be quite confusing! There's a 14-day free trial on all plans.
You can contact the team by phone, fax, or online form, as well as a small knowledge base to refer to. Although the business hours aren't explicit, the website does imply 24/7 customer service is available.
I contacted the team around 5:00 p.m. on a weekday evening by email and I received a response on the same day. The operator was helpful and answered my questions in full.