I/OZOOM is a young company based in Texas, U.S.A. It has five data center locations in Miami, New Jersey, Chicago, Los Angeles, Dallas, and Amsterdam. It provides numerous services including Cloud VPS, Linux VPS, Windows VPS, and WordPress hosting.
Features and Ease of Use
I/OZOOM employs modern SSD's that provide both maximum I/O performance and faster page loading times. The security of the server is vastly improved by employing free of charge DDoS protection with 10 Gbps DDoS mitigation to keep your VPS online at all times. They also promise a 100% network uptime.
For the Linux hosting, you receive an easy–to-use cPanel/WHM control panel. For windows, you can utilize the Plesk control panel. The Spam Expert is available for Linux hosting only and can be used for inbound and outbound filtering. Your email won't get lost or bounced back as they are queued for delivery and send to the destination as soon as the right resources are available.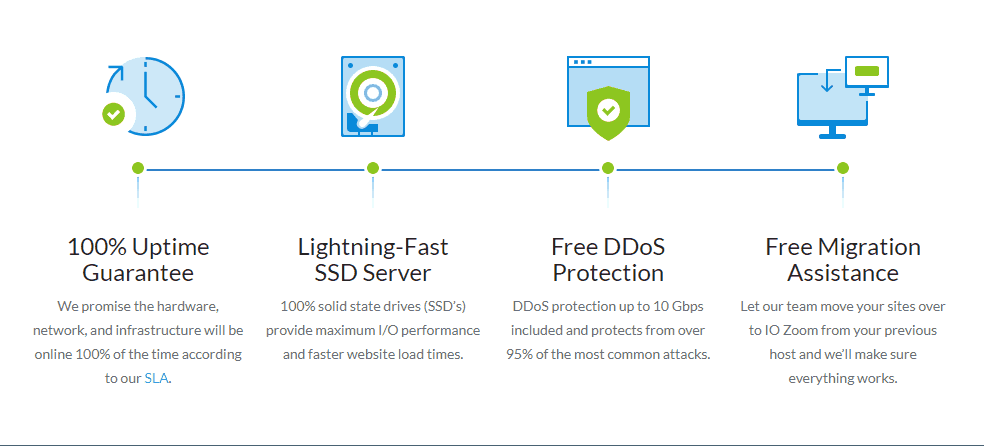 In order to improve your website's performance, the following features are offered:
GTMetrix
Varnish
Memcache
Modpage speed by Google
Cpxstack
Cloudflare
In case you are moving from another host, you can let I/OZOOM staff help you move your websites to their servers seamlessly.
Pricing and Support
For both Linux and Windows, there are five different plans you can choose from which are all named according to the amount of disk storage they offer. SSD storage and good bandwidth are available in all packages though no package offers unlimited bandwidth. Depending on which package you choose, you get from one up to eight CPU Cores. 10GB DDoS protection is available in all packages and you can even select the location of your server. There are four separate packages for those who are only interested in using WordPress. These packages have similar features as the Linux and Windows packages. You can use the three-day trial to test out all the features of these hosting packages.
The knowledgebase section on their website contains useful articles related to cPanel, CloudFlare, Billing, WordPress and many other similar topics. These are perfect for those with no technical background. In case you are having other technical issues that are beyond your knowledge, you can easily create a ticket and let their technical support staff help solve the problem. They are also active on social media which I often find is a much quicker way to get in touch with hosting companies, as the comments are public and they do their best to address everyone's issues to keep a good public image.
Summary
I/OZOOM has a lot of different products for customers who have varying online requirements. It might be overwhelming at first to look at their offers and decide which one suits you the best but you can always get in touch with them, tell them your requirements, and decide according to the feedback you get.
Pros:
10GBDDoS protection
Separate packages for WordPress users
Cons:
No live chat
No unlimited bandwidth