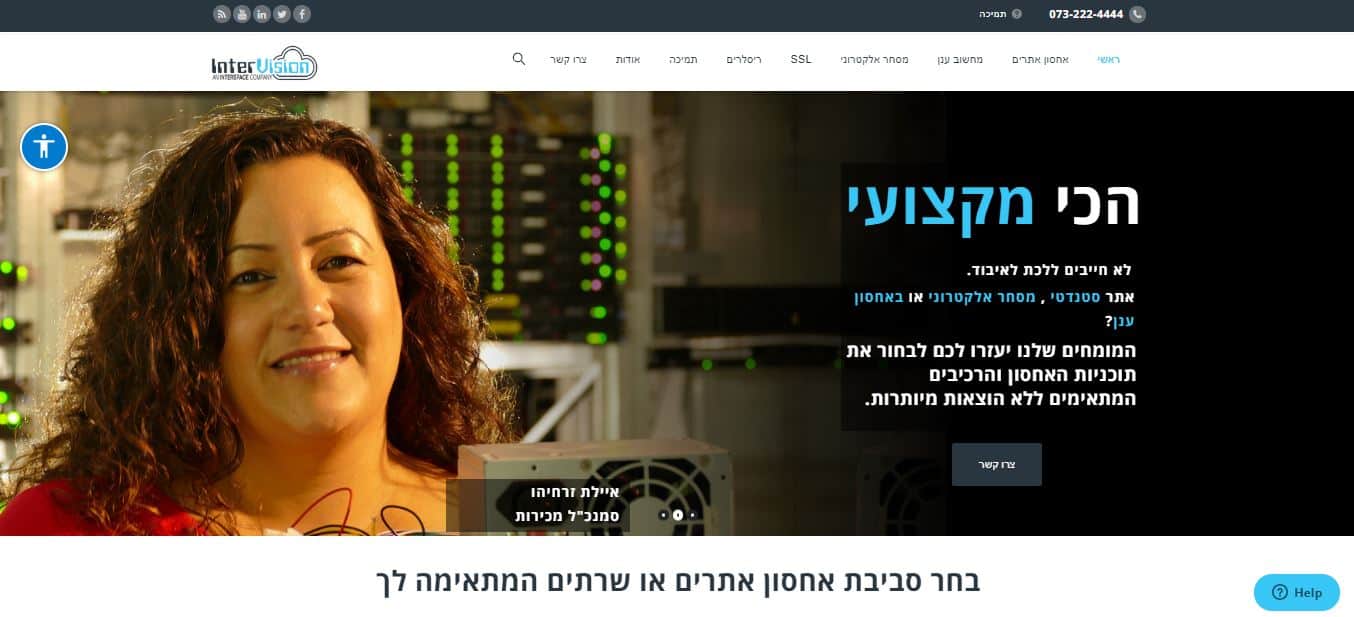 The Israel-based InterVision has been offering website hosting solutions since 1996. They operate data servers in Israel that serve over 40,000 customers, and are well-known as a domain registrar. Their shared hosting plans cater excellently to personal and basic website needs. However, large websites will need to turn to their VPS hosting servers or look elsewhere.
Features and Ease of Use
InterVision offers web hosting solutions that are good for personal and small business websites. Their plans provide the following features:
99.9% uptime guarantee
Daily automatic backups
From 10MB to 40GB disk space, depending on the package
Unlimited add-on domains on the e-commerce and WordPress top plans
Paid domain registration on all plans
Free SSL Certificates on the E-commerce packages
Their Windows and Linux plans provide the basics for web hosting. The shared hosting compact plan, which is the lowest level available, provides 10MB storage space with a bandwidth of 3GB. That won't be suitable for most people due to the limited storage and lack of MySQL databases. The next highest available plan offers only a slight improvement, with 500MB storage space.
Note that the above limitations are for the shared Linux and Windows hosting services only. InterVision does offer better options with a variety of VPS hosting plans with RAID-6 support, SSD performance accelerator, and support for larger databases. The premium plans listed under shared hosting are on VPS.
There are no one-click or CMS installers available. However, you can take any of the WordPress hosting plans that come with the CMS already installed. You get 500MB storage space on the shared plan and advanced security features on both plans – Fail2ban and WAF – that protect you against hacking.
E-commerce businesses will find InterVision's web hosting services relevant, as they offer e-commerce specific plans as well. These plans come with a free SSL certificate and dedicated IP addresses. InterVision also provides support for a mobile e-commerce app.
Another plus is the high security with WAF protection, fortunate firewall, and Fail2ban. The downside is the 200 transactions limit on both plans. If your business has more than 200 transactions per month, you'll have to pay an additional cost.
Great news! We support a variety of programming languages and tools, including PHP, Python, Perl, and CGI. Plus, our knowledge base is packed with detailed explanations of web development tactics and hosting choices for every server plan.
Pricing and Support
InterVision offers shared hosting, VPS, WordPress hosting, and specialized e-commerce servers. These plans are relatively expensive compared to most web hosting providers, especially with the bandwidth and disk space provided.
Nevertheless, their provision of free SSL certificates on some of the plans, database support, and extra security make them a worthwhile choice.
If you're still not sure, you can purchase a monthly WordPress plan to try it out, before committing to a longer duration. On the other hosting servers, you can choose to either pay quarterly, biannually, or yearly.
InterVision offers average customer support. You can contact them via email, their online ticketing system, or by phone. The support is not 24/7, but they do respond quickly during working hours. Just make sure you have Google translate close by.