Internet Webhosting is one of the biggest web hosting companies in Malaysia by market share. They host over 8,000 domains for a predominantly Malaysian customer base, though they also have clients in New Zealand, the United States, Australia, and Greece. The Internet Webhosting website is available in Malay, Simplified Chinese, Traditional Chinese, and English.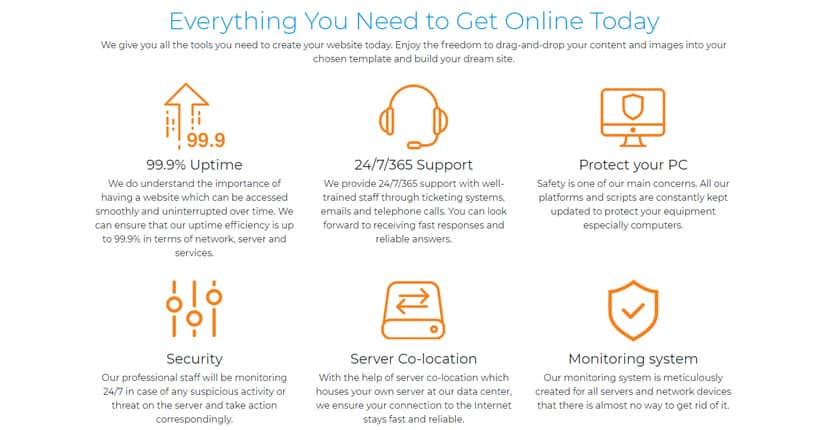 Features and Ease of Use
Internet Webhosting clearly wants to be the one-stop shop for all things internet-related. In addition to a full suite of basic and advanced web hosting solutions, they also offer domain registration, web design services, website builder packages, and SSL certificates.
The standard features in their shared hosting plans include:
At least 10GB disk space
At least 50GB monthly bandwidth
Unlimited subdomains and domain forwarding
Unlimited FTP and email accounts
Unlimited MySQL 5.0 databases
Softaculous app installer
RVsitebuilder (different levels of access depending on the tier of your plan)
What I liked about this vendor is that they're pretty generous with the features they offer: very rarely do you get a website builder, app installer, and unlimited databases with an entry-level plan. You can even host multiple domains with the most basic plan, and there's more than enough bandwidth and storage space to maintain a few moderately media-heavy websites.
Sadly, their storage drives don't seem to be SSDs, which is why they can afford to give you more space. Also, their plans don't include any SSL certificates, though they do give you an SSL certificate manager and you can purchase either basic or premium SSL certificates from them at an additional cost.
Internet Webhosting operates out of a single data center located in Malaysia. Unfortunately, they don't own this data center themselves. This means that while the data center's personnel will notify the company of any problems within minutes, their troubleshooting response times may still include a bit of a lag. That said, they do have an uptime guarantee of 99.9%, which may give you some peace of mind.
Pricing and Support
Internet Webhosting's plans are very affordable yet feature-rich. This vendor definitely lives up to their commitment to offer quality hosting solutions at a low cost, which is probably why they've gained so much market share in Malaysia. Plus, unlike many companies today, Internet Webhosting has almost zero debt, which gives them more staying power in the ups and downs of the economy. Note that because their primary customer base is in Malaysia, Internet Webhosting lists their prices in Malaysian Ringgit.
You can upgrade or downgrade your plan at any time. Your bill for that month will be pro-rated if you choose to upgrade. Note, however, that in the case of a downgrade you won't be refunded any unused credit from your higher-tier hosting plan.
Internet Webhosting doesn't offer a free trial, but they do have a 30-day money back guarantee for their shared hosting plans. You'll have to email them to get this refund though: it isn't automatic.
If you require assistance, your best options are to submit a ticket via your client portal or access their live chat. They do have a phone number and email address listed, but it seems these are primarily for sales enquiries. The team is available 24/7 all year round. They also have a knowledge base, but I wasn't thrilled about this: they've only got a few dozen articles up at the moment.