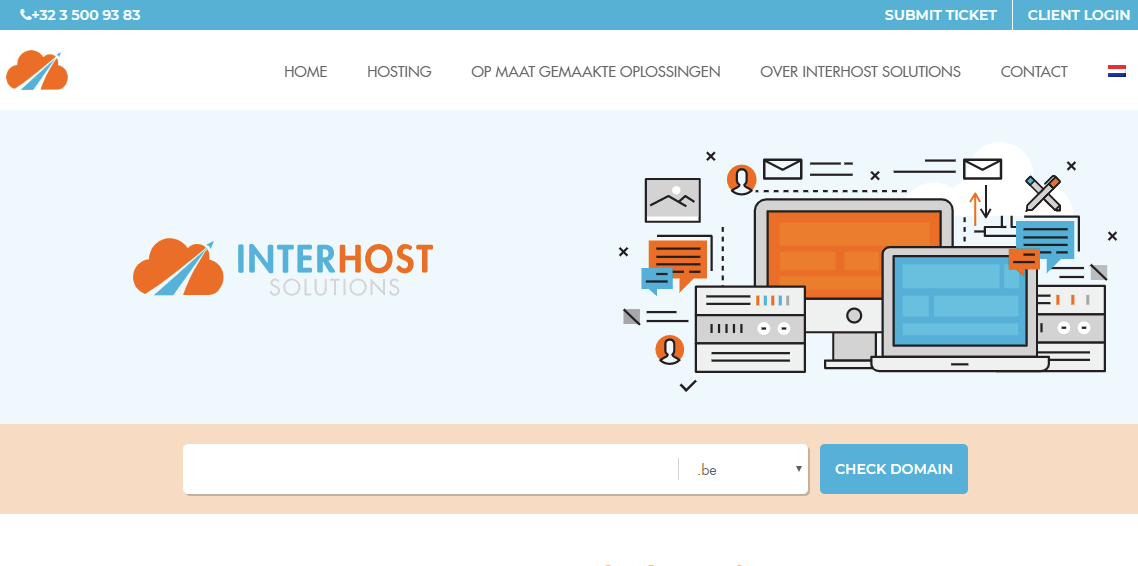 Founded in October 2008 by four students, InterHost Solutions has grown over the years and has served over 2,000 customers with 3,500+ websites and 5,000+ domains. It manages over 150 servers.
InterHost Solutions offers plans for shared hosting, CMS hosting (WordPress, Drupal, and Joomla), VPS, cloud hosting, and reseller hosting. It also offers tailor-made solutions of which dedicated servers is one of them. Its website can be switched between English and Dutch versions.
Features and Ease of Use
InterHost Solutions' shared hosting is divided into three plans for small to medium-sized businesses. It provides the following features:
Daily automatic backups
Free .be domain
Unlimited traffic
From 1,000MB to 10,000 MB storage
A growing percentage of websites are on CMSes with WordPress being one of the leading platforms. Many people – maybe even you – looking for web hosting need support for a CMS because their website is on one. InterHost Solutions knows this and has provided an application installer for the shared hosting packages. You can set up the CMS you want in your DirectAdmin control panel.
The company has plans for three CMSes. For the WordPress hosting, it's on a cloud platform powered by Jelastic. This means that your solution will be super scalable. You don't need to choose a "plan" with the idea that you won't need more than this storage in a year or traffic in a month.
What InterHost Solutions' cloud platform does is to automatically move with you. If your website needs more resources, it will scale up to provide that and when there are fewer visitors or it requires less, the system will automatically reduce the allocated capacity. Not only does this fit your needs, it also reduces your overall cost.
Also, with this system (where there is automatic scaling of resources and power), it promises you won't feel the effect of overloading the server. So, your website shouldn't go down because someone else or you are experiencing a peak.
Fast loading time can translate to keeping visitors, better conversion rates, and better rankings. There are many optimization tactics, but if your web host isn't so great with tools, you still won't get what you want. InterHost Solutions does well, to an extent, because it provides SSDs.
One cause of downtime is scheduled maintenance. That's unavoidable, but for InterHost Solutions, when it wants to maintain its cloud Platform-as-a-service, your containers are moved to another server automatically for the duration of the maintenance to ensure that your site continues to function. On your end, you can also clone your environments.
Pricing and Support
For shared hosting, InterHost Solutions prices are a bit more than you might expect for the features it offers, and there are no monthly subscriptions on offer. Although displayed as monthly, its pricing plan is annual. There's a 30-day money-back guarantee, though, so that might make it worthwhile enough to test out.
You should consider opting for WordPress or any other cloud-based hosting if you want something better. WordPress, for instance, offers a free trial. Moreover, it bases its pricing on the resources you use, allowing you the flexibility to pay as you use or opt for a fixed monthly price..
Customer support is available through a knowledge base, live chat, ticketing system, and phone call. I tried the live chat during its official work hours (9:00 AM to 9:00 PM GMT+2), but I didn't get a response. So, I submitted a ticket but never got a reply.