Interdominios is a Spanish hosting provider that's been in operation since 1998. Over the past two decades, the company has grown to become a sought-after website hosting vendor in Spain as well as several other countries, including Mexico, Colombia, Chile, and Peru. Interdominios primarily serves a Spanish-speaking customer base; correspondingly, their website is only available in Spanish.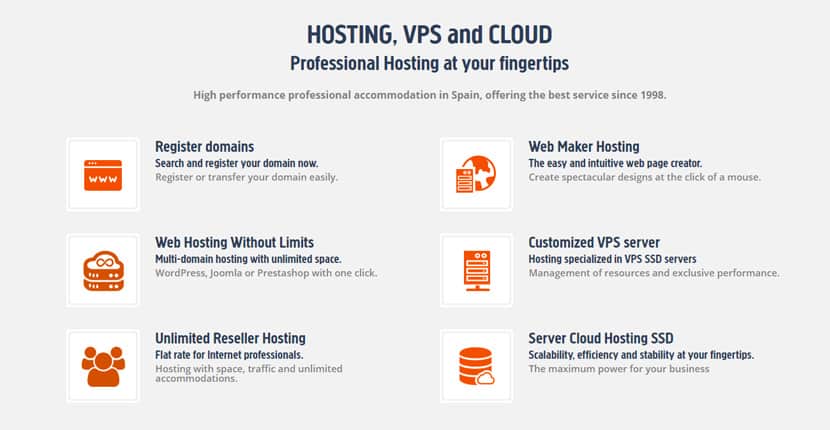 Features and Ease of Use
Interdominios uses powerful data centers located in Spain to provide their long list of services that includes cloud server solutions and VPS hosting. A few of the services you can get from Interdominios include:
Scalable, flexible, stable, and efficient SSD cloud hosting
Intuitive website creator for straightforward website creation
Easy registration and transfer of domains
"No limits" hosting featuring unlimited space, bandwidth, and add-on domains
Unlimited reseller hosting plans (which vary mainly in ASP.NET support and choice of OS)
Customized VPS hosting solutions
Some of the features that make Interdominios one of the preferred web hosting vendors in Spain and beyond include:
Guaranteed connectivity – Interdominios assures all their clients of unfailing connectivity all year round. Using their high-speed fiber optic ring, the company connects their customers to their own data center, located in Madrid.
White label reseller plans – Interdominios allows their reseller hosting clients to use their own branding on the web hosting platform.
100% guaranteed server and availability – Interdominios uses a dual system made up of two generators and an uninterrupted power supply to ensure that connectivity is never interrupted for all the websites they host.
Powerful and secure data centers – Interdominios's data center spans over 450m². A round-the-clock technical team is always monitoring the facilities to ensure that any anomaly or attempted attack is detected before it can do any damage to your website.
Interdominios hosting solutions make it easy for even beginners to learn. Their three-step website builder ensures that you have everything you need to get started, especially if you're building your very first website. The hosting provider's commitment to offering expert hosting to businesses of all sizes is evident in their consistent growth and high customer retention rate over the past two decades.
The last ten years in particular have been significant for the growth of this company, during which they led the way in incorporating innovative features in their hosting plans, such as Plesk control panels. Fast forward to the present day and the vendor continues in their commitment to being a pioneer and pacesetter in the web hosting space across the entire country: most recently, Interdominios became the first hosting firm in Spain to add 3Par storage as part of their hosting infrastructure.
Pricing and Support
All Interdominios hosting solutions are reasonably priced. Even the more expensive solutions like the SSD virtual servers are available at affordable prices yet extremely powerful, giving you total control over the online presence of your business. Interdominios's No Limit Hosting is their unlimited hosting package. With unlimited space, unlimited domains, unlimited email accounts, and unlimited transfers, it is the perfect solution for larger businesses.
Interdominios's annual subscriptions are cheaper than their monthly ones, as is the trend in the industry. Do note that all hosting packages are priced in Euros. This vendor doesn't have a free hosting plan nor a free trial, but they do provide a 15-day money back guarantee for their shared hosting plans. All packages are easily scalable, in line with your growing business.
Interdominios's technical support team is available 24/7 via email, live chat and phone number. This makes it very easy to have your hosting issues addressed as soon as they arise. On their website, the web hosting solutions provider has included a comprehensive knowledge base that answers the most common questions that occur. The support team is always on standby in the event that the information on the website is inadequate to address your particular issue.  My experience with their support team was quite pleasant. It took them less than hour to connect me to someone from their team, and when I did, the agent was able to expertly field all of my questions.