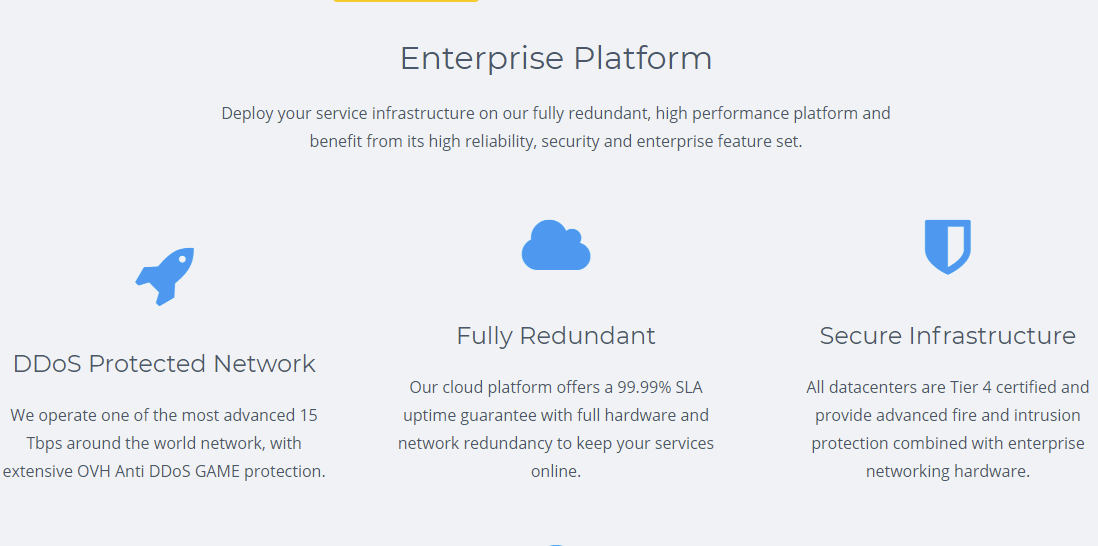 Infinity is a web hosting company that offers shared hosting, virtual private servers (VPS), and dedicated servers. It serves different sizes of business through data centers that are located in France, Canada, Poland, and Germany. Its website is available in English only.
Features and Ease of Use
Infinity offers custom hosting configurations based on your needs and you can contact them if you're not sure that the plans will work for you. That said, it offers shared hosting that will work for small business websites. The plans come with the following features:
99.99% uptime guarantee
Either one or unlimited domains
Anywhere from 1GB to unlimited storage
Unlimited traffic
It's only the top plan that has unlimited storage. As no server truly comes as unlimited, you'll have to find out what fair usage means for Infinity so that you don't get cut off when you start uploading lots of media content.
Infinity offers nice port/traffic options. Depending on the plan you're on, you'll be sharing either 3Gbps or 500Mbps with the other customers on the server. The more customers there are with high traffic, the worse it will be. Nevertheless, as long as customers stick to the fair usage policy and have "reasonably" consistent traffic throughout every month, they will be fine.
One sweet part of Infinity is its use of NVMe SSDs. With this, you get servers that operate at 4x faster than the average SSD and 7x faster than the average HDD.
Infinity provides the Plesk control panel to its customers. It's quite easy to use and has a clean, intuitive design. Even beginners should be fine with it. Although Infinity doesn't mention one-click installers, Plesk has an auto-installer module and Infinity might have it integrated with the control panel. You'll just have to confirm this with the support team.
For programming, the vendor supports two languages – Python and PHP. This is great for building dynamic websites and applications. There's another programming/server management tool on offer, but you'll have access to one or both, depending on the plan that you're on. For customers on the first two plans, there's no SSH access, but for those on the other three plans, there is.
Infinity protects its customers from DDoS with a capacity of more than 2TB. Most simple (unpopular) websites won't get close to this DDoS attack capacity. With intrusion protection and a tier IV data center, you're assured of top-notch security and redundancy.
Pricing and Support
Infinity offers a complimentary base plan with 1GB storage, but my attempt to place an order for this plan encountered an issue as it was out of stock. The pricing of the remaining plans ranges from reasonable to slightly high.
Although there's no free domain registration or SSL certificate, it does well by offering short billing cycles; you can pay for either one month or three months at a time. The vendor accepts credit card, Paysafecard, iDeal, Sofort Banking, and Cryptocurrency (Coinbase Commerce).
There's no mention of a money-back guarantee for shared hosting, but VPS has a seven-day money-back guarantee. The VPS and dedicated server prices are reasonable.
Customer support isn't so great here. It has a live chat that I tried to use, but I couldn't connect to a representative. There's also a contact form and a limited knowledge base.