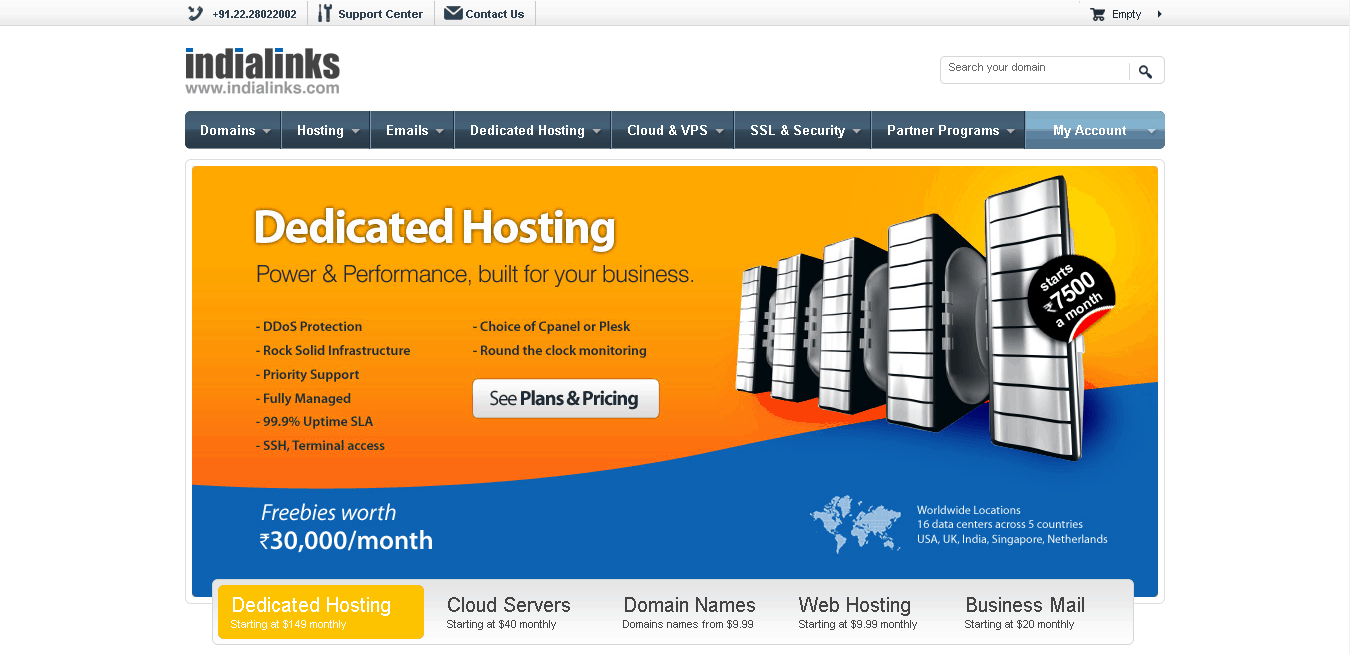 IndiaLinks began operations in 1997 with the value proposition of empowering businesses with smart IT solutions.
Their flexible hosting solutions work excellently to cater to the needs of businesses of all sizes, including web hosts, ISPs, and Domain Registrars
. Their reputation as a leading domain registrar and web hosting provider extends beyond India, serving a customer base across the globe using a virtual data center infrastructure made up of linked servers in different parts of the world.
Features and Ease of Use
Over the years, IndiaLinks has stayed true to their goal of delivering smart IT solutions and even more through their shared hosting, VPS, cloud, and dedicated servers. Their business shared hosting plans are for small businesses in need of web hosting and email services. The packages come in different ranges from low to high-limit or unlimited resources in some cases. Some of the standard features they offer are:
99.9% uptime SLA
Up to 10GB storage space
Unlimited MySQL databases on Linux
Up to three MsSQL databases on Windows
SSL support
They don't provide a one-click installer or website builder. They do support phpBB, Drupal, Joomla!, and WordPress. You can also use OSCommerce if you run an e-commerce business. OSCommerce might not adequately cater to the needs of large e-commerce businesses, but it's easy to use and tweak. Large businesses can also use the shared hosting plans given the limit of storage space to 10GB.
The Cloud and VPS servers offer better flexibility and can cater to bigger businesses. Aside from the expected higher standard hosting features such as multiple websites, SSH access, support for programming languages, and e-commerce, you get other add-ons. For one, you can use cPanel or Plesk unlike the Business plans that restrict you to IndiaLinks' branded control panel – ControlDesk. Also, those hosted in the U.S. data centers are DDoS protected. A closer look shows that DDoS is not their only security measure; the hardware has a firewall port that is monitored 24/7.
Pricing and Support
IndiaLinks business hosting starts cheap, but as you scale higher, it gets a bit expensive for the resources when compared to other providers. However, you can customize your package to take out the things you don't need and only pay for those you do. As with most cloud hosting, IndiaLinks allows you to start with small bundles and add what you need as you grow from your control panel and pay monthly, quarterly, half-yearly, or annually.
While they do mention a money-back guarantee, they don't specify the exact number of days for assurance. However, they do provide a fully functional demo account that allows you to explore the features and capabilities of their hosting platform. So, even without a specific guarantee duration, you have the opportunity to try it out and see if it meets your needs.
IndiaLinks does not provide 24/7 customer support. They do respond fast, though during their IST work hours. If you need to talk to a representative, you can call their support number, submit a ticket, or send an email. They also allow customers to contact them with suggestions on improving their services via the control panel. For DIY-inclined users, IndiaLinks has an extensive knowledge base.